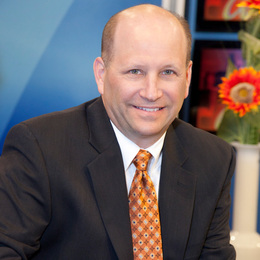 A Winning Strategy
Investor Coach Brendan Magee helps investors find peace of mind
Imagine if your doctor, along with the rest of the medical profession and every media outlet, promoted the use of cigarette smoking. Imagine this taking place while at the same time these experts were ignoring—or even hiding—years of research showing how harmful cigarettes were.
That's the analogy Brendan Magee of Inevitable Wealth Coaching uses to describe what has been, and continues to be, happening to investors through the financial planning industry.
"Investors are essentially being told that gambling and speculation are prudent forms of investing and it's destroying investors' financial security—not to mention their peace of mind," says Magee.
Nearly 20 years ago he began his career as a financial planner. From the training he received Magee believed making sure people were in the right financial products was key. "To prove we had the best funds we showed people five-, 10-, 20-year track records," he says. "We also showed magazine articles featuring our fund managers giving their views on the market and investing. I thought this was the best way to prove we had superior money managers.
"As a traditional financial planner I was blind to the fact that I was trained more to create problems for people than to fix them. In our staff meetings, not once did we ever go over the rules for being a successful investor. It was always about which family of funds or life-insurance policy we should be selling. The rules for successful investing—buy low/sell high, be diversified, the right way to own equities—and how to help people follow these rules were never discussed."
Magee says that using brilliant stock pickers, forecasts about which way the market was headed, and track records were—and still are—used by the brokerage industry to lure people's investment business. "We are led to believe that the investment industry knows in advance what the best stocks, funds or investments will be in the next year, five years or a decade ahead, and the truth is no one knows. If they did, they sure wouldn't be telling me or you," says Magee.
"When this truth isn't brought to light, investors might as well be walking into a casino or racetrack. They are gambling with their life savings, not investing prudently and, just like the gambler, they're going to be lucky just to break even," says Magee. Worst of all it's the investment industry that is telling investors it's OK to engage in such dysfunctional activities.
"As a traditional planner I had several problems: I was being told to promote strategies I had no confidence in; experienced investment professionals couldn't answer my questions; and, finally, some families had entrusted their life savings to me. The thought of facing them and having to tell them we lost half of their account scared me to death," says Magee.
The solution to his concerns came in 1993, when he was introduced to the work of Merton Miller, Harry Markowitz, Myron Sholes and William Sharpe—academics from the University of Chicago who won a Nobel Prize in 1990 for their research on investing and with whom Magee has continued to maintain a relationship. "These brilliant men helped me see that the world of investing works very differently from how the brokerage houses would like us to believe," says Magee. They impressed upon him how important asking the right questions were to investing.
"Asking the right questions will not only help you see the truth about investing," says Magee, "but it will also give you the ability to know who is and isn't telling you the truth about your investments."
For example:
* Can you measure all the costs in your portfolio?
* Can you measure risk in your portfolio?
* Do you know how markets work?
* Do you have a way to measure success or failure in your portfolio?
By learning how to answer questions such as these, investors gain focus, clarity and peace of mind, and Magee says it's one of the fundamental differences between a financial planner and an investor coach. "A financial planner's emphasis is on being in the right product. A coach helps an investor see they are the most critical aspect to investing. An investor's behavior, more than anything else, will ultimately determine their success or failure," says Magee.
Investing, Magee says, should also be an expression of the investor's values. "The picture most of the investment ads paint is that you are not going to experience the things in life that are most important to you until you've accumulated enough money. For example, you'll have security and peace of mind when you have the summer home or you'll get noticed once you can afford that luxury car. Hence, you need our products and services."
Through coaching Magee helps clients experience the things in life that are most important to them today. The key to this experience is answering: What is my true purpose for money? "Once a person has identified the one thing in life that is most important to them, they can start using their time, energy and money to fulfill on it, and begin to experience that which is most important to them today." Magee shares that his true purpose for money is to have the ability to express his love for others through his generosity at work, at home and throughout life.
Magee can be contacted at his Drexel Hill office or, for more information on Inevitable Wealth Coaching, read his blog under the business section of www.delcotimes.com, view his webcasts on www.coachgeetv.blogspot.com, or watch his new television show, "The Investor Coach's Show" due to air in April and May 2012.
Inevitable Wealth Coaching
3350 Township Line Road, Drexel Hill
Phone: 610-446-4322
E-mail: Brendan@coachgee.com
Web: www.inevitable-wealth.com