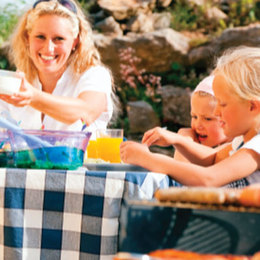 License to Grill
Take your backyard barbecuing to the next level with these expert tips
Nothing beats the tastes of summer: ice cold lemonade, perfectly ripened tomatoes and smoky meat hot off the grill. You've got the top-of-the-line grill, the full set of utensils and the finest cut of steak, but the secret to a delicious grilled meal isn't just about accessories—it's about skill.

Sean Weinberg, owner and executive chef of Restaurant Alba in Malvern, has truly mastered the grill. His menu is bursting with dishes prepared over his wood-burning grill. Here, he shares his tips for creating the perfect summer meal in your backyard.

Advance Prep
"People tend to be afraid of salt because of health concerns, but a little salt can make a big difference," Weinberg says. He recommends sprinkling some salt on the steak at least 24 hours before cooking even if you're working with additional seasonings or a marinade.

"Marinade without salt isn't going to do much," he says. "Salt is what penetrates the meat. It works its way through the meat and drags the marinade with it." Season or start marinating your meat in the morning so it has a full day to absorb the flavors and tenderize.

Heat Things Up
This biggest mistake home grillers can make, Weinberg says, is having the fire too hot or cooking over a high flame. While he admits that gas grills can be very practical and capable, Weinberg always recommends cooking with a charcoal grill—not only for the deep barbecue flavor it imbues, but because the heat is more effective.

"When you cook a piece of meat, you want to sear the whole thing so the juices aren't dripping out," he says. "Charcoal creates a more radiating heat, so it doesn't just sear the part of the meat that's touching the grill."

If you are cooking on a gas grill, Weinberg says the key is to keep the temperature low. "Slow and low, that's the motto in my kitchen," he says. The idea is that when the meat cooks slowly, it has more time to absorb the flavor of the grill.

The exact level of heat you need will depend on the type of meat or vegetable you're grilling. Weinberg says to put a London broil, skirt steak or flank steak over high heat, because you want to give them a nice char but also keep them rare or medium rare for the best flavor.

For something like a veal chop or a New York strip steak, which tend to have more fat, you'll want to cook them longer over lower heat to give the fat time to break down and leak out. A whole pig loin or pork shoulder will benefit from a slow grilling over low heat.

Superb Sides
There are certain vegetables that are really accessible to taking on the flavor of the grill, so don't let your meat hog all the heat. Onions, peppers, beets and corn are some favorites.

"The secret to grilling vegetables is to not move them too much," says Weinberg. He explains that the sugar in the veggies starts to caramelize on the grill as they cook, but if you move them around too much, that burst of flavor will remain stuck on the grill.

For larger, tougher vegetables like beets, turnips and corn on the cob, Weinberg recommends drizzling with olive oil or butter, adding salt and pepper, and wrapping them in aluminum foil.

"They tend to char up too fast before the inside is cooked," he explains. "So you get them nice and tender inside the foil and then put them directly on the grill for the last couple minutes to give them that charred flavor."

Restaurant Alba, 7 West King St., Malvern,
610-644-4009, RestaurantAlba.com

Must-Have Tool
"A good pair of tongs and a fish spatula. A heavy, clumsy spatula will make your fish fall apart on the grill."

All-Clad flexible angled spatula from Williams-Sonoma, $24

Must-Try Recipe

Orange-Encrusted Pork Tenderloin
2 10-12 oz. pork tenderloins (cut into 4oz. medallions and flatten to a 1/4 to 1/2 inch thick)
1 tbs. extra virgin olive oil
zest of 2 oranges
2 sprigs of rosemary (cleaned and chopped)

You will also need:
3 tbs. brown sugar
1 tsp. of sea salt
Salt and pepper to taste

Directions:
Season pork with salt and pepper an hour before cooking

Combine all ingredients except pork and olive oil in a bowl and mix together

On one side of the pork medallions, rub in the mixture and allow to sit for exactly 5 minutes

Drizzle both sides of the medallions with olive oil
Grill over a low to moderate heat, paying close attention as the side with the brown sugar may burn easily. You are looking to caramelize and char, not burn.

Serves Four

What You Need:

Charcoal Grill: Weber Performer
The Weber Performer ($349) brings the best of both worlds—charcoal grilling with the ease of a gas starter. A weather-protected charcoal storage bin and One-Touch cleaning system make this an easy keeper, and the built-in dual-purpose thermometer allows for foolproof grilling. Available at Ambler Fireplace & Patio, E.
Butler Pike and Bethlehem Pike, Ambler, 215-643-5100,
791 Bethlehem Pike, Colmar, 215-997-7300,
AmblerFireplace.com.

Mastering the Grill: The Owner's Manual for Outdoor Cooking
By Andrew Schloss and David Joachim
(Chronicle Books, 2007)
Elkins Park resident and renowned culinary teacher and author Andrew Schloss explains the science of grilling in his how-to book. It's filled with recipes, tips and techniques, and mouth-watering photographs that will help turn you into a grilling legend. ($25) Available at Barnes and Noble, multiple locations.

Gas Grill: Viking Outdoor Ultra-Premium T-Series Grill
The Viking T-Series Grill with TruSear ($8,348) was designed for a professional chef, but with the backyard griller in mind. TruSear technology provides an intense infrared heat that locks in flavor, while flavor generator plates catch drippings and turns them into flavorful smoke. Available at Gerhard's Appliances, multiple locations in Glenside, Frazer, Doylestown and Ardmore, 610-644-6666, GerhardsAppliance.com.

4-Piece BBQ Tool Set
Perfect the art of grilling with the right tools. Brookstone offers a sleekly designed stainless steel set, which includes a spatula, fork, tongs and grill brush all stored in an attractive and compact carrying case. ($60) Available at Brookstone, The Court at King of Prussia Mall, 610-337-0774, Brookstone.com.

Dual Thermometer
Never serve over- or undercooked meat again with an easy-to-use digital thermometer like this one from Sur La Table. An infrared sensor checks surface temperature while a probe gives you an internal reading for the most accurate way to gauge if your meat is done. ($100)
Available at Sur La Table, The Court at King of Prussia Mall, 800-243-0852, SurLaTable.com.

Monogrammed Steak Brand and Carving Board
Take your signature recipe a step beyond and sear your initials into steaks and chops with this hand-forged iron brand from Williams-Sonoma. The birch cutting board is also customizable with one, two or three initials. ($70) Available online only at Williams-Sonoma.com.

Kabob Set
Kabobs are a grilling tradition, so make it easy on yourself and never lose a skewer to the fire with Weber's kabob set. With its six stainless steel skewers and sturdy rack, assembling and transporting your kabobs to the grill is a snap. ($30). Available at Grates and Grills, 105 S. Main St., Dublin, 215-249-0182, GratesandGrills.com.