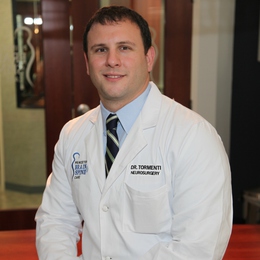 Curing Your Brain and Spine Injuries
At Princeton Brain and Spine Care, patients discover a caring, comprehensive approach to resolving chronic pain and other issues of the head, neck and spine
Chronic pain and other issues of the head, neck and spine can be debilitating—potentially life-altering, in fact—so getting these kinds of conditions resolved should be as uncomplicated and stress free as possible. At least that's the perspective of team members at Princeton Brain and Spine Care, which has offices in Bucks County and New Jersey.
"We look at herniated discs, spinal fractures, arthritic issues and spinal tumors, as well as brain tumors and concussions," says Dr. Nirav Shah, a partner at Princeton Brain and Spine Care. "We give solid advice. We hold patients' hands and tell them what we would do for our own family."
In an age when speed and technology are displacing thoroughness and care, the team of skilled physicians at Princeton Brain and Spine Care is putting a stop to the so-called "dash-in doctor" by taking extra time with each patient. Some medical practices have embraced the ideology of delivering "care" to as many patients as possible, often rushing through each visit as a way to maximize revenue. Princeton Brain and Spine, on the other hand, doesn't believe in this approach; spine and brain injuries are much too sensitive and important to treat in such a manner, according to Dr. Shah.
"We know there are few things in life more important to you than the day of your surgery," he says. "We want you to question a variety of things we say and we'll show you films and go over X-rays together so you won't feel rushed into making a decision."
Although Dr. Shah identifies himself as a surgeon, he and his colleagues at Princeton Brain and Spine—namely, Drs. Dani Bidros, an associate with Delaware Valley Brain and Spine Care, an affiliate of Princeton Brain and Spine Care; Seth Joseffer; and Mark McLaughlin—are so much more. The doctors' motto, collectively, is to create a practice that blends old values and new technology.
"First and foremost, we treat all spinal conditions," Dr. Shah says. "Whether it's an emergency or a chronic pain issue, when people come here, they get a warm and nurturing experience and the best care possible."
The fellowships and residencies undertaken by the Princeton Brain and Spine Care team require tremendous commitment and years of specialized study. The doctors' résumés read like a long list of Latin credentials, such as neurosurgical and orthopedic spine surgical experts, neuro-oncology subspecialists and more. Yet they prefer to be known by a simpler term: spine and brain specialists.
The doctors are trained in a wide array of treatments, so there are often several options to treat the same injury. An option that might be ideal for one patient could be suboptimal for another patient.
"We're forward-thinking surgeons that offer a variety of treatments," Dr. Shah says. "We go over them with people so they can make the best, informed decision for what's best for them."
Patients can, rather understandably, get confused and go through a range of emotions during a visit, so the doctors at Princeton Brain and Spine Care encourage family members to play a prominent role in patient care. In fact, they insist.
"We make sure the family is around to understand the treatment and help in the decision-making process," says Dr. Bidros. "We know they are the ones helping to care for a patient before and after a procedure. … When patients come out [to see us], they might not be comfortable with having to have surgery, but they will be confident in who is doing the surgery."
If a patient does decide that surgery is the best option for care, then he or she will leave the office knowing exactly what to expect. But just because the doctors can operate doesn't necessarily mean they will. The physicians at Princeton Brain and Spine Care are committed to minimally invasive spine and brain care. In other words, says Dr. Shah, "We are doctors first, surgeons second."
Dr. Shah has completed a six-month fellowship at the University of Maryland, training in radiosurgery. "It's a nonsurgical radiation of brain tumors," he says. "It's minimally invasive same-day treatment for brain tumors. Years ago people had to travel to major cities to have it done. Now we are very proud to bring it to our community."
The associates at Princeton Brain and Spine Care are committed to bringing technology and state-of-the-art techniques to the Philadelphia suburbs area—enhancements that make it much easier to receive treatment. Now patients and their families don't have to go through the added time and expense of traveling and the uncomfortable experience of being in a large city just to get the care they need.
"We can do this locally right here in a Bucks County community hospital," Dr. Shah says. "It's convenient for families and the patients."
The physicians are committed to bettering the community that each of them reside in. Beyond bringing more patient-driven care and technology to the suburbs, they are doing their part to keep art alive. Some of their offices also serve as art galleries for local artists to display or sell their works.
"We comfort our patients with soothing art and music to give them a break from their problems, at least for a moment," Dr. Shah says. "We try not to make them wait at all, but if they have to for a few minutes, at least they can take their mind off the pain and enjoy art or read something interesting."
Princeton Brain and Spine Care
www.princetonbrainandspine.com
Langhorne Office
St. Clare Medical Building
1203 Langhorne-Newtown Road, Suite 138
Langhorne, PA 19047
Phone: 215-741-3141
Princeton Office
731 Alexander Road, Suite 200
Princeton, N.J. 08540
Phone: 609-921-9001
Hunterdon Office
Hunterdon Medical Pavilion (behind CVS Pharmacy)
190 State Hwy. 31, Suite 300 B
Flemington, NJ 08822
Phone: 908-229-6627
Molly Yun is a freelance writer based in the Philadelphia area.
Rob Hall is a photographer based in Plumsteadville.