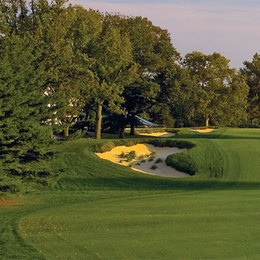 Par for the Course
No matter how you slice it, these 18 holes are the ones to try
We polled the area's most avid golfers to assemble this list of the top public and private courses in the area—and the hole that makes them worth a round. Whether your game is better suited to long fairways or challenging waterways, each of these holes has their own standout feature to take a swing at. If your favorite course or hole didn't make the list, give us a mulligan.
Top 9 Public Courses
in no particular order
Walnut Lane Golf Course
800 Walnut Lane, Philadelphia, 215-482-3370
Hole #3. This par-4, 320-yard hole was designed by Alex Findlay for the risk-takers. Golfers can go for the dogleg with a driver or choose a regular iron up the 100-plus yards for an easy chip. Although it might be among the shortest of the Philadelphia courses, it is certainly considered one of the most challenging.
Limekiln Golf Club, Red Course
1176 Limekiln Pike, Ambler,
215-643-0643, LimeGolf.com
Hole #4. This club offers three separate nine-hole courses, which makes each outing different from the previous one. The par-5 No. 4 on the Red Course features trees and hazards down the left side and a big bunker in front of the green. There's also a dogleg left. You have to hit two good shots to set yourself up inside the 150-yard mark to the green.
Neshaminy Valley Golf Club
440 Almshouse Road, Jamison, 215-343-6930
Hole #6. This par-3, 243-yard hole is considered the toughest at the course, which sits in a nice area of Bucks County. The course layout is imaginative within the space provided. No. 6 features traps all around it and looks longer than what you think. The front nine is open for the most part, but the greens can prove challenging. They are medium-tosmall with a lot of slope, making for an interesting day of putting.
Fairways Golf and Country Club
750 Country Club Lane, Warrington, 215-343-9979, FairwaysGolfClub.com
Hole #8. This course is tucked away within a residential area, which makes for a nice change of scenery and some unique holes. No. 8 is their signature hole, as it is lined with trees and a creek. A mulberry stands in the middle of the fairway when you're looking from the tee. Toward the green, there are two traps on the right. Plus, a lake sits on the left for the final 120 yards. Oh yes, and don't be surprised to find spectators lounging on their decks, enjoying your golf game.
The Golf Course at Glen Mills
221 Glen Mills Road, Glen Mills, 610-558-2142, GlenMillsGolf.com
Hole #11. As the real gem of this highly-touted course, this hole has been featured in the pages of national golf magazines. The 376-yard par-4 is affectionally named "Stump's Wall" for the front-end loader driver who brought in all the boulders for the retention wall. Designed by Bobby Weed, No. 11 will test your golf nerves with its daunting, ribbon-thin fairway that is squeezed from the right by weed-filled mounds up the right side and on the left by a craggy creek.
Olde Course, Cobbs Creek Golf Club
7400 Lansdowne Ave., Philadelphia, 215-877-8707, FairmountPark.org/CobbsCreekGolfOlde.asp
Hole #14. The back nine at this historic course, considered the crown jewel among those in Philadelphia, is challenging and highlighted by a string of lengthy holes including the monstrous 638-yard 14th hole. Lined with mature trees, the layout was designed by renowned architect Hugh Wilson.
Horsham Valley Golf Course
500 Babylon Road, Horsham, 215-646-4707, HorshamValleyGolf.com
Hole #15. The 180-yard, par-3 is the signature hole of this course, designed and constructed by Jock and Doug Melville. Surrounded by water on two sides, the No. 15 is very tricky. You have to cross the water on your tail shot. The bail out is left or long. The green plays to 3,500 square feet, so its small. This makes it a hard target to hit.
Five Ponds Golf Course
1225 W. Street Road, Warminster, 215-956-9727, 5PondsGC.com
Hole #17. Prepare to battle the elements—or at least some strong prevailing wind—when you reach No. 17 at this Bucks County course. The greens may look uniformly large, slow and simple, but you have to play this par-3 over water into the wind.
Jeffersonville Golf Club
2400 W. Main St., Norristown, 610-539-0422, WestNorritonTwp.org/golf.htm
Hole #18. One regular at the 18-hole Jeffersonville course called it a score killer because of the challenges created by the pond on the left side. The hole is a double-dogleg, unique in itself, and slopes very hard. With a par-5, you might feel like you can make up ground on your scorecard, but with this Donald Ross-designed course, your prospects of an eagle or birdie can go to a double bogey real quick.
Top 9 Private Courses
in no particular order
Spring Mill Course
Philadelphia Country Club, 1601 Spring Mill Road, Gladwyne, 610-525-6000, PhiladelphiaCC.net
Hole #3. No list would be complete without a hole from PCC, one of the oldest clubs in the country. The Spring Mill course was originally designed by architect William Flynn, and while many changes have taken place since it originally opened, the course recently returned to its previous design. The 585-yard, par-5 No. 3 is the longest hole on the course and typically proves to be the most challenging.
Sunnybrook Golf Course
Sunnybrook Golf Club, 398 Stenton Ave., Plymouth Meeting, 610-828-9617, SunnyBrook.org
Hole #5. Lining up at the tee of this par-3 is enough to make any golfer nervous. It takes a steady hand to clear the old quarry, which is now filled with water. Prevailing winds can also wreak havoc with the flight of your ball. The greens are bunkered on both sides. There's no doubt you need a precise shot to beat this challenging hole. Hit it long, short, left or right—each has its own perils.
Aronimink Golf Course
Aronimink Golf Club, 3600 Saint Davids Road, Newtown Square, 610-356-8000, Aronimink.org
Hole #7. Named the Shawnee by architect Donald Ross, No. 7 is a dogleg right with a series of mounds and several substantial trees guarding the corner. A good tee shot on this par-4 leaves you with a short iron to a green complex where nothing is hidden from your sight. The approach must be carried in. The yawning bunkers guarding the entrance to the green will not allow a run-up shot from under the trees.
Bala Golf Club
2200 Belmont Ave., Philadelphia, 215-473-8504, BalaGolfClub.com
Hole #8. Enjoy the view, especially from the back tee, and try not to think too much about the out-of-bounds on the left. Many balls have gone to their doom on the train rails. On the right, the creek awaits. Drives on the 331-yard hole often end up on the seventh hole and you can actually play from there—either over the trees or down the fairway for an approach to the green. This Main Line hole is also picturesque with its large stone wall.

East Golf Course
Merion Golf Club, 450 Ardmore Ave., Ardmore, 610-642-5600, MerionGolfClub.com Hole #11. This historic hole is where Bobby Jones completed the grand slam, a feat that has never been matched. Golfers encounter a blind tee shot down a hill, with the second shot being a short- to midiron to a green. Watch out for the scenic but tricky creek running near it, along with the bunker on the left side.
Spring Mill Country Club
80 Jacksonville Road, Ivyland, 215-675-6000, SpringMillCountryClub.com
Hole #12. This par 3 is slightly downhill, with a green that runs off to a pond on the right side, guarded by bunkers on the left. The club's signature millhouse appears in the background. Depending if a prevailing wind is in your face, it might require a long iron or fairway wood shot from most golfers to get to a very shallow green.
Radnor Valley Golf Course
Radnor Valley Country Club, 555 Sproul Road, Villanova, 610-688-9450, RadnorValleyCC.com
Hole #16. This picturesce hole is featured on the course's scorecard, with its prestine fairways, majestic fountain and weeping willows. This par-3 is definitely the signature hole at the Main Line club. It measures 156 yards from the tee, with a pond located in front of the green, which is blocked by bunkers on the left and back right.
Llanerch Country Club
950 West Chester Pike, Havertown, 610-446-2232, LlanerchCC.org
Hole #17. Overall, this course is tight and tough, but if you are really looking for a challenge, No. 17 is it. The par-3 features an elevated green, which is well-bunkered and is one of four holes on the course where water hazards come into play. It measures 160 yards but plays much longer.
Merion Golf Club, East Golf Course
450 Ardmore Ave., Ardmore, 610-642-5600, MerionGolfClub.com
Hole #18. Merion makes the list twice thanks to this spot where Ben Hogan stuck a 1-iron to force a playoff in the 1950 U.S. Open. Take a few seconds to appreciate this 411-yard hole: You must tee off to a blind fairway above you then hit a long iron into a severely sloped green. Conquering this hole requires a shot that would make Hogan proud.
Greg Williams is a sports writer and freelancer based in Lansdowne.