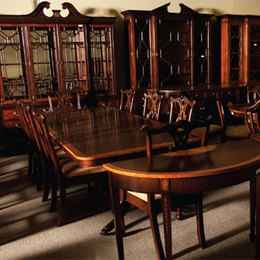 Timeless Pieces
Stenella Antiques offers high-end furniture for less
Stenella Antiques is one of the East Coast's leading sellers of distinctive pre-owned and antique furniture, as well home to a gorgeous 30,000-square-foot showroom in Bucks County. Owner Jim Stenella boasts an evolving collection of unique furniture that he offers at a fraction of what you would pay at a retail store or other antique shop. Suburban Life spoke to Jim Stenella to find out more about his thriving Web site, his customers and, of course, the secret to his success.

Suburban Life: Your Web site, StenellaAntiques.com, always has a featured item. What exactly does that mean, and how often is it updated? What else can customers find online?

Jim Stenella: I started doing the featured item page in 2008, and I update it about once a month. The goal is to put certain high-end or unusual items online first, before they are placed on eBay or into our general listings. To the left of the featured items are direct links to most of our current online listings. Each record gives a detailed description including dimensions, fine details, condition and any additional info we find helpful to the buyer.

Our Web site also has information on shipping, returns and other particulars like our upholstery and appraisal services.

SL: Does that mean that most of your customers are online shoppers?

JS: Currently, we do about 70 percent online sales and 30 percent walk-in traffic. Most of our online sales are over the phone, with customers calling in orders directly as opposed to going through eBay or purchasing on the computer. Regardless, we strive to make every transaction a positive one with pleasant customer service, accurate descriptions and great pricing.

SL: What should people know about your showroom in Perkasie?

JS: I think the most important thing to know about our showroom is its sheer size of 30,000 square feet. To give you an idea, we always have 30 or more dining room tables, more than 50 china cabinets, and more than 30 sets of chairs on site—so if people make the trip, they won't be disappointed with our selection.

This spring we are also opening a 5,000-square-foot remodeled space to fit in several new furniture lines in addition to our current manufacturers like Kittinger, Baker, Kindel, Henkel Harris, Stickley, Karges, Friedman Brothers and Henredon.

And even though we are located in Perkasie, Stenella Antiques acquires furniture from all over the East Coast, such as New York, Connecticut, Virginia and Washington, D.C.

SL: Are you the original owner?

JS: My father, James Stenella Sr., opened a small store in Chestnut Hill in the early '80s and was a regular supplier for auction houses, retails shops and furniture dealers nationwide. Then in 1992, I took over the business and soon after made the executive decision to shift our focus toward selling high-end quality furniture directly to the public. I always knew the demand was there and now that we had the avenues to be able to offer a steady supply of the best estate furniture on the east coast, the timing was finally right.

So I opened a smaller location in Perkasie in 2004. Two years later, we grew into the space we have now. With each move, and each passing year, we have happily expanded our inventory, services and staff.

SL: Do you purchase or consign items for local customers or homeowners?

JS: We purchase items directly from anyone looking to sell or also offer a consignment service as well. It all depends on what would be the best option for the client. We look to try to maximize return for seller, but also keep prices fair and offer great bargains for our customers. If you have clean, quality items, similar to what we sell, be sure to contact us for a free estimate.

SL: It's interesting that Stenella is liquidating closing furniture stores. What exactly does that mean?

JS: With the economy the way it is, some retailers are forced to get rid of overstocked inventories, and some have just closed completely. For Stenella customers, this translates into great furniture pieces offered at drastically reduced prices.

SL: What makes Stenella truly unique?
JS: It's safe to say that there is no other place in the U.S. that offers the same volume of high-end, pre-owned furniture in one location like we do. Inventory is arriving weekly with hundreds of pieces shipped out each month. And even though we sell at such a large capacity, our basic pillars of great customer service, in-home delivery, custom upholstery and convenient lay-away plans all work together toward our ultimate goal of bringing a great piece of furniture home to your family.

Stenella Antiques
104 South Second St., Perkasie, 215-453-8490, StenellaAntiques.com
Tuesday - Friday 9 a.m. - 3 p.m.; Saturday 9 a.m. - noon and by appointment.

Danielle Wallace is a freelance writer in Montgomery County.