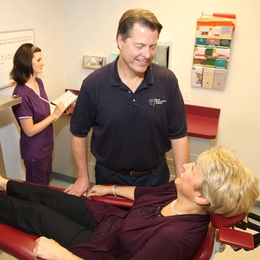 Setting the Standard
Unparalleled training and expertise enable Drs. Schelkun and Sayles to provide the pinnacle of care in oral and maxillofacial surgery
It's no surprise that people come from all corners of the Philadelphia area—and, in fact, from around the world—to benefit from the skill of P. Michael Schelkun, M.D., D.D.S., and Erik M. Sayles, M.D., D.M.D.
Drs. Schelkun and Sayles, after all, are a rare combination: two highly trained surgeons, each of whom is licensed as a dentist and medical doctor, with unparalleled training and expertise involving disorders of the mouth, teeth, jaws and facial structures, working side by side in a practice intently focused on patient care, safety and the best outcomes possible.
"I love the immediacy of being able to see a patient who has a problem and, through care and treatment, providing resolution to that patient in a very short period of time," says Dr. Schelkun. "It's what drew me to oral and maxillofacial surgery in the first place."
Drs. Schelkun and Sayles perform the full scope of oral and maxillofacial surgery services—everything from extracting teeth and installing dental implants to performing facial reconstructive surgery and removing tumors of the head and neck—at three fully accredited, freestanding surgery centers in Bucks and Montgomery counties. The results of their treatment, whether relieving the pain of an impacted wisdom tooth or correcting a developmental defect, can be life changing.
"With our facial-reconstructive-surgery patients, these are people with significant facial deformities," Dr. Schelkun says. "From a functional standpoint, sometimes people can't get their jaws together because they're different sizes, so we go in and change that so they have a balanced and symmetrical facial appearance, as opposed to unbalanced and asymmetrical.
"A kid with a bad facial deformity might come in with a generally poor outlook of themselves," he continues. "Their whole demeanor is somewhat subdued, and they're dressed rather plainly and make very little eye contact. We do the facial reconstructive surgery, and they often come back a year later and they're completely different; they're wearing bright colors, they're smiling, and they have good eye contact. Their personal confidence has dramatically been changed."
'Phenomenal Care'
The practice's roots stretch back to 1967, when it was begun by Lewis J. Schwartz, D.M.D., who has since retired. While training at Sinai Hospital in Detroit, Dr. Schwartz was at the forefront of contemporary oral and maxillofacial surgery by learning from its early pioneers, including those of Dr. Chalmers Lyons' lineage. His pioneering spirit continued to flourish when he opened his practice in Warminster, which grew steadily and evolved through 1991, the year Dr. Schelkun joined the practice.
"Lew took phenomenal care of his patients," says Dr. Schelkun. "He raised the bar significantly when he came to the area. He had a lot of foresight as it relates to the profession, and he saw my vision for what the practice should be and where it should go. We've grown considerably in the 20 years since."
A career in medicine seemed predestined for Dr. Schelkun. He grew up watching his father, Peter Schelkun, D.D.S., practice general dentistry in Milwaukee, while several other family members or family friends were surgeons or physicians. He was studying dentistry at Marquette University School of Dentistry when he discovered what would become his true calling.
"My dad told me I had to look into all the different specialties in dentistry, and I just fell in love with oral and maxillofacial surgery," says Dr. Schelkun, a devoted family man whose interests outside the office include boating, fishing, hunting and mixed martial arts. "I then decided that following the oral-and-maxillofacial training program I was going to go back to medical school and get my medical degree and practice with both my medical and dental degrees."
Dr. Sayles, meanwhile, graduated at the top of his class from the University of Medicine and Dentistry of New Jersey, and then completed his training in oral and maxillofacial surgery at the Drexel University College of Medicine, Hahnemann Medical Center and St. Christopher's Hospital for Children in Philadelphia. He joined the practice as Dr. Schelkun's peer in 2010.
Both doctors are board certified in anesthesia by the National Dental Board of Anesthesiology, and Dr. Schelkun is a board-certified Fellow of the American Board of Oral and Maxillofacial Surgeons. Dr. Sayles expects to complete his board certification in oral and maxillofacial surgery by spring 2013. The doctors' distinctive credentials are the primary reason why patients have come from as far away as India and Japan to benefit from their services.
"Because we have a dual-degree basis and a foundation in medicine, we can treat patients as a whole," says Dr. Sayles, who formerly was a nationally and internationally ranked power lifter, as well as a four-time state power-lifting champion in his weight class. "If someone is taking medication for blood pressure or hypertension or whatever condition it might be, we look into everything in detail and what issues they might have that can affect their overall health.
"I like dentistry, but I wanted to do something more," he continues. "Here, I can make a difference surgically instead of just giving someone a root canal or a crown. We can do something that will actually, in a way, put a patient back together again. Every day I try to learn something new to make the patient as comfortable as I can."
The practice is capable of providing fully monitored general anesthesia in a safe and comfortable environment, without having to go to the hospital. The practice also boasts some of the most cutting-edge medical technology designed to further advance the level of patient treatment. One of the more recent diagnostic innovations is an on-site cone beam CT scanner, which provides advanced imaging studies that help ensure the effectiveness of dental implants and other procedures related to hard-tissue structures.
"The cone beam tells us how much bone there is in a specific area, and where we can precisely place the dental implants to replace teeth," he says. "We can also look at pathological issues that have caused bone destruction—cysts and tumors and things to that effect. We can also use it to identify facial fractures when bones are broken so we can identify the breaks and see things in three dimensions where these segments have moved, as opposed to traditional X-rays, which are only two-dimensional. It's unbelievable what you can do with it."
Safe and Comprehensive
The practice's distinctions don't end with its doctors. Each nurse on the surgical staff is either an RN or LPN, and all are certified in basic cardiac life support, advanced cardiac life support and pediatric advanced life support. Such thorough training further underscores the devotion to safety and patient care.
Furthermore, all three of the practice's freestanding surgery centers are fully accredited by the Joint Commission, a national organization that oversees and maintains strict safety standards for U.S. hospitals and surgical centers. Since 1997, the practice has had the distinction of being the only Joint Commission-accredited oral and maxillofacial surgery centers in the greater Philadelphia area.
"We want to make sure everything we're doing is within the highest standard of care, and the only way to know that is to have an outside resource like the Joint Commission evaluating you," Dr. Schelkun says. "It's about making yourself the best facility you can possibly be and taking care of patients in a safe and comprehensive way, which is what they deserve. Anything short of that is unacceptable."
Kim Billingsley is a freelance photographer based in Doylestown.
Three Area Offices:
158 York Road, Warminster
215-672-6560
853 Second Street Pike, Suite A-106, Richboro
215-355-4500
467 Pennsylvania Ave., Suite 106, Fort Washington
215-591-3590
Visit www.omscenters.com for more information.