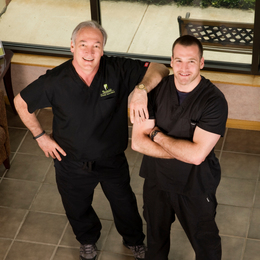 Always Smiling
At Thorndale Dental Associates, patients attain the smile they have always wanted
The majority of people agree an attractive smile is important. Many of these same people feel an unattractive smile can negatively impact success. So for these reasons and more, the idea of whiter, brighter and straighter teeth can bring a smile in and of itself.
"In the past decade, there has been a dramatic interest in cosmetic dentistry," says Richard E. DeForno, D.M.D., M.A.G.D., F.I.C.O.I. "A healthy, beautiful smile enhances appearance, builds confidence and changes lives."
Since 1984, Dr. DeForno and his expert team at Thorndale Dental Associates have been helping patients attain the smile they've always wanted with an unsurpassed level of skill. Using a combination of state-of-the-art technology and highly personalized attention to detail, they treat patients of all ages and across generations. The practice offers comprehensive care, including basic, restorative and cosmetic dentistry in an anxiety-free atmosphere.
"Our philosophy," he says, "is improving smiles and maintaining teeth for life with quick, painless and surprisingly affordable treatments."
Advancing the Dental Arts
Today technology has advanced to a point where diagnosis, accuracy and expediency resonate. Whether it is to treat decay, change the size, shape and alignment of teeth or replace missing ones, Thorndale Dental Associates utilizes the latest techniques to ensure the best possible results.
The key to any treatment is proper diagnosis and office's onsite X-ray cone-beam CT provides three-dimensional volumetric images to visualize a patient's anatomy with high resolution and low distortion. This allows for dental diagnoses not possible before and increases the quality and accuracy for dental treatment. Similarly, the use of intra-oral cameras captures images at 25 to 50 times magnification to help identify cracked teeth and broken fillings.
One of the newest technologies is DIAGNOdent, a small laser instrument that scans teeth in search of hidden decay. "This is great for early detection," says Dr. DeForno. "If decay is noted, immediate treatment can be scheduled and we are able to stop the spread of disease before it destroys the tooth from within."
For restorations, CEREC CAD/CAM technology has made a remarkable difference in quality results. According to Dr. DeForno, a camera, computer and milling machine is used to prepare and place natural-looking restorations such as crowns and onlays while the patient waits.
"Using this technology, we can salvage more of the healthy part of the tooth and restore strength comparable to the natural tooth structure," he says. For those who want to see the results before treatment begins, Smile Vision cosmetic imaging takes and then simulates a picture to reflect the realistic outcome.
"I feel more confident with my smile," says Tom, a patient of Dr. DeForno's. "I have a sales position, and I feel that my new smile has helped me a great deal."
Mind over Matter
Despite the advancements in care and well-recognized benefits of a great smile, dental anxiety persists.
According to various sources, more than half of Americans have some fear of visiting the dentist. These fears, which vary in magnitude, often result from direct experiences but also from others' traumatic stories and the media. While a much smaller group, those who suffer from dental phobia will actually avoid dental care until faced with an emergency, leading to greater fear as these conditions tend to require more invasive treatment.
"Receiving regular dental checkups and cleanings is incredibly important," Dr. DeForno explains. "It's the easiest way to maintain excellent oral hygiene and reduce the need for more complex treatments."
To counteract fears and anxiety, comfort has taken on a whole new meaning and the office atmosphere is the key to relaxing patients. According to Dr. DeForno, "Patient comfort is at the heart of any good dental practice. We offer headphones, a Tempurpedic chair pad with headrest and a climate-controlled environment with garden views."
Beyond the environment itself, recent technological advancements and a wide variety of safe anesthetics are available to eliminate pain and reduce anxiety during routine appointments. Anxiety-free dentistry, or conscious sedation, makes patients unaware of treatment while in the dental chair and optimizes the amount of dentistry completed in one visit.
Thorndale Dental Associates offers three forms of sedation, which include nitrous oxide (laughing gas), oral sedation and IV sedation, and the choice option is based upon each individual's level of fear and the required treatment. Dr. DeForno is one only 600 dentists in Pennsylvania certified to perform sedation dentistry and has completed Advanced Cardiac Life Support training sponsored by Doctors of Conscious Sedation, also known as DOCS.
Most recently, Dr. DeForno introduced NuCalm, a safe, proven alternative that relaxes patients without the use of narcotics or controlled substances. A program that combines anti-adrenaline tablets, micro-current stimulation patches, noise-dampening headphones and light-blocking glasses, NuCalm naturally brings one's body to the first stage of sleep within three to five minutes.
"I thought that I would be really out of it with the sedation," say Cheryl, another patient. "I was very relaxed but I didn't feel drugged. I didn't know what was going on most of the time. I truly felt like I was in a dental spa. Everyone was just so attentive to me and my needs. I had no anxiety before, during or after the procedure."
Spanning Generations
Technology and comfort are only part of the picture at Thorndale Dental Associates. The highly trained professionals share a commitment to each and every patient who walks through the door. "I've been fortunate over the years to treat generations of families, starting with our 'Glorious Introduction' program to familiarize children with dental care," Dr. DeForno shares.
Speaking of families and generations, the newest member of the Thorndale Dental Associates family is Patrick, Dr. DeForno's son. Following in his father's footsteps, Patrick DeForno, D.M.D., is a recent grad of Temple University's Kornberg School of Dentistry. He is an active member of Academy of General Dentistry, American Dental Association and International Congress of Implantology.
"After 17 years in as a sole practitioner, Patrick is a welcome addition," says the elder Dr. DeForno. "He has a great rapport with patients and he brings a whole new perspective. Together, we look forward to providing excellent dental care for years to come."
Glori Gayster is a freelance writer from South Jersey.
Rob Hall is a photographer based in Plumsteadville.
Thorndale Dental Associates
3105 C. G. Zinn
Thorndale, PA 19372
Phone: 610-384-2541