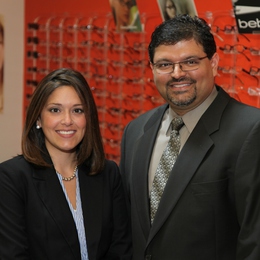 Seeing Is Believing
At Bucks Eye Specialists, patients benefit from the skill and personal touch of board-certified ophthalmologist Dr. Sanjay Kamat and his team
Although most of his practice revolves around improving patients' quality of life by improving their vision, sometimes Sanjay Kamat, D.O., plays a part in saving a life.
"About six months ago we had a gentleman in his mid-50s who came in complaining of 'white junk' in his eye," recalls Dr. Kamat, owner of Bucks Eye Specialists in Yardley. "We went through the exam, and in one eye he was almost blind, and in his other eye—his 'good' eye—his vision was blurry. Based on the exam and my training in neuro-ophthalmology, which deals with brain injuries and nerve injuries and how it affects the eye, the classic pattern of blurred vision in both eyes told me he had a brain tumor.
"The radiologist the patient went to was pretty sure the patient had a craniopharyngioma about the size of a golf ball," he continues. "It was the first time in over four years where a radiologist called me on my cell phone and said, 'You just saved this guy's life.' To this day I remember the sentiment in the card that his wife sent here, thanking me for being able to steer them in the right direction and 'giving them back the gift of life.' We're striving to provide full, comprehensive eye care, more than merely prescriptions for glasses or contacts."
An increasing number of people in the Philadelphia suburbs, in fact, are the beneficiaries of Dr. Kamat's hard work, extensive training and, interestingly, good timing. During his time at medical school, Dr. Kamat spent two days learning by the side of a gifted cataract surgeon. This experience, despite its brevity, convinced Dr. Kamat to veer away from his previously chosen path of cardiology and led him down the road to becoming a highly skilled, board-certified ophthalmologist.
After graduating at the top of his class from Pennsbury High School, Dr. Kamat went to Pennsylvania State University to earn a bachelor's in premedicine and a master's in physiology. He attended medical school at Kansas City University of Medicine and Bioscience, and then returned to the Philadelphia area for his ophthalmology residency at Philadelphia College of Osteopathic Medicine, where he served as chief resident. He also worked for seven years at Albert Einstein Medical Center in Philadelphia, where he gained invaluable experience in cataract and oculoplastic trauma, among other areas.
Toward the tail end of 2008, fate intervened and presented an opportunity to branch out on his own. It was then he learned that his childhood ophthalmologist, Barry Kutner, M.D., wished to retire from practicing medicine, so he arranged an exploratory meeting. The two physicians spoke over the phone on a Sunday and by Monday evening they had a handshake agreement whereby Dr. Kamat would take over the practice. The transition reached its completion in March 2009.
"It's been a long, strange trip," says Dr. Kamat, a Tennessean by birth who has been a Bucks County resident for more than 30 years, moving here while in the first grade. "Being part of a big, multi-doctor practice never appealed to me, but having my own practice did, because of the autonomy, because of the level of service I can provide, and because of the diversity in the patients I'm able to see. I'd say it's the best of both worlds: I also get to work with people who are, on the whole, healthy patients; I can do surgery in the operating room and procedures in the office; see patients in the hospital setting; be involved with trauma coverage; and then there's the retail and cosmetics side of the business. It's a beautiful cross-section of everything."
Dr. Kamat and his staff provide the highest level of personalized care in treating conditions such as cataracts; dry eye; ptosis, or drooping of the upper eyelid, which can compromise one's vision; diabetic retinopathy, or the damage to retinal blood vessels caused by diabetes; and blepharitis, or chronic inflammation of the eyelids. The staff also offers LASIK services, in the first location in the country to use the newest "all-laser LASIK equipment, according to Dr. Kamat. Of course, the practice is also a one-stop shop for eyeglasses and contact lenses.
"Through routine eye exams we're helping patients with everything from macular degeneration to eyelid cancers, among other eye conditions," he says. "The sooner we see patients, the better we can prevent problems down the road. What I think I like best about this field of medicine is that, with a 10-minute or 20-minute procedure, when indicated/desired, I can significantly improve someone's quality of life."
The practice has grown steadily since 2009. Dana Cianni, O.D., joined Bucks Eye Specialists in July 2011 after working as an optometrist for Temple Health System Philadelphia for the previous four years. A graduate of Cornell University in Ithaca, N.Y., she received her Doctor of Optometry degree from the Pennsylvania College of Optometry in Elkins Park. Dr. Cianni is licensed to treat and manage ocular diseases such as glaucoma, age-related macular degeneration and diabetic eye disease. She also has extensive training and experience fitting a large variety of contacts, including specialty and cosmetic lenses.
"We're a small, well-dedicated and experienced staff, and there's a definite personal touch in the level of service we offer," Dr. Kamat says. "You're going to spend a lot of personal time with a physician here, and you won't feel as if you're being offered services we're not trained to perform because of the level of our expertise."
One of the most unique services offered at Bucks Eye Specialists offers is Intense Pulsed Light, or IPL, from a machine by West Chester-based DermaMed Solutions as a solution to dry eye. Dr. Kamat is one of a select few physicians in the region to offer this innovative therapy.
"This machine is designed to help people get to a drop-free state for dry eye," he says. "It might not get you to a point where you don't ever need drops again, but I tell folks that their condition can get 50 percent better, with no prescriptions. The numbers are staggering in terms of the people who need help. In the U.S., about 6 million women and 3 million men have moderate or severe symptoms of dry eye syndrome, and it is estimated that an additional 20 to 30 million people have mild cases of dry-eye syndrome. Dry-eye syndrome is one of the most common reasons that people visit their eye-health professional. Dry eye can be caused by numerous medical conditions or simply from wearing contacts too much."
Dr. Kamat, a board-certified fellow of the American Osteopathic College of Ophthalmology, stays busy outside of his thriving practice. For example, he is a clinical instructor at the Wills Eye Institute in Philadelphia and is also the ophthalmologist for the Cancer Treatment Centers of America's Northeast Regional Center in Philadelphia. Furthermore, he is on staff at St. Mary's Medical Center and Aria Health's Bucks County Campus and Forest Health Medical Center, all of Langhorne, Campus Eye Group in Hamilton, N.J., as well as the Wills Eye Surgical Network at its locations in Warminster and Cherry Hill.
"I honestly may not be able to help everyone that I see," he says, "but if something has happened to an eye, I've likely seen it before."
Bucks Eye Specialists
301 Oxford Valley Road, Suite 801A
Yardley, PA 19067
Phone: 215-493-7330
Web: www.buckseyespecialists.com
Kim Billingsley is a freelance photographer from Doylestown.