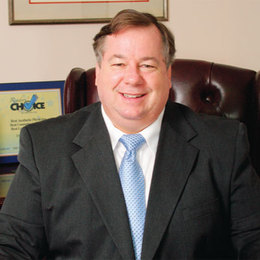 Look Naturally Refreshed
Cosmetic injectables at the Institute for Laser and Aesthetic Medicine
When women and men reach a certain age, there are some signs of aging that become hard to ignore. Looking in the mirror and seeing a tired, lifeless and dull face makes people wish they could simply look healthy and radiant again. They're not looking for major changes that often require surgery; the desired effect is to look rejuvenated, refreshed and revitalized in a natural way.

"Patients would prefer no downtime, if possible, and still receive a refreshed, natural look," says Dr.Glenn DeBias, founder and medical director of The Institute for Laser and Aesthetic Medicine. "Cosmetic injectables can achieve a refreshed, quick fix."

Dr. DeBias is internationally recognized for his skin tightening procedures and is one of the most experienced cosmetic injectable physicians in the country, having performed over 100,000 procedures at his offices in Doylestown, Bethlehem and King of Prussia.

"There are few things more gratifying than walking into an aesthetic physician's office, having a procedure performed, and leaving feeling refreshed and rejuvenated," says Dr. DeBias.

New Options for a Better Look
Facelifts were once considered to be the only way to remove wrinkles and sagging, but with surgery like that, patients must endure anesthesia, a long recovery period, and unpredictable—and irreversible— results.

Today, there are a variety of fillers that can reverse the effect of folds and deep lines or soften more superficial lines.

The most popular fillers in the country are hylauronic acid products, such as Restylane, Perlane and Juvéderm, and the calcium hydroxylapitite product Radiesse. These fillers will last usually 12 to 18 months.

While Sculptra (polylactic acid) is technically not a filler, it offers some collagen building complex and anchoring for volume loss and sallow areas of the face.

"Dermal fillers are very popular in our practice—patients receive an instantaneous result from the injection," says Dr. DeBias.

The glabellar lines, also known as the frown lines or "angry 11" lines are the most popular area to be treated and the only area presently approved by the FDA for cosmetic treatments.

Botox/Dysport - The Most Popular Injectables
Botox is one form of Botulinum Toxin Type A—manufactured by Allergan in Ireland. Dysport, another form of Botulinum Toxin Type A is distributed in the U.S. by Medicis and manufactured in the UK by Epson. Both forms of Botullinum Toxin Type A are FDAapproved for glabellar lines relaxation.

Botox/Dysport is also commonly used in other areas, such as forehead creases and crow's feet around the eyes. It will smooth out those problem areas without giving you the "I've had work done" look.

"The primary effect of the Botox/Dysport is to offer controlled muscle relaxation for up to several months," says DeBias. "Most patients want to maintain use of their expressive muscle tone so that they still have movement, resulting in a very natural, appealing look. Most patients don't want to give away any telltale signs of treatment."

The procedure is quick and painless, and patients typically see significant results within a few days. The refreshed appearance can last three to four months.

Beauty That Won't Break the Bank
Both Botox cosmetic/Dysport and dermal fillers are reasonably priced by most patient standards. Botox/Dysport is delivered in units and the injector should list the number of units being delivered. The price for Botox varies, as does the price for a syringe of Restylane, Perlane, Juvederm Ultra or UltraPlus.

Dr. DeBias's price for Botox is $9 per unit and $4 per unit and dermal fillers are at $350 per syringe, depending on the filler, after rebate. To obtain the best value, find a provider who can deliver optimal results at a fair price in a comfortable office setting.

"Our cosmetic practice has continued to grow despite current economic conditions, due mostly to high retention of our satisfied existing patients, as well as an influx of new patients who have had prior treatments in other practices but were not happy with their results, the price they paid, or both," says Dr. DeBias.

Making the Right Choice
Since there is no board certification pertaining to cosmetic injectables, patients must ask a potential treating physician the right questions: How long have they been doing this procedure? How many does the physician do a week, a month, a year? What is their status with the major injectable companies Allergan and Medicis? Does the physician train other physicians in performing cosmetic injectables?

Dr. DeBias is one of a few physicians in Pennsylvania to achieve top injector status with both Allergan and Medicis as it relates to Botox cosmetic, Juvéderm, Restylane and Perlane injections. He is a national speaker for Dysport, Perlane, and Restylane procedures, and he is in the top 1 percent in the country by status and experience. He has trained many physicians in performing cosmetic injectables.

The Institute for Laser and Aesthetic Medicine, 110 Hyde Park in Doylestown; 1030 Continental Drive in King of Prussia; 1655 Valley Center Parkway in Bethlehem. For office hours, to schedule an appointment or for more information, visit ILAMed.com or call 866-48-LASER.