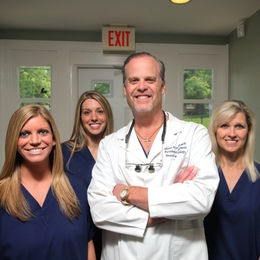 Deeply Committed with James A. Vito, DMD
When a patient enters the office of Main Line prosthodontist Dr. James Vito, "our world stops and theirs begins"
An elegant 76-year-old woman entered the office of James Vito, D.M.D., in Wayne. She was impeccably dressed and every hair was in place. She was beautiful—until she smiled.
"In my 60s, my gums bled and my teeth started to fall out," says Linda, not her real name because she prefers to remain anonymous. Linda had a lifelong fear of dentists, which began at age 12 when the family dentist drilled deeply into her teeth without the use of painkillers. "I finished high school and college, went to work, got married and had children. Nobody seemed to notice the fact that I did not get dental care for myself."
When she turned 75, one of her front teeth eased itself out of her gum and rested on her bottom lip like a fang.
"There was no denying the fact that I needed help," she says, "but my fear of dentists was paralyzing. I had convinced myself that I would have a coronary if I ever sat in a dental chair again. This was a true demon for me. "
Linda says she prayed long and hard to St. Jude, who seemed to keep pointing her to the sign in front of Dr. Vito's office. How she gathered the courage to call his office is a mystery to her.
Dr. Vito fixed Linda's immediate problem during her first visit, and then, over a period of time, completed a full upper and lower reconstruction, creating not only a beautiful smile but restoring the health and function of her mouth as well.
"It was a transformational experience," Linda says. "He has reengineered and reconstructed my bite. My smile is to die for, and I don't mind flashing it around. At age 76, I feel beautiful."
How was it that Dr. Vito and his staff were able to quell Linda's fears, a miracle in itself, and also render an experience that she wholeheartedly believes changed her life for the better?
"There is something wonderfully comforting about Dr. Vito's office," she explains. "No sliding glass doors and uncomfortable captain's chairs. You actually walk into a house and wait in a living room. His staff is cheerful and welcoming. There is nothing intimidating, yet it is all so professional. You get the immediate feeling that he and his staff truly care about every patient."
The care is genuine, demonstrated by thoughtful action and sincere commitment. The "good vibes" start when you walk in the door.
"We're very service oriented," says Dr. Vito, who has practiced his unique brand of concierge dentistry for 25 years. "It goes beyond economics. When you walk in, our world stops and yours begins. And I think people can sense and feel the warmth of our team right away. Over the years, we have developed a strong family dynamic."
Christine George, Justine Doyle and Barbara Gregor have worked with Dr. Vito for many years. "We all enjoy coming to work every day," he says. "It's fun. We have the privilege of fulfilling peoples' wishes and desires. Not everyone gets to do that every day."
Dr. Vito gets nostalgic when thinking about what keeps him going. "My dad would tell me, 'Treat people well and whatever you do, do it right," he says. He is a self-admitted perfectionist who achieves satisfaction by exercising his creativity and mechanical skill. These traits are evident in both his personal and professional life.
"I don't play golf," he says. "I walk around and fix things, make them better. See the landscaping outside? I did it." The lawn is neatly trimmed, the evergreen bushes are sculpted, and there are small bursts of color around the tidy brick colonial building that houses his full-service, state-of-the-art facility. With the exception of some lab work, Dr. Vito's staff performs all aspects of their patients' work on site.
Their process of working with patients is the result of years of experience and refinement.
"We treat you as if you have never been to a dentist," he says. "You bring along your current X-rays, if you have them, or we'll take them here. If you're interested in dental implants, we evaluate your bone density to see if you have a sound foundation. We take pictures. We have a computer program that shows you how different styles and colors of teeth will look in your mouth. We'll pick a tooth shade that's complimentary to your coloring, then take impressions and communicate this information to our dental lab. Our goal is to develop a concept of what you want the final result to look like. It's a collaborative process and we'll spend a lot of time getting to know each other and what's involved until you're completely comfortable and satisfied with the final result."
Dr. Vito stands behind his work. He says the ultimate compliment is when patients come back for treatment, wearing their "temporaries," and tell him friends or loved ones have noticed that something is different about their appearance, something they can't quite put their fingers on. He then replicates this is the final restoration.
"We're able to make positive changes," he explains, "but not changes that are so dramatic that other people notice."
With a D.M.D. degree from the University of Pennsylvania School of Dental Medicine, Dr. Vito was trained and received his certification in Periodontics and Prosthodontics through the school's prestigious Periodontal Prosthesis-Fixed Prosthodontics program. He is dual board certified in implant dentistry through the American Board of Oral Implantology/Implant Dentistry and the International Congress of Oral Implantologists. He is also a clinical professor of Periodontics and Implant Dentistry at the Kornberg School of Dentistry of Temple University's and is on the teaching faculty of the Misch International Implant Institute.
A Plymouth Meeting resident, Dr. Vito has practiced as an advanced restorative, implant and cosmetic dentist since 1987. Also, since 2000 he has consistently been recognized by respected publications as one of the "Top Dentists" in the Philadelphia area.
And when you're a patient like Linda, or if you have an emergency, you get his personal cell phone number. Commitment doesn't get much deeper than that.
To learn more about Dr. James Vito you can visit his website, JamesVito.com, or contact his office, which is located at 523 E. Lancaster Avenue in Wayne, by calling 610-971-2590.
Teeth by Tonight
Dental Implants
Dana Dobson is a writer based in Bucks County.
Rob Hall is a photographer based in Plumsteadville.