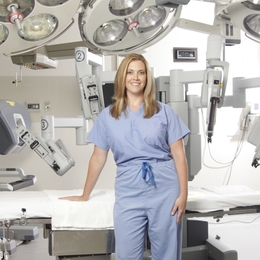 Regaining Control
At The Female Pelvic Health Center, Dr. Stephanie Molden and her team remedy an array of conditions that keep women from living their lives to the fullest
Incontinence had kidnapped Mary Ann Fairbanks. The 71-year-old Levittown resident's active and wonderful life had been a wide-open highway. Recently, however, it had devolved into an unending traffic jam of bumper-to-bumper misery. The robust life she once knew had vanished.
As a nurse in a hospital trauma unit, she was keenly aware of the physical changes a woman's body undergoes as it ages. She believed, as do many women, incontinence was merely another problematic yet normal result of aging.
"I couldn't go anywhere without first going to the bathroom," says Fairbanks, who was among 30 percent of American women over age 65 with incontinence issues. "Then I had to make sure there were bathrooms along the way and had to know where the bathroom was immediately upon my destination. If we were driving to Florida on vacation, I'd have to stop every hour to go to the bathroom. I know it must have been very annoying to our friends we were traveling with, to have us stop so many times along the way.
"And even when I did know where a bathroom was, unfortunately sometimes I'd have an accident before getting there," she continues. "I just thought incontinence was something all women my age had to live with. It was something that was embarrassing to talk about; I couldn't bring it up to anyone. It was awful."
Then Fairbanks discovered a clearing in the traffic jam: Stephanie Molden, M.D., founder of The Female Pelvic Health Center, in Newtown.
Dr. Molden proved to be a godsend for Fairbanks. From her initial visit in February, through noninvasive surgery in May to perform a bladder lift that corrected her condition, and during her aftercare, Fairbanks found the attention she received was greater than she could ever have dreamed.
"Dr. Molden didn't just do my surgery, she gave me my life back," Fairbanks says. "How do you put a price on that?"
Fairbanks is among more than 1,000 women to have their freedom returned to them by Dr. Molden. No more scoping out restaurants for the rest room, and no more turning down a night on the town with friends. After being treated by the skilled, experienced hands of Dr. Molden, their worries were, well, no more.
"When I can cure them of their condition, it feels amazing," says Dr. Molden, who is also director of urogynecology and robotic surgery at St. Mary Medical Center in Langhorne. "They come to see me thinking nothing can be done to help them. When we help a patient who thinks she can't be helped, that's what gets me through dealing with the negative changes constantly occurring in medicine. The only thing that helps me see the light at the end of the tunnel are patients' hugs and gratitude."
Dr. Molden is among the region's leading practitioners of urogynecology, a subspecialty of obstetrics and gynecology, also known as female pelvic medicine and reconstructive surgery.
For three years at her Newtown office, Dr. Molden has utilized surgical and nonsurgical procedures to successfully address women's urogynecologic conditions such as stress urinary incontinence, urge urinary incontinence, pelvic organ prolapse (the dropping of the uterus, bladder, rectum or vaginal vault), prolapse of the urethra and bladder, rectocele (herniated rectum into the vagina), recurring urinary-tract infections and painful bladder syndromes.
"A lot of women have never even heard of these terms," Dr. Molden says. "If I didn't go into medicine, I might not know what they mean either."
One of few doctors in the Pennsylvania-Delaware-New Jersey tri-state area to have completed a three-year fellowship for urogynecology, Dr. Molden has performed more than 1,000 minimally invasive procedures, including the latest robotic surgical techniques. She was first to use the robotic da Vinci Si HD Surgical System for urogynecologic surgery at St. Mary and at St Luke's Hospital in Bethlehem, and helped start the robotic program at St. Mary, performing its first robotic surgery in April 2010.
A lecturer and noted researcher, Dr. Molden is among the nation's leading authorities on treating women's urogynecological issues. She is a proctor to other surgeons on learning minimally invasive techniques. The American Urogynecologic Society is among the many organizations to which she is a member. She is also an advisor for the Fellows Research Network, assisting fellows in urogynecology research projects.
Dr. Molden is eminently qualified to treat women's urogynecologic conditions. What frustrates her is that many women aren't aware they can be helped.
"When I tell a patient I can do a procedure, either surgically or non-surgically, to help them, they are elated," she says. "Older women are especially surprised to hear we can help them—and that's the problem.
"There's a lack of publicity on what can be done. More information needs to be available to women. There aren't a lot of advertisements for these conditions, other than ads for pads and undergarments. They take care of the symptoms, but they don't correct the problem. We can usually correct the problem or at least significantly improve it."
Loss of bladder control is experienced by 30 percent of women age 65 or older, and 1 in 5 women over the age of 60 undergoes surgery for prolapse. But women of all ages are affected by bladder control issues. About26 percent of women of reproductive age are affected by these conditions.
"Younger women are less tolerant of these kinds of physical problems," Dr. Molden says. "They're more apt to do more research, go on the Internet and find treatment. But there are still common misperceptions; a lot of older treatments have not proven efficacious, so even young women have a false idea of what works. A lot of my job is to educate women and help them get their lives back."
Just ask Mary Ann Fairbanks, who, thanks to Dr. Molden, is once again cruising through life on the open highway.
The Female Pelvic Health Center
760 Newtown-Yardley Road, Suite 115
Newtown, PA 18940
Phone: 215-504-8900
Fax: 215-504-8902
E-mail: info@fphcenter.com
Website: www.fphcenter.com
Phil Gianficaro is an award-winning writer from Doylestown.