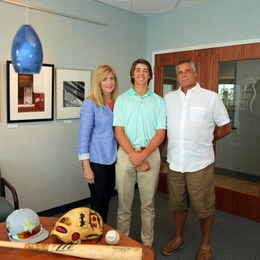 Back in the Game
Through means both surgical and noninvasive, the physicians at Princeton Brain & Spine Care take a holistic approach to solving patients' spine-related problems
You turn on the television to watch your favorite hospital program. A team of handsome surgeons and breathtaking nurses stand before a patient on the operating table and carve open his back to repair a damaged spine.
As you sit back in the comfort of your living room munching snacks and sipping drinks, the drama is captivating. But when a serious condition is no longer make-believe, and the afflicted person is not an actor, but you, the real-life drama becomes incredibly unsettling.
At Princeton Brain & Spine Care, four highly skilled, experienced surgeons are experts in performing those extensively invasive surgeries that TV viewers love to watch.
According to Dani Bidros, M.D., however, he and his colleagues—neurosurgeons Mark McLaughlin, M.D., Nirav Shah, M.D., and Seth Joseffer, M.D.—are also extremely proficient and committed to first trying minimally and less invasive treatments to treat a patient's condition.
Each of the doctors lives by the mantra: Treat and advise a patient as if they were your own family.
"We are a comprehensive spine practice," Dr. Bidros emphasizes. "We like to be known as spine specialists rather than only spine surgeons because there is more to spine care than surgery itself. We look at the patient as a whole person, not just someone who has one condition. Although we do perform major surgeries when necessary, we first try to explore less invasive treatment options."
A type of minimally invasive technique used instead of traditional surgery is a procedure known as kyphoplasty.
"Osteoporotic compression fractures are commonly diagnosed in elderly patients," Dr. Bidros says. "These fractures are often painful and very debilitating; the pain can be so severe that patients are unable to get out of bed. Kyphoplasty is a minimally invasive procedure that involves injecting bone cement into a collapsed spinal vertebra. This stabilizes the fracture, relieves the pain and prevents fractures from further collapse. This is usually done under local sedation and the procedure takes only about 20 minutes.
"These are some of the great things about neurosurgery and spine surgery," he continues. "There's always a new technique being developed to treat our patients. It's an ever-evolving field."
Dr. Bidros brings to the practice a wealth of experience and knowledge in the study and treatment of conditions of the brain and spine. He received neurosurgical training at the world-renowned Cleveland Clinic Foundation, where he was mentored by today's leaders in neurosurgery. During his stay at the Cleveland Clinic, he also participated in a special program that involved treating metastatic brain and spine tumors with less invasive techniques including radiosurgery treatment.
"I have completed additional training in spine oncology and complex spine conditions," Dr. Bidros says. "I am dual trained in neurosurgical and orthopedic spine surgery. My other interests include neuro-oncology and pituitary surgery. That's what makes Princeton Brain & Spine Care so special; each of the doctors has a specialty. We all bring an expertise to the field. Between the four of us, we are capable of treating most neurosurgical problems."
Each doctor at Princeton Brain & Spine Care has excelled in a leading neurosurgical training program, and received subspecialty training in very specific areas of neurosurgery. Patients who walk through those doors know they will get the finest care delivered by the finest doctors.
But what truly makes Princeton Brain & Spine Care a special place is its patient philosophy.
"Being able to treat a patient, by relieving their pain or improving their quality of life, is a great privilege," Dr. Bidros says. "Each of the doctors here feels the same way about that.
"When a patient comes back into our office after a procedure and their pain is gone or their symptoms have resolved, there is no better feeling."
Princeton Brain & Spine Care | www.princetonbrainandspine.com
Four Area Campuses
Langhorne
St. Clare Medical Building
1203 Langhorne-Newtown Road, Suite 138
Langhorne, PA 19047
Phone: 215-741-3141
Princeton
731 Alexander Road, Suite 200
Princeton, NJ 08540
Phone: 609-921-9001
Freehold Office (Route 537)
901 W. Main Street
Ambulatory Campus, Suite 267 (CentraState Medical Center)
Freehold, NJ 07728
Phone: 732-333-8702
Hunterdon
Hunterdon Medical Pavillion (behind CVS Pharmacy)
190 State Hwy. 31, Suite 300B
Flemington, NJ 08822
Phone: 908-229-6627