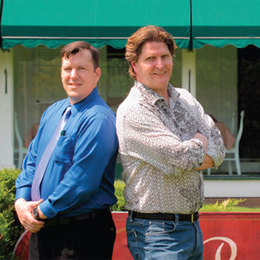 Take Me Out
Bring home restaurant-quality meals from Gourmet Express by Rouget in Newtown
Take-out dining in Bucks County just got a whole lot tastier. Last month, the team behind Newtown's wildly successful and delicious BYOB Restaurant Rouget opened a new venture, Gourmet Express by Rouget on State Street.

Just down the block from its Swamp Road predecessor, Gourmet Express' stark white walls provide the deliberately minimalist décor for this strictly take-out eatery, which aims to put savory and healthy dinners on family tables all over the area.

Culinary Institute of America graduate and executive chef/owner, Brian Held, put his classically trained skills and techniques to the testand won rave reviews and a loyal customer base at Restaurant Rouget, now in its third year. Serving lunch and dinner as well as budget-friendly weekday prix fix dinners, Rouget—named after the sweet and nutty rouge-flecked Mediterranean fish—has been luring in patrons with the scents and tastes of the French countryside and all of the homey classics that go with it.

So, on the heels of the restaurant's success, Held and his business partner, Kenneth Breece, are expanding to become even more accessible by "changing with the current trends in fine dining in regards to today's economic issues."

"I felt there was a need to do something that is a little more affordable; something for people to eat at home that is comfort-oriented, yet made with the same level of quality ingredients," Held explains.

With this newfound philosophy about what their customers are looking for in the area, Held says they created a space where "people can quickly come in, pick out something delicious, grab it and go. It's like bringing a restaurant to the dinner table."

Gourmet Express by Rouget's menu is chock full of what families are craving: stick-to-your ribs hearty dinners made with gourmet, quality ingredients from local farms and markets. Standout options include juicy pulled pork sandwiches, home-style meatloaf and the all-American oven-roasted turkey, plus rich and hearty soups and healthful salads. What really makes this take-out-only enclave special is both Held's and Breece's vision of gourmet, take-home dinners and a bevy sides, which can be ordered as either individual or family sized combo deals.

"I want to emphasize bringing the family back to the table for dinnertime," says Breece. "For moms and dads on the go, they can call, and say 'We'd like to pick this up.'" Other highlights are taken right from Restaurant Rouget's menu, such as the signature beef a la mode, a meaty crab cake or a half or quarter of a perfectly roasted chicken. Served alongside creamy gratins, fresh vegetables and decadent macaroni and cheese, the take-out spot actually serves up restaurant quality food at reasonable prices.

And the restaurant that inspired or created the dishes is known to produce some of the area's finest dining.

"Rouget's kitchen turned out some of the best food I've eaten in Bucks County in the last decade," exclaimed Philadelphia Inquirer restaurant critic, Craig LaBan in his April 2008 review. He salivated over the luscious fruit sorbets, swooned over the truffle aroma that filled the 60-seat space and admired Held's "artful touch" when it came to his classical culinary training that consistently showed itself in every aspect of the sumptuous dishes he dissected.

Rouget's impressive menu boasts meticulously prepared dishes such as cured and braised pork belly, a velvety puree of mushroom soup with truffle oil, and olive oil-poached Halibut Provencal.

Gourmet Express by Rouget, 128 S. State St., 215-504-0200
Restaurant Rouget, 2 Swamp Road, Newtown, 215-860-4480,
RestaurantRouget.com

Leigh M. Boriskin is a freelance writer based in Penn Valley.