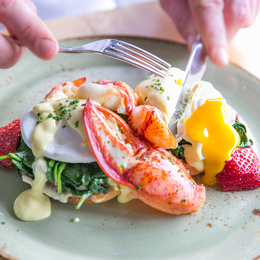 Main Line Mainstay
Savona features a talented team capable of crafting a rich, brightly flavored dining experience
Restaurants, like all living things, evolve. Whether this is a good or bad thing is largely dependent on the culture of the place itself and the ability of the staff to pass down its collective learned ways to newer members, thereby perpetuating a cycle that, with some luck, remains virtuous.
I bring this up because Savona, which has been an accomplished, justifiably lauded mainstay of the Main Line dining scene for years, has been a remarkably consistent restaurant over the years. Indeed, through all sorts of changes—the addition of the more casual Bar Savona, the loss of master sommelier Melissa Monosoff (she's in Texas now)—I've never questioned the quality and value of dining here, whether professionally or on my own time.
Which brings me to my recent visit to Savona, during which I experienced some new and unfamiliar feelings.
There were, of course, a number of standouts here. Charred asparagus spears were blistered and smoky sweet—brilliant foils for a perfectly poached three-minute egg and the earthiness of an evocative mushroom salad of shaved royal trumpets and cremini. The pancetta vinaigrette glossing it was a marvel. An amuse-bouche of refreshing, brightly flavored gazpacho was anchored by gorgeous blue crab meat. This was a classically proportioned, high-impact little dish, and the balance of flavors was impeccable.
The wine program, even after the departure of Monosoff, is moving along swimmingly under the leadership of sommelier Steven Gullo. Interesting glass pours such as a bright, versatile Godello from Spain comfortably reside alongside the other more prestigious selections on the bottle list. (If you have the money, the $350 bottle of Chateau Lascombes 1996 is a good option. For $60, an unexpected white from Priorat will deliver as well.)
At the same time, there were a few slip-ups that surprised me, especially given the cost of the dishes and the past infallibility of the kitchen. (It's important to note here that I've never believed the value of a restaurant to be tied to the hard cost of dining there, but rather to the amount of pleasure the overall experience delivers; in other words, a $130-per-person prix fixe can provide tremendous value, whereas we've all suffered through inexpensive meals that accomplish quite the opposite.) The ricotta and crab filling for agnolotti was unmemorable, and the fava puree plated with it could have used more seasoning and acid. The pasta itself, meanwhile, was too thick, gummy and somewhat inelegant.
The herb crust on the filet mignon didn't taste of much more than thyme, though rosemary, sage and parsley were also there, mixed in with the flour and breadcrumbs. And the steak itself, like those favas, was underseasoned. Fortunately, it was redeemed by beautifully crispy maitake mushrooms, ambrosial caramelized shallots, and a veal-and-red-wine reduction that shimmered in the dusk light coming through the windows.
Overall, there were also a few missteps as it relates to the service. We were tended to by a team that never quite got it together. The more junior members (at least from my perspective)—as denoted by their blue shirts—seemed to lack the finesse and engagement I craved, with the occasional exception, while the more senior member—he wore a suit, though it was unclear if he was a head waiter, manager or something else—was far more professional and accommodating.
After dinner, the desserts we tasted were very good. A generous assortment of cookies stood out, including an almond paste-rich pignoli cookie, a gorgeous chocolate-chip meringue cookie, and a cherry coconut crumb bar, among others. The torta a la minuto, built on a base of warm butter cake and accompanied by the excellent homemade gelato, was fabulous.
Despite any issues I encountered, I left wanting to love Savona. It's far too important a place for anything resembling an "off night" to become the new status quo. The team here is too proud, and too talented, and too good at what they do, to not make things exceptional night in and night out. As it stands, Savona remains a very good restaurant; it just needs to feel special again.
Savona Restaurant
100 Old Gulp Road
Gulph Mills, PA 19428
610-520-1200
Web: www.savonarestaurant.com