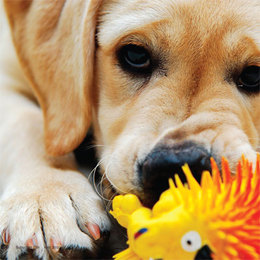 Sit, Stay, Heal
Alternative medicine for pets is on the rise
Mention to your friends that you're seeking treatment from an acupuncturist and herbologist for your pain or anxiety, and you might see a few eyebrows raised. Tell them you're taking your dog in for similar treatments, and you're almost guaranteed to get some very strange looks. But alternative medicine for animals is a growing phenomenon in our area and across the country. Pet owners are looking at the healing powers of eastern medicine to help cure their dogs, cats and even horses.

Ever since Oskar, a 12-year-old pit bull mix, began receiving alternative treatments from Malvern-based veterinarian Dr. Cynthia Graves, DVM, CVA, his owner has seen surprising improvement in his arthritis and partially torn ligament. Katerina Minakakis, of East Falls, says she never considered herbal therapy or acupuncture to treat Oskar, until the dog's physical therapist, Jennifer Magee, CCRP, CMT, suggested she contact Graves for a consult.

"The results have been amazing," Minakakis says. "He's a completely different dog. He could hardly walk on his left knee and now he only has a slight limp, but we're so pleased because he's able to function comfortably."

Graves also treated Oskar for his doggie anxiety using a method called bioenergy healing. Here, the practitioner applies her own energy and a universal life sustaining force alternatively called Qi, Chi and Prana, among others, to channel specific energies and healing powers into the body and mind. "It was really weird to see the results, and I wasn't expecting it," says Minakakis, who also reports Oskar seems less anxious and maintains his newfound calmness long after the healing sessions.

Many options are currently available for pets to feel their best, break out of a psychosis triggered by an injury, heal their ailing muscles from old age or just maintain a healthy life. Acupuncture, herbal medicine, massages, diet therapy, aquatic therapy and physical therapy, are treatments that are seeing an increase in animal mpatients.

In fact, Graves and Magee, a Certified Canine Rehabilitation Practitioner and a Certified Canine Massage Therapist, have just opened an animal wellness center in Malvern, called Rebound. The two previously worked together providing the rehabilitation services at Dogma Dog Spa in Wayne.

"Many of my clients have experienced relief and are looking for alternatives for their pets, while other clients are just at the end of the road with western medicine," says Graves, who most recently worked at VCA Animal Healing Center in Yardley.

She now spends her days providing acupuncture, Chinese herbal therapies and bioenergy healings to her furry patients. "It was never my intention to deviate from western medicine," she says. "After experiencing the effects of eastern medicine, which resolved some of my issues when western approach did not, I became convinced that eastern works—and works well—in many cases."

Havertown resident Christine Graham says she has also been sold on the benefits of animal acupuncture and physical therapy.

Her Rottweiler mix looked unhealthy and unhappy after an accident, but after two years of canine rehab, acupuncture and a diet change, "Harley is like a whole new dog. She is happy, she looks amazing, and her coat is shiny," Graham says.

Magee admits cost of treatment can add up pretty quickly, but after an expensive surgery, continuing therapy is a way of protecting your investment. Magee also works with animals hoping to avoid surgery. For example, hydrotherapy, at $75 per underwater treadmill session, helps pets regain muscle strength and mobility. Although eastern medicine practices are gaining steady popularity in the animal community, most experts encourage a steady balance of both worlds.

"I will always support western medicine and talk to my clients about western diagnosis and recommend further diagnostics, because I find it beneficial and necessary to talk about," Graves says. "I see patients feel better and their illness resolves more quickly when eastern and western medicine work together."

Victoria Schade is a Doylestown-based photographer and owner of Life on the Leash.