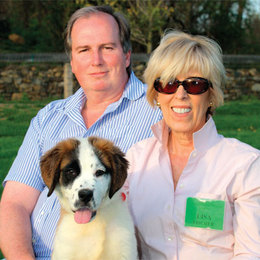 To the Rescue
A Main Line organization brings national attention to inhumane puppy mills
Six years ago, when Bill Smith, founder of Main Line Animal Rescue in Kimberton, purchased a billboard on the Pennsylvania Turnpike declaring Lancaster County "home to hundreds of puppy mills," he never expected to become one of the most influential animal activists in the country. His mission was simple—to raise public awareness of facilities that breed dogs in large quantities, often keeping them in stacked rabbit cages and denying them proper care and veterinary attention.

Through undercover investigations, interstate rescue operations, trips to Harrisburg and Washington, D.C., and even attracting national attention by appearing on Oprah—her April 2008 episode on the issue generated the highest viewer response in the show's history—Smith has fought, and won, hundreds of battles against puppy mill operations in the state and around the country.

"Out of 300 commercial kennels around Pennsylvania, 100 have gone out of business and another 100 have come into compliance with our new laws," Smith says.

When Smith and the volunteers at Main Line Animal Rescue remove the dogs from their filthy, cramped cages, the challenge becomes trying to rehabilitate the neglected dogs in to family friendly pets.

Lisa Fischer first got involved the organization after she adopted her 9-year-old yellow lab three years ago. She started the Over The Mill Support Group, which brings together people who've adopted puppy mill dogs, to discuss the proper care of their pets, share experiences and spread awareness.

Here, Fischer describes her experiences and explains what others can do to support the cause.

Q: What made you want to start your support group?

A: At first I went online to get some advice about how to care and rehabilitate dogs who had been in terrible conditions, and I didn't really find much support. Even my vet really didn't know how to help in a situation like this. ... We meet once a month and also have e-mail support for questions and advice among the members. We currently have around 150 members.

Q: What kind of care do you advise to rehabilitate dogs that have been in the puppy mill environment?

A: What we are working on now is called relationship-based training, and it seems to be ideal for these dogs. It starts off with building a trusting relationship with the dogs which they desperately need. You have to start so very elementary, because many of them have never been touched by human hands in a good way. Owners of these dogs learn to read signals from their dogs, and they give the dogs experiences that broaden their horizons because their world has been so small. It is a very rewarding experience to rehabilitate a dog like this because they do get better, and in the end they love you like no other dog could possibly love you because to them, you are their savior.

Q: How has Main Line Animal Rescue progressed over the years?

A: Since I have been there, they have a built a very advanced, beautiful kennel building and a veterinary clinic to handle medical emergencies, dental care and surgeries. We also have a very large barn where we have an indoor training area, and soon they will have a room with real sounds like a coffee maker, dishwasher and TV, to ease the transition of the dogs from the puppy mills into the homes of the families who will eventually adopt them.

Q: What can people do to help this situation?
A: One thing is to be sure never to buy a dog at a pet store, because 99 percent if not 100 percent of those dogs come from puppy mills. Not to mention that they're not the healthiest dogs. There are so many lovely dogs for adoption everywhere and they make such great pets. You have to make your statement with your dollar. If the puppy mills didn't have customers, they would stop breeding.