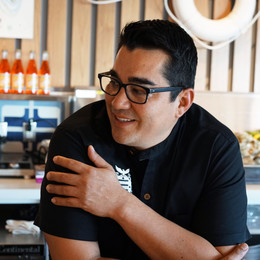 Close to Home
Philadelphia super-chef José Garces shares the essence of the Latin locales nearest to his heart
José Garces has become something of a god in the Philadelphia area. His more than a dozen Center City restaurants are beloved near and far, because of each space's personality and, more so, the food—including the organic fruits, vegetables and other foods grown at Luna Farm, a 40-acre family retreat in Ottsville that supplies his East Coast restaurants.
Chef Garces' recently penned cookbook, "The Latin Road Home," is due out this month, but this book—his second—is about much more than an amalgam of ingredients or, for that matter, food on a plate; each recipe offers an intimate look into the food traditions of the Latin countries that shaped Garces' life and love of cooking—from Ecuador, his native home, to Spain, where he studied after graduating culinary school.
We sat down with chef to talk about the book, why the term "celebrity chef" doesn't sit right with him and what's next for the Philadelphia dining scene.
Suburban Life: Congratulations on "The Latin Road Home." Why was it important for you to share not only the recipes but also the back stories of your ties to the countries of the recipes' heritage?
José Garces: To me, food is a window into culture—a vital one, and one that allows us to access parts of a country or a people that we would never otherwise experience. The stories in "The Latin Road Home" are as critical to the book, and to my experiences as a traveler and as a chef, as the recipes themselves.
SL: Was there a single recipe that inspired you to write the book? Better put, is there a recipe in the book that is of particular importance to you?
JG: This is a difficult question to answer; so many of these recipes have meant something personal to me, and the act of sharing them is truly a thrill. As readers explore each chapter, I think it will be obvious to them how personal all of these dishes are and how each of them has shaped me and contributed to the chef that I am today.
SL: With all the many projects, restaurants and causes you support and devote your time to, where did you find the time to write such a compelling, thoughtful book?
JG: I owe a debt of gratitude to my entire team for their contributions to this project, because without their support, knowledge and hard work, I would never have completed it. That said, these were always stories that I've loved to tell, and telling them in a book allows me to share them with so many more people. It's a dream come true.
SL: How does the book fit in with your commitment to educating younger generations on the value and importance of healthy eating?
JG: Healthy eating means a lot of things, from the components of the meal to the approach we take towards food as a whole. This book exposes my relationship to food—that it is more than sustenance, but rather, a storyteller and a cultural guidebook, as well as a staple of survival. It's impossible to experience another culture through their food without eating mindfully, and that attitude keeps us from looking at food as an unhealthy crutch or an afterthought. When we are mindful of what we eat and when and how and why, we make healthier choices.
SL: You're an icon locally, nationally and even globally. Do you accept the designation of so-called "celebrity chef" or do you see yourself merely as someone who's trying to create something positive in the world, with food at its center?
JG: A lot of people seem to misunderstand the term "celebrity"; I have always taken it to mean someone who is well known, and by that definition, I suppose I now fit the bill. But I shy away from some of the contemporary trappings of "celebrity status" and lean more towards using my platform to share my stories and hopefully feed some people in the process.
SL: You have restaurants throughout the country, but what makes Philadelphia special as a culinary capital, of sorts?
JG: Philadelphia is very much my home, but beyond that, it is a city near and dear to my heart because of the thriving culinary culture. Outsiders may think cheesesteaks are all Philly has to offer, but they're really just limiting themselves with that perception. We're home to arguably one of the deepest, richest pools of culinary talent in the nation—maybe the world—and the willingness of both chefs and diners to always try something new makes it a vibrant, vital place to live and eat and cook.
SL: What do you see as the next natural evolution—or perhaps merely one possible evolution—for the Philadelphia restaurant scene?
JG: I think that Philadelphia will continue to grow, eventually taking its place as a leader in American cuisine. As we speak, more and more talented chefs, servers, bartenders and other industry professionals are relocating here, and that talent only deepens our strength and our ability to forge a new path.