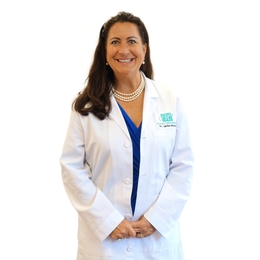 Straight Talk
Although orthodontist Dr. LynAnn Mastaj spends most of her time enriching her patients' lives, she still finds time for personal and professional self-improvement
Most people, if they are lucky enough, check off one or two things on their so-called "bucket list" in a given year—taking the vacation of a lifetime, for example, or running a marathon or moving into a dream home.
LynAnn Mastaj, D.M.D., meanwhile, has crammed a decade's worth of accomplishments into 2012, with two more months still left on the calendar.
Most impressively, Dr. Mastaj in late August climbed to Africa's highest point by scaling the grueling 19,341-foot Mount Kilimanjaro in Tanzania. (Incidentally, while training for the expedition she shed 30 pounds she didn't necessarily need to lose.) She also won "Top Orthodontist" awards from Suburban Life and Main Line Today. Finally, she had her first book—"Healthy & Beautiful at Any Age: Your Smile and Modern Orthodontics," co-authored by fellow orthodontist Dr. Donna Galante—published by Think Publications.
Although she is proud of the things she has done this year, Dr. Mastaj's she still considers her greatest accomplishments—and she receives her greatest satisfaction from—the artfully created smiles lighting up her patients' faces.
"I have wanted to be an orthodontist since I was in the sixth grade," she says. "I still remember the time we had career day in grammar school, and an orthodontist came in and showed us before-and-after pictures of his patients. I had a bad overbite at the time, so I went home that day and said, 'Mom, please take me to the orthodontist.' I had braces for four and a half to five years, and I was amazed at the confidence and self-esteem I gained from having a beautiful smile.
"I wanted to offer that kind of change to other kids as well," she continues. "Now I consider myself fortunate that I'm able to do that every day."
Dr. Mastaj's practice is rooted in prevention, and she sees patients as young as 7 to 11 to intercept problems before they turn into something that can be more difficult to correct later on.
"I always tell my patients, 'We want to start you out with straight, great teeth,'" she says. "I look for any type of malocclusion or other problems early on—crowding, missing teeth, overbites or underbites—and provide an expert opinion so parents can have a vision of what a child will go through for the next three to five years. It also prevents us from needing to pull teeth down the road. Essentially, I can provide a great foundation for teeth to come in so that their long-term growth and stability is much better.
"If we see patients at a younger age, it definitely gives us more options," she continues. "After we do preventative care to correct skeletal and dental problems, some kids don't even need traditional braces; we might do Teen Invisalign, which is a wonderful alternative. Having Teen Invisalign is almost like having braces for life; they can save the invisible aligners and re-wear them later in college, sort of like a retainer. It's a straight-for-life philosophy."
Still Climbing
Dr. Mastaj has been offering the highest level of orthodontic treatment to patients for more than 20 years. She continues to build upon her sterling reputation by updating her skills and expanding not only the services offered to patients but also how she delivers those services.
Dr. Mastaj treats patients with the utmost care for traditional braces, retainers, Invisalign and Zoom! whitening, among other services, and she also offers a treatment option through Skype known as Virtual Orthodontics. Through this service, she has examined patients as far away as Bermuda and Boston to discuss the progress they are making and even offer solutions for making minor adjustments in their care. The service does not replace traditional treatment but is merely another example of the convenience and innovation that Dr. Mastaj builds into her practice.
In addition to growing and changing her practice, Dr. Mastaj believes it is important to continually grow and change from a personal and professional perspective—say, by climbing mountains, writing books or otherwise finding new ways to step outside of her comfort zone.
"The Kilimanjaro climb was something I wanted to do for my own personal growth," she says. "Every 10 years I pick something I want to do to challenge myself. For my 20th birthday, I learned how to scuba. At 30 I took flying lessons, and at 40 it was snowboarding. So for my 50th, it was climbing Kilimanjaro.
"With something like Kilimanjaro," she continues, "it really shows you what you're made of. It was an emotional high and I felt like I was on top of the world—or at least on top of Africa, which I actually was."
The trip wasn't purely about the climb, however. During her time there she visited local communities to teach children the basics of proper oral care—how to brush their teeth properly, how to floss, etc. The experience has inspired her to volunteer her time at Philadelphia area schools by educating elementary school children about global awareness of proper oral hygiene and preventative care.
"I wanted to try to make a difference in their lives, and it was also an opportunity to give back and see a different culture," she says. "I'm used to practicing on the Main Line, and this was my opportunity to talk about health and wellness in a community where so many patients are compromised."
Dr. Mastaj recently found another outlet to educate the masses about the importance of proper oral health. She and fellow University of Pennsylvania School of Dental Medicine graduate Dr. Galante penned their book, "Healthy & Beautiful at Any Age: Your Smile and Modern Orthodontics," which was published in July. In the book, which was in development for more than a year, the orthodontists detail everything a parent of prospective orthodontic patient might need to know before beginning orthodontic treatment.
"It's a great reference for patients and parents who might have any questions about the importance of having a healthy smile and when a child would need braces, and there's even a whole chapter on the future of orthodontics," she says. "It's a nice piece of the puzzle and ties in very nicely to me being a go-to person for preventative and interceptive work.
"I still love what I do, and everything I've done this year has only reinforced that. A healthy smile gives kids opportunity, and that's a universal truth. I'm honored and grateful that I have the opportunity to have a hand in helping my patients realize that kind of change in their lives."
Mastaj Orthodontics
Web: lynannmastaj.com
E-mail: greatorthodontist@gmail.com
Three locations
Bryn Mawr
976 Railroad Ave., Suite 100
Bryn Mawr, PA 19010
Phone: 610-525-2277
Fax: 610-525-1956
West Chester
1646 West Chester Pike
West Chester, PA 19382
Phone: 610-692-5590
Fax: 610-692-9454
Upper Darby
14 South State Road
Upper Darby, PA 19082
Phone: 610-789-2410