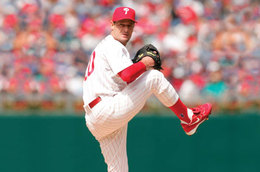 Neverending Story
Jamie Moyer builds a legacy that will outlast his record-setting baseball career
In sports, things always come down to numbers. How many wins, losses, hits, misses, yards, innings, goals. When Jamie Moyer steps up to the mound, there's one number that gets tossed around as often as his baffling changeups—his age. At 47, Moyer is officially the oldest player in the game, the oldest pitcher in a team's starting rotation since 1987, and the oldest pitcher in Phillies franchise history to record a win.

In an industry where statistics carry a lot of weight, Moyer's age is the one number that isn't getting in his way. He pitched in his first World Series at 46 and has battled back from a serious groin injury—that resulted in two separate surgeries last year— to start for the Fightins in their campaign for what could be their third-in-a-row, legacy-making World Series appearance.

Moyer's story is about more than just numbers, though we could shake out a few more—like 21: the number of years he and his wife, Karen, have been happily married, which could seem like eons to the likes of some of his fellow pro athletes. Or how about 10, Moyer's jersey number when he pitched for St. Joseph's University from 1982 to 1984, and the only number to have been retired in the team's history.

Or $19 million: the amount raised by his charitable foundation to help children in distress. Or 8: the number of children, ranging in age from 4 to 19, who live in Bradenton with Karen during the school year and in a condo in downtown Philly during the summer so they can catch as many of dad's games as possible.

If you ask Moyer, those are the numbers he really hopes will remain attached to his name after his retirement from the game—which could come when his two-year contract extension expires this season.

"Baseball is a great occupation. It's a great way to make a living, a great way to meet people, and a great way to travel," Moyer says, calling from Atlanta a day before he'll earn a win—the 260th of his career—against the Braves. "But Karen and I feel like charity work and philanthropy is a great way to give back and a great way to educate. Having these opportunities, being on a platform as an athlete, we feel like we should take advantage of that in a positive way and set a good example for our children, as well as give back to people that are in less fortunate situations."

Jamie and Karen established The Moyer Foundation, celebrating its 10th anniversary this year, while living in Seattle during Jamie's 10-year stint pitching for the Mariners. The foundation's mission of helping children was an obvious choice for the couple, who already had a growing brood of offspring and had spent some time visiting sick children in the hospital. The foundation funds programs near and wide that help children facing any range of issues, from the loss of a loved one to the loss of their homes like in the Haiti earthquake this year.

"It can be anytime, anywhere for a child," Karen says.

One of the biggest efforts of the foundation is its Camp Erin program. With 36 camps in 23 states—including one in Canada—it is the largest nationwide network of bereavement camps for children and teens ages 6 to 17 who have experienced the death of someone close to them. The program was created in memory of a 17-year-old girl, named Erin, whom the Moyers met through the Make-a-Wish Foundation before she died of liver cancer. As an active player, Jamie doesn't have the time he'd like to dedicate personal attention to all the Camp Erins around the country, but by making appearances and constantly raising awareness for his cause, he has been instrumental in funding the current camps and allowing for the creation of new ones (Karen says they hope to have 60 camps established by 2012).

"Karen's had the great opportunity to visit some camps around the country, and she usually shares with me numerous experiences of the children that she met," Jamie says. "It's quite humbling to listen to what some of these children have had to go through. It's kind of a motivator for me. You know there are many kids out there that are not able to come to camp because of numbers or not knowing about the camps. We really hope the camps will be able to grow their own legacies in the communities they are put into."

Two years ago, the foundation started Camp Mariposa in the Seattle area for children impacted by addiction or substance abuse in their families.

Philanthropy and religion have been—and will continue to be—the driving force behind much of what the Moyer family hopes to accomplish. When each of the Moyer children turns 16, Karen takes them on a mission trip. In summer 2011, Karen and their oldest daughter, Timoney, will visit India. She's taken their sons to Africa and Guatemala—a trip that resulted in the Moyers adopting a little girl in 2008 and then another in 2009. The additions to the family were unplanned, but according to Karen, must have been in God's plan.

"It's added a little diversity to our lives as well," Jamie adds. "It's brought a lot of happiness to our family. Our children have been able to experience something a little different from a normal childhood, and having these two girls—one being from an orphanage—I think hopefully they appreciate what they have and the opportunities that they have."

The Moyer clan is unabashedly a sports family. Karen is the oldest daughter of "Digger" Phelps, famed Notre Dame basketball coach and current ESPN analyst. She now stays active through teaching at Go Legs, the successful spin studio she first opened in Seattle and has since moved to Bradenton, Fla.

The Moyer's oldest, Dillon, will play baseball at the University of California – Irvine next year, and along with Hutton, a junior in high school, has plans to play in a league in the Philadelphia area this summer.

Growing up in Bucks County, Jamie pitched for Souderton High School and played basketball and golf, as well. In the fall of 1980, Jamie's senior year, when the Phillies took their first World Series Championship against the Kansas City Royals and held their first parade on Broad Street, he was there. His intension was to pursue a baseball career. His dream was to win the World Series.

"Did I know I'd be 20 years later in this situation? No," he says. "I think the fact did cross my mind that it would be cool to be in a parade like this someday celebrating a World Series Championship. And for me, the dream came true in my home town. I don't know if you were scripting this, if you could script it any better."

He spent three seasons pitching for the Hawks at St. Joseph's University, where he set the school's single-season records for ERA and strikeouts. Although he didn't graduate from St. Joe's—after being drafted, he completed his undergraduate degree at Indiana University, at the insistence of Karen's parents—he was inducted into the school's Hall of Fame in 1999, and he and Karen were presented with honorary doctorates last year.

The ceremony was "beyond their expectations," Karen says, and lavished so many kind words on the couple that she says it felt almost like a eulogy.

"I don't really look at myself as a doctor of course," Jamie laughs, "but I appreciate their thought and their kindness in recognizing myself and Karen for some of the accomplishments that we've been able to do with our foundation."

Jamie recently returned to campus for a reunion and says he was most impressed by the renovations and improvements—especially the recent purchase of land to build a baseball field for the team (when Jamie was a player, the Hawks' home games were held on fields scattered around the city).

When the family is town for the summer, and short visits throughout the year as well, they visit Jamie's parents, Jim and Joan, and sister Jill, and friends who still live in the Philly suburbs.

It might not be the official home for the family, even when they "squish in" their Washington Square condo for the summer months, but Karen insists that they make home wherever they are.

But being a Major League Baseball family also has its downside. While Karen travels with Jamie as much as she can, downtime during the season is rare. With a recent Monday off, Jamie flew back to Florida on Sunday night and relished in the opportunity to catch a little league game and read a book to his two youngest.

"As a father, that's part of my responsibility," he says, "and I take that on, and I take it on with open arms. I really enjoy that."

But both Jamie and Karen admit that while the moments of "daddy time" are precious, they are rarer than either would like.

"You can get tired of this life," Karen says. "You miss out on so much. He finally wins the World Series, and that was his goal, and he looked at his life and thought that he's missed out on so much of his kids' lives."

Despite being in his mid-40s, Moyer's 2008 championship season with the Phillies was undoubtedly one of his best. He started 33 games and pitched 196 and 1/3 innings. He finished the year with a 16-7 record and a 3.71 ERA. Moyer led the Phillies pitching staff in victories and his strikeout total was 123. Even more remarkable is that Jamie was nearly unbeatable after the All-Star break, going 8-1 in 14 starts with a 3.38 ERA.

Now, two months into his 24th major league season, the soft-tossing lefty is 2-2, and has taken down some of the sports latest and greatest young players—like the Braves' Jason Heyward, who, at 20 years old, wasn't even born by the time Jamie was drafted to the Cubs and recorded his first win (against the Phillies).

His artfully deceptive 82-mph "fastball" continues to win baseball games, but when it stops, and Jamie says he'll know, that's when he'll have to face the tough decision of bowing out.

"At our level, that's what it's all about—winning," he says. "I'm in that environment now, and it's very exciting, so it's really hard to let go of it. I'm living the dream I've had since I was a little boy."

And the constant references to his age?

"I think I've gotten used to it," he says. "That 'old' statement does get old, but it is a fact. I can't refute that."

He says he also considers his lengthy career to be an honor—enviable even— and that most people he encounters (on and off the field) are respectful of his age and skill.

Over the past few years, Jamie has gotten good at avoiding giving an answer to the retirement question.

"My best response is I'm going to leave all doors open," he says.

In an industry where you're only as good as your next throw, Jamie's future is more uncertain now than ever, but he says he'll continue to play as long as he's effective, whether that's one more season, or until he reaches the big 5-0.

After all, age is just a number.