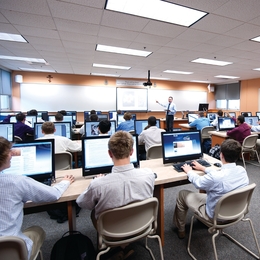 Prepared for Anything
At La Salle College High School, boys learn all the skills they need to excel in college and beyond
La Salle College High School, a Catholic, independent, college preparatory school for young men of varied backgrounds is conducted in the tradition of Saint John Baptist de La Salle. Founded more than 150 years ago by the Christian Brothers, La Salle boys are taught to be critical thinkers who are well prepared academically, able to communicate effectively and lead confidently.
Within the academic program one will find the collective work of 111 faculty members (student-to-faculty ratio of 11:1) who are grounded in the mission of Lasallian education, while at the same time, understand the rigorous demands of a college preparatory school. Mentors as well as educators, La Salle's dedicated teachers drive a challenging and innovative curriculum consisting of 145 courses.
La Salle offers 19 Advanced Placement (AP) courses and, last year, boasted 117 AP Scholars (students who earned a qualifying score of 3 or higher in three or more AP exams), including 15 National Scholars. In 2009, La Salle received the prestigious Siemens Award for Advanced Placement from the College Board and the Siemens Foundation. La Salle was the only high school in the state of Pennsylvania to receive the award as one of the top AP programs in the nation for math, science and technology.
The Class of 2012 featured 27 students who were recognized by the National Merit Scholarship Program—including 13 Semifinalists—which was the most among any private or Catholic high school in the state of Pennsylvania. One-hundred percent of last year's graduating class went on to college, and 80 percent earned scholarships and/or grants, which totaled more than $29.3 million.
The school's 84-acre campus provides the finest facilities available in Catholic education today. In the last 10 years, La Salle has added more than 100,000 square feet of space dedicated to academics and the arts; also, 34 acres of land were acquired to provide additional athletic fields. All of the classrooms are new or have been completely renovated and feature SMART Boards with integrated technology. The campus-wide wireless infrastructure and 35 state-of-the-art servers support a network of 1,400 users and more than 500 computers.
In addition to being the only Level One Microsoft IT Academy in the state of Pennsylvania, La Salle has some of the best music and fine arts programs in the area. The school offers 10 different bands and three choral groups as well as two theater productions each year. In the last 10 years, La Salle's 16 sports teams have amassed more than 90 championships, including State Championships in Football, Hockey, Lacrosse, Baseball and Swimming. A robust service programs finds La Salle students serving the Greater Philadelphia Area seven days a week and features summer service opportunities in seven different states and South America.
Parents are encouraged to be active in the school community as well as their son's education. Students immediately become part of a global network of Lasallian schools conducted by the Christian Brothers and the school's active network of more than 14,000 alumni living in all 50 states and more than 40 countries worldwide.
Transportation is provided from seventeen suburban school districts and private bussing makes La Salle accessible for students throughout the Delaware Valley. La Salle has introduced a number of new merit-based scholarship opportunities and financial aid is available. "Shadow Days" for eighth grade boys run through the end of December and allow students to experience La Salle in a unique and personal way. The annual Open House will be held on Sunday, November 11, 2012 from 11:00 a.m. to 2:00 p.m. and is open to all prospective students and their parents.
For additional information on scholarships, financial aid and transportation, contact the Admissions Office at 215-402-4800 or admissions@lschs.org.
La Salle College High School
8605 Cheltenham Ave.
Wyndmoor, PA 19038
215-233-2911
www.lschs.org