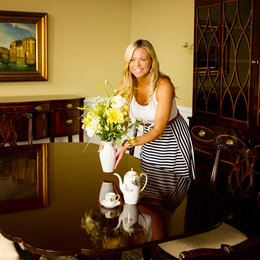 Family Traditions
The finely crafted heirlooms of tomorrow are available at Stenella Antiques today
Don't let the name fool you. Stenella Antiques is not a dusty collection of quaint knickknacks. Rather, it is a fine furniture store that, for more than 30 years, has been offering one of the East Coast's largest selections of discounted high-quality new, pre-owned and antique luxury furniture from such renowned names Henkel Harris, Baker, Stickley, Kittinger and more. These items are not simply furniture and accessories; they are the heirlooms of the future.
According to owner Jim Stenella, formal dining and service pieces are especially popular this time of year as families prepare for seasonal gatherings. But it is also a good time to consider creating a comfortable guest room for visiting family members or adding extra seating in the living room for friends.
The store's pieces are well designed, finely crafted and timeless investments that hold their value. As Stenella explains, "So much of the furniture available today is disposable. When people move, they put it on the curb." However, he adds, "Quality always has value and the secondhand market recognizes that."
The furniture stocked by Stenella Antiques ranges from fine heirloom antiques to pre-owned pieces exchanged while redecorating and new collections being liquidated by high-end retailers. Through contracts with numerous estate and bankruptcy attorneys, Stenella is able to acquire unique, high-quality furniture from some of America's best-decorated homes and exclusive stores. The furniture is gently used, if at all, well cared for and available at a fraction of the retail price.
The inventory at Stenella Antiques' nearly 30,000-square-foot warehouse in Perkasie is mostly of formal and traditional designs, early American and English styles, with some modern and decorative European pieces. At any time, more than 2,000 items are displayed stacked in open rows with some featured in home settings, including living room, dining room and bedroom furniture, as well as decorative pieces. Much of the stock is also available to view through its website, stenellaantiques.com. Stenella Antiques ships more than 4,000 pieces annually to delighted customers all over North America and has even arranged for delivery of several large purchases to Europe and other parts of the world. Even when these buyers factor in shipping costs, the value of the furniture is well worth the price.
Prepared to Help
Though Stenella Antiques has become a global source for homeowners and interior designers fine furniture needs, area residents have the greatest advantage. After looking through the online catalog, local customers can stop by to browse or call ahead to inquire about specific pieces, inspect them personally and arrange for in-home delivery. Of course, drop-in browsing is also welcome. The recently expanded sales staff of Stenella Antiques means it is open additional hours (from 9 a.m. to 3 p.m. Tuesday through Thursday, and Saturdays from 9 a.m. to 1 p.m.), though it is always a good idea to make an appointment.
The shopping experience at Stenella Antiques is like gaining entry to a high-priced interior decorator's favorite source and the insider discounts that it offers. The staff is extremely knowledgeable about the products offered and adept at explaining their qualities and value.
Stenella notes that customers are often concerned with providence but, as he explains, "High-end furniture manufactured overseas may offer a better value than a low-end American piece." He says his team is "prepared to help customers select a single piece, complete a collection or put together a room." He is quick to stress, though, that the salespeople are not high pressure. Stenella Antiques' goal is to guide each customer to the best piece for their needs.
Though all of the pre-owned pieces it carries have been detailed and are ready for use, Stenella Antiques also offers services that allow customers to personalize their selection. They may choose refinishing—sometimes even performed by the manufacturer—or upholstery to ensure a new purchase matches their existing décor. Specialization may include adding new hardware, shelves or lighting to update or re-purpose a piece.
Stenella has also earned valuable industry contacts, which enable his store to offer high-quality new items from manufacturers such as Jansen and Maitland Smith at deeper discounts than offered by most other retailers. This opens up availability to thousands of unique items, many of which can be ordered in custom finishes and fabrics to fit customers' needs that can then be delivered directly to their homes.
Jansen features distinctive formal and decorative items, manufactured to the highest standards, while Maitland-Smith specializes in expertly detailed furniture, accessories, lighting and mirrors using sophisticated finishing techniques and fine materials.
Furthermore, Stenella Antiques is now offering a full selection of American-made, handcrafted furniture by Eldred Wheeler. These fine pieces are individually crafted and finished in a small New England shop using 18th century designs and the finest selection of premium woods and hardware. Some pieces can also be changed and customized to meet customers' needs.
Another recent addition to the line of manufacturers carried by Stenella Antiques is LaBarge, maker of mirrors, tables and decorative accents. For years it has been crafting elegant decorative items that use fine-carved woods, shapely beveled glass and numerous decorative finishes. Stenella Antiques is also an authorized retailer of Friedman Brothers Mirrors, long regarded as the finest mirror company and producing mirrors for more than 100 years. All of these pieces span a variety of decorating styles and can be custom ordered for specific size and finish.
"Trends come and go, but traditional styles are always in," Stenella says. "Our pieces are classic. What you buy today will still be beautiful and timely 20 years from now."
Anyone looking for high-quality furniture should consider Stenella Antiques before going to another store. There, according to Stenella, one can purchase a piece of history, a pre-owned masterpiece or even a brand-new item for less. The classics found here are of timeless style, quality craftsmanship and will continue to age beautifully.
Stenella Antiques
104 S. 2nd Street
Perkasie, PA 18944
Phone: 215-453-8490
Web: www.stenellaantiques.com