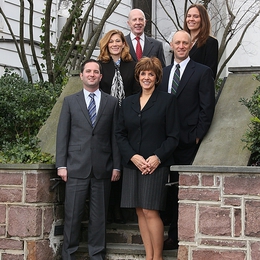 A Step Above
Yardley firm Apex Financial removes the stress from money management by taking the "whole person" into account
It's not often one hears the term "holistic approach" in connection with financial planning services, but at Yardley-based Apex Financial Advisors Inc., that is exactly what an investor should expect to receive.
With more than 37 years of experience in financial planning, Robert A. Connell, CFP, launched Apex Financial Advisors to serve an unmet need for high-net-worth families. "Some of our clients initially come to us because they feel overwhelmed and need assistance," says Connell, "and we are here to make their lives easier and less stressful."
Experienced and understanding professionals serve as the cornerstone of its process; Connell's team delivers an unparalleled level of personal financial care. They take the "whole client" into account—financial and emotional—recognizing that it can be a stressful time when significant assets are being considered.
Apex Financial Advisors exclusively serves high-net-worth individuals and families by creating what they call a "family office environment"—offering traditional full-service financial planning services (investment management, wealth management, tax planning, retirement planning, education planning, etc.) along with more personalized financial services.
"Our primary goal is to manage as many aspects of a client's financial life as they consider necessary. We can handle the investment process and lead all of the financial, tax and estate planning, so that they are able to focus on what really matters to them," Connell says. Apex's family office services are offered as necessary. "We've negotiated property sales, obtained mortgage loans, and have purchased automobiles for clients." The firm also has a psychiatric nurse practitioner on staff for those dealing with troubled times such as loss of a family member or divorce.
An independent registered investment advisor (RIA) with the Securities and Exchange Commission (SEC), Apex acts in a fiduciary capacity as required by the SEC, which means the firm always acts in clients' best interests. Apex is compensated on a percentage basis of assets and does not receive commissions of any kind or compensation from outside investment sources, which prevents conflict of interest. Clients know exactly what they're paying for and why. Well-known, third-party institutional custodians hold all client assets, offering the highest security available—either Federal Deposit Insurance Corporation or Securities Investor Protection Corporation protected—and the lowest negotiated trading fees in the industry.
"We actively look for investments with the lowest cost ratios, which help contribute to higher returns for clients," says Connell. "Also, we don't let the economy or the stock market unduly influence the value of our clients' portfolios. We are very proactive in allocating assets that are non-stock market dependent, such as managed futures or advantageous tax investments."
Connell was one of the first certified financial planners in the country. With a bachelor's in aerospace engineering from Penn State and an additional two years of advanced studies and research for NASA, Connell combined his natural ability to solve complex problems with his enjoyment of people. He began service to clients in the 1970s with a legal pad, lots of questions to determine his clients' needs and a dot-matrix printer. Today the firm uses a proprietary analytical software program written by Connell himself.
Executive vice president William Davis says the firm's well-defined processes are specifically tailored to each client's desired outcomes.
"We are constantly communicating with our clients, their accountants and attorneys to make sure we are all on the same page in terms of tax projections, gifting and other wealth-transfer strategies," he says. "We are the ones driving the process, making sure all aspects are considered, accounted for and, most importantly, consistent with our clients' intentions. If a well-written estate plan is not set into motion, all is for naught."
Davis, who teaches as an adjunct professor at Temple University, particularly enjoys the educational aspect of serving clients and works with them "as long or as much as it takes" for them to feel confident.
"We manage investments, taxes, philanthropic giving, trusts and legal matters, and effectively transfer established wealth across generations," says Stuart Caplan, director of portfolio management and, with Connell, a principal on trading decisions. "We manage the family's investments and disburse payments to family members as required."
There are many benefits to managing investments in house, including flexibility of proactive investment management and reduced management costs.
"Because we don't utilize outside money managers, we are able to adjust specific investments as well as asset allocation as often as needed," says Connell. Another benefit is that Apex, as an independent advisor with no affiliation with a bank or broker/dealer, has no "house" products that it is encouraged to promote for the benefit of an affiliated firm. Instead, Caplan says, Apex seeks out the best investment vehicles for its clients without this possible conflict of interest.
Connell, Caplan and Davis recommend that people regularly evaluate their entire portfolio, especially with the ongoing economic instability. They also encourage individuals to be aware of the possible changes in trust tax laws that are under consideration by Congress. With significant tax increases scheduled for January 1, 2013, time is running out to take advantage of opportunities to transfer assets to family members in 2012.
"Under current tax law, an individual may give anyone up to $5.12 million during 2012 without paying any federal gift taxes," says Connell. "Unless Congress agrees to extend the current exemption, the federal tax on gifts will increase as high as 60 percent on lifetime gifts over $1 million. We don't know what they'll decide, but we want our clients to be prepared."
Apex Financial Advisors Inc.
27 East Afton Ave.
Yardley, PA 19067
Web: www.afa-inc.com
E-mail: advice@afa-inc.com
Phone: 215-493-1900