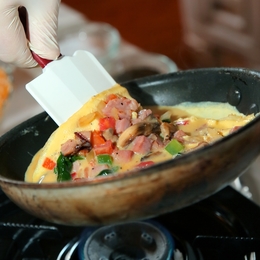 Changing Tastes
With more than 200 years of history behind it, The Plumsteadville Inn continues to find new ways to offer something for everyone
Sometimes progress can render a traditional institution obsolete, but for the wise few that can keep up, blending history with convenience can prove to be a successful recipe. The Plumsteadville Inn, a stalwart of fine dining in eastern Bucks County, nearly fell victim to the changing times. Thanks to the 40 years of restaurant experience from the Evangelista family who purchased it and a talented staff, "the Plum" is back and better than ever.
Originally constructed in 1751, the eight-room inn was a major stopover for those traveling, first by stagecoach and then train. It has been owned by many over the years and known by several names. The inn was closed for nearly two years, however, before its most recent renovation and update.
"The kitchen was stripped, all of the hardwood floors were sanded and refinished, and the formal dining areas received a facelift," says Matt George, a manager at the restaurant who has worked with the Evangelista family for more than 10 years. He notes that having "the right staff" has helped make the Plumsteadville Inn's reopening so successful. The dedicated service staff is led by George and general manager Tim Summers—a longtime friend who also oversees the marketing and public relations. They all strive for perfection and understand that meeting the customer's needs is key in their industry.
"It still offers [fine dining], but with the bar and tavern area and the addition of televisions, it also offers more casual family friendly dining," says George. The tavern boasts six TVs, while the bar features four and six booths, each with its own television—great for families to enjoy along with the Tuesday kids eat free special. A lounge area off the bar also features a fireplace, while the side room is decorated with the owner's collection of baseball memorabilia. All are great places to enjoy the game. The renovated patio, featuring a custom fire pit and fountain, and a second-story cigar deck are open year round, weather permitting.
The full menu is available at lunch and dinner throughout the restaurant, meaning guests can enjoy fine steak and seafood, even while seated in the tavern, or comfort-food specials in the formal dining room any time of day. The diversity of the new menu is reflected in the Plumsteadville Inn's motto: "burgers and beer, lobster and cheer."
One of the restaurant's most popular dishes is the chicken potpie with a sweet potato crust. Another specialty is its grilled cowboy pork chop. On Wednesdays, guests will find specials including spaghetti and meatballs and stuffed cabbage. Thursdays feature barbecue ribs and half-priced martinis all day, while Fridays bring fresh fish and seafood specials. The prime rib special on Saturdays has people calling ahead to reserve a cut. The Sunday brunch buffet, available 10 a.m. to 2 p.m., serves assorted fresh-carved meats, hot side dishes, cold salads, pastries, desserts and stations where omelets and waffles are freshly prepared to each customer's personal liking.
The Plumsteadville Inn's two Culinary Institute of America-educated chefs, Marshall Paul and Lindsay Beswick, update the menu frequently to keep it "fresh and seasonal," says George. Paul has worked in Italian restaurants for much of his career, including many years for the Evangelista family. He is a master butcher and is skilled in crafting the comfort foods for which the inn is becoming known. Beswick, meanwhile, spent 20 years working at the Doylestown Country Club and specializes in creative presentations and specials with Asian flair.
"They complement each other's strengths and weaknesses," says George. "They are a great team."
The chefs get to flex their creativity even further with the occasional wine dinner. Four to five times a year the Plumsteadville Inn hosts a special meal, pairing carefully selected wines with its chef's dishes. A representative speaks about the characteristics of each course and its respective wine pairing. The next dinner, being held November 15, features an autumn-themed meal for $65 per person, including tax and tip.
For those planning a special dinner of their own, the Plumsteadville Inn also offers catering on- or off-site. The current off-site catering special runs $10 to $15 per person for a minimum of 10 guests. The inn offers many different rooms ideal for parties of all sizes including private weddings. The renovated banquet room, which features parquet floors, chandeliers, a private bar and restrooms, is also popular for meetings, cocktail parties, showers and rehearsal dinners. Soon it will offer several rooms for overnight accommodations as well. Alternately, the lounge area can be reserved for casual parties of as many as 12 people who want to enjoy the fireplace and close proximity to the bar.
Speaking of which, the bar lies at the heart of this establishment, offering 10 ice-cold beers on tap, including seasonal selections; dozens of wines stored in a temperature-controlled custom-built wine cabinet, including a seasonal featured selection; and 15 wines by the glass. During happy hour, Monday through Friday from 4 p.m. to 6 p.m., appetizers are half priced and drinks are $1 off. The special drink price continues Friday and Saturday from 10 p.m. to 12 a.m. These special prices coincide, in part, with the Plumsteadville Inn's live entertainment schedule. On evenings Wednesday through Saturday patrons can enjoy a variety of music selections played on the 19th century grand piano.
For the most personalized specials of all, though, the Plumsteadville Inn offers a "mug club." For an annual fee, a limited number of guests can purchase a 20-ounce pewter mug engraved with their name and the inn's logo. Mug-club members are entitled to draught-beer discounts all day, any day, drink specials, 15 percent off wine bottles and special members-only events. Recently, for example, the club hosted an Eagles game-day pig roast open to members and their guests.
The inn is no longer just a place for special occasions but a neighborhood establishment. Whether one is looking for a social club, a special-event venue, dinner with the family or a business lunch, the Plumsteadville Inn offers something for everyone: exceptional food served in an atmosphere that's sure to leave a lasting impression.
The Plumsteadville Inn
5902 Easton Road
Plumsteadville, PA 18949
Phone: 215-766-7500
Web: www.plumsteadvilleinn.com