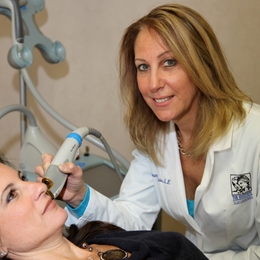 3 Steps to a New You
It's not your age that matters. It's what you see in the mirror. The Institute for Laser and Aesthetic Medicine can make sure you like what you see.
You still feel young and vibrant, but why doesn't your mirror reflect how you feel? Most of us today are looking at ourselves more critically in terms of how we look at a much younger age than what was accepted even a decade ago. When is the right time to intervene to refresh your look? It's a personal decision, independent of age and society status.
The right time for refreshment is when you decide to improve what you see in the mirror every day.
It is likely that the older you are, the more extensive your refreshment strategy may be. But today you can participate in different levels of intensity, invasiveness and/or downtime. Consulting with a qualified, knowledgeable and experienced physician in all aspects of available state-of-the-art procedures can help you understand the best individualized treatment regimen and strategy.
Do You See What I See?
Gazing into the mirror, you may see wrinkling, sagging or excess skin in your neck or jaw line, as well as creases around your forehead, eyes and mouth. You may see a "tired look" or view uneven pigmentation and surface irregularities. The texture of your skin, pore size and thinning of the outer skin will continue to worsen over time. Old acne scars and other surface irregularities seem to become more prominent with worsening elasticity. The rest of our body seems to mirror these changes with the loss of skin elasticity. Genetics, pregnancy, age and hormonal changes may cause unwanted pockets of fat to develop in our abdomen, flanks, lower back, inner or outer thighs, upper arms, bra areas of chest or in our neck below the chin.
We want to bring back a more youthful appearance to our face and body, understanding that it won't stop the aging process. We simply want to look the best we can for our age—safe, natural and refreshed. Here's how to do it.
Step 1
Skin Resurfacing and Tissue Tightening: Active FX/Rejuvelase/Pelleve
Dr. Glenn DeBias, medical director and founder of The Institute of Laser and Aesthetic Medicine, has the most comprehensive collection of tissue tightening and resurfacing devices in the Delaware Valley. Dr. DeBias uses five fractional CO2 lasers at his facilities, and he has received international acclaim and recognition for developing the first fractional CO2 procedure in the world, Active FX.
Other popular tissue-tightening procedures at The Institute include the Titan, the Affirm, Rejuvelase and the most recent addition, Pelleve RF. The Titan is a no-downtime infrared flashlamp that takes about 30 minutes to perform and stimulates collagen production for four to six months. The Affirm laser is also nonablative and offers a similar collagen-building matrix that refreshes your look.
Rejuvelase requires only a quick procedure to stimulate collagen in the deeper skin while refreshing the outer skin, with no discomfort or downtime. Pelleve is a radio-frequency device that gently warms the deep support structure of the skin to greatly reduce fine lines and wrinkles, and improve laxity in the skin, most notably on the face and neck. The treatment requires no anesthesia or skin cooling and can be performed in 15 minutes.
Step 2
Cosmetic Injectables: Botox/Dysport/Dermal Fillers
"The primary effect of Botox and Dysport is to offer controlled muscle relaxation up to several months," says DeBias. "Most patients want to maintain use of their expressive muscle tone so that they still have movement, resulting in a very natural, relaxed look. Most patients don't want to give away any telltale signs of treatment."
In treating hundreds of patients that have used both Botox and Dysport, Dr. DeBias finds that the majority of patients are happy with both, and relates that Dysport has a faster onset of action and seems to last slightly longer than Botox. The procedure is usually performed within minutes and, within days, will offer significant and lasting results.
What's most important is to find a physician who is very experienced in doing Botox/Dysport injections and devotes a significant part of their practice to cosmetic injectable treatments. The more prominent cosmetic companies—Allergan and Medicis—have status indicators that inform the prospective patient of the physicians that are doing the most injectables.
At one time, a facelift was considered to be the only treatment available for wrinkles and sagging, but with that comes anesthesia, downtime and irreversible results—for better or for worse. Today, a variety of fillers are available to "plump up" folds, deep lines, or just soften more superficial lines.
The most popular fillers in the country today are hylauronic acid products—Restylane, Perlane, Juvéderm and Belotero. These fillers target lower face folds and wrinkles, primarily, and can last six months to 18 months. Another product available and used primarily due to its longevity is the calcium hydroxylapitite product named Radiesse. Also, although Sculptra (polylactic acid) is technically not a filler, it does offer some collagen-building complex and anchoring for volume loss and sallow areas of the face.
Step 3
Body Contouring - SmartLipo MPX/Vaser/Vaser Shape
"SmartLipo MPX is a more advanced laser lipolysis available for the office setting in which we melt the fat while tightening the skin in the targeted problem areas," says Dr. DeBias. This minimally invasive procedure uses a laser fiber to heat up the fat, which minimizes bleeding and swelling, resulting in a faster recovery time.
Dr. DeBias is a Circle of Excellence physician with Cynosure, the distributor of SmartLipo MPX. The dual-wavelength laser provides Dr. DeBias and his staff with a gradual and safe slope to achieve their goal temperature. SmartLipo MPX generates higher energy to heat more quickly, and a skin-temperature sensor protects from overheating.
"Ideally," says Dr. DeBias, "you're trying to get the back of the skin to a certain temperature to maximize fat melting and tissue tightening."
Blood vessels coagulate during the procedure from the heat of the laser fiber, while treated fat cells are permanently destroyed. An added benefit is the production and stimulation of new collagen in the skin over the next four to six months, further tightening the skin in the treatment area.
Vaser Shape utilizes ultrasound and massage to noninvasively contour patients who are looking to reshape their appearance, and also offers an alternative for people with localized areas of fat who are afraid of more invasive procedures.
Of course, it is important to consult with a qualified physician who uses all aspects of today's technology to get a realistic idea of what can be achieved and over what time frame. Today most patients choose safe, natural, ongoing results with continual maintenance as opposed to the "quick fix" of cutting and pulling of the skin which is less safe, less consistent and can distort one's appearance.
These procedures won't change your age, but they may change how you feel about yourself and enhance your self-image, which can be life changing. Within a short time, your mirror will reflect the new you.
The Institute for Laser and Aesthetic Medicine is located at 110 Hyde Park in Doylestown, 18902 and 1030 Continental Drive in King of Prussia, 19406. For office hours, to schedule an appointment or for more information, visit www.ilamed.com or call 866-48LASER or 215-230-1804.
Photograph by Kim Billingsley