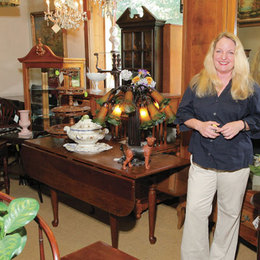 Treasure Trove
Find beautiful pre-owned pieces for your home at The Great 202 Shop
There's something for everyone at The Great 202 Shop.
In fact, just a few weeks ago, the shop had its youngest customer ever. "A cute 8-year-old, blue-eyed blonde girl in pig tails came here with her parents. It was her birthday and her parents told her that they would buy her something special," recalls Therese Kule, who runs the shop.

The girl stopped and stared at a hand-carved French mahogany vanity from the 1920s. "She said she loved it, and that's what she wanted for her birthday," Therese says. The girl didn't want to look around to see what else she might like. "She had the biggest smile on her face. She started talking about all of her plans for the vanity, like using it as a desk and doing her hair."
Her parents were quite surprised by her selection. "Her father was thinking she would want some Barbie stuff," Therese says. "Her dad made room for it in the truck and off they went. It's a beautiful piece, and I'm sure she will treasure it for years to come."
Therese says it is common for young couples to come to The Great 202 Shop to find nice furniture for their first home.

"A couple came in yesterday looking for furniture, but they didn't know exactly what they were looking for," she says. "I showed them examples of styles of furniture, like art deco, federal, Queen Anne, etc., and also types of wood like cherry, mahogany and walnut. They became excited knowing what the different styles were, and they started eyeing some art deco pieces."
Sometimes, a customer with a very specific need can find exactly what they're looking for at the 202 Shop. One woman was looking for a pump organ. "I said, 'that is right around the corner,'" Therese says. "She was quite surprised." The gorgeous Victorian pump organ with a gallery on top had recently been removed from a convent. "We get odd, unusual neat stuff like this all time," Therese says.

The shop boasts quality antiques, furniture, glassware, vintage jewelry, lighting, artwork and collectibles, all offered at incredibly low prices.
Therese has worked with shop owner Robert Lehmann in various businesses over the years. The Great 202 Shop makes perfect use of the talents she has perfected over the years, including 30 years of decorating experience, buying, catering and staging homes and businesses.

"I can help with decorating questions and needs," Therese says. "I always have a measuring tape on hand to help people figure out sizing."

People in all types of situations come to hunt for the right piece at The Great 202 Shop. "Newlyweds like to shop for their new homes or apartments because we have affordable things," Therese says. "They keep coming back for more." Parents looking for furniture for their children headed off to college are also common.

"I make new friends on a daily basis because people keep coming by to see what I have next," Therese continues. "A lot of girlfriends and mothers and daughters who have come to lunch in the area have added us to their shopping stop for unique finds."

Stock is acquired at estate sales and auctions throughout the tri-state area and beyond. Clients come from all over the country visiting beautiful Bucks County. They are amazed at the quality of merchandise and affordable pricing. "We get a lot of customers stopping in to shop from New York and they all say the same thing: 'We should have brought the truck!'"
The Great 202 Shop offers free local delivery and affordable distance delivery. Customers are invited to leave their e-mail address for weekly specials or wish list items.

You'll also find Robert Lehmann Antique Glass Restoring at The Great 202 Shop. He can repair chipped crystal, cut glass and more. Chandelier restoration and cleaning is also done on the premises. Antique dealers and collectors use his services often.

The Great 202 Shop also does house and estate clean outs, so homes can be sold or readied for closing. "We help people move items and downsize, as well as clean out storage units for those who are tired of paying rent on them," Therese says.

They remove entire contents and usual garage, basement and yard items. After removal, they sweep all floors and vacuum carpets. They do all the labor, hauling and lifting. They even do painting, window and door repair, and wallpaper removal—whatever your needs may be.

The Great 202 Shop! is located about one mile north of Peddler's Village on Route 202 on the way to New Hope.
Open Fri-Tues 11 a.m. – 5 p.m., Wed. and Thurs. by appointment. E-mail thegreat202shop@comcast.net or bobtheglassman@aol.com or call 267-544-0214 or 267-261-0203.

Karen Rueben is a freelance writer in Royersford.
Rob Hall is a freelance photographer based in Plumsteadville.