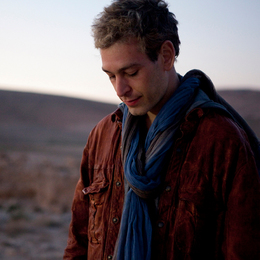 Crowd Pleaser
Bryn Mawr-born rap/reggae superstar Matisyahu continues his evolution
It's hard to think of an instance when the words "Hasidic," "reggae" and "superstar" might be used in the same sentence, but those words combined certainly apply to the man who goes by the name Matisyahu.
The deeply religious Bryn Mawr-born musician burst onto the mainstream music scene in 2004, when his debut album "Shake off the Dust … Arise"—not to mention its hit song, "King without a Crown"—introduced the world to his unique brand of audio fusion. The Grammy-nominated artist has since added the word "actor" to his résumé, following his turn in last year's "The Possession," a horror film starring Jeffrey Dean Morgan and Kyra Sedgwick.
Music, however, remains his greatest love. In support of his most recent album, "Spark Seeker," Matisyahu spent half of 2012 on the road, including a series of December "Festival of Light" concerts. At about the same time, from late November through the end of Hanukkah, he devoted 100 percent of the proceeds from the sale of a new track called "Happy Hanukkah" to victims of Hurricane Sandy because, he says, "You have to give back when you can."
We caught up with "Matis" the day after he wrapped up his six-month-long tour, which included a mid-December stop at Philadelphia's Electric Factory. He returns to the Philadelphia area in February, for a show at the Grand Opera House in Wilmington, Del., in support of a forthcoming acoustic EP.
Suburban Life: You were just in Philly as part of your "Festival of Light" tour. What's it like coming here to play in front of a hometown crowd?
Matisyahu: I was born in Bryn Mawr Hospital, but I left eight weeks later and moved to Berkley, Calif. From then on I spent my entire life in New York, though everyone thinks I'm from [West Chester]. But I love Philadelphia. From a spiritual perspective or an astrological perspective, however you want to say it, I probably have some kind of soul connection to Philly because it's where I was born. It's an interesting place.
SL: The upcoming acoustic tour sounds interesting—intimate venues, up-close-and-personal interactions with fans. Why is this kind of intimacy with fans so important to you?
M: The music itself is intimate because it's acoustic and stripped down. I love to perform with a rock band, dancing and jumping around, but singing songs in a more stripped- down nature, in a bare and emotional way, it's just a different form. … The other aspect is that people want to hear from you [at shows], and not just the musical side; they want to meet me and my personal side. There's no agenda I'm pushing. I open up and take questions, and I started doing that a few years ago. Through words I'm able to talk deeply about things that are important to me and let people in on my personality.
SL: How did you develop your unique style?
M: I've always been interested in different music—different musicians, different styles of music—without trying to incorporate them into my own voice. It started when I was a kid, listening to Tracy Chapman, Paul Simon, Michael Jackson. Those artists are the building blocks of the music I grew up listening to. Then when I started listening to Bob Marley and other reggae artists, I felt I could do it. … The same thing happened when I was a kid. My school had two choruses—one for white kids and one for black kids—and when I heard the black girls singing songs, I felt something inside me come alive and felt that I could do it. I started writing songs, bought myself a PA system and started to sing my raps and rhymes. I sort of developed a reggae style, and that was the bedrock of what I was doing. But it's just one of the colors I paint with.
SL: What's the most surprising thing we would find on your iPod?
M: I'm not really sure what you would consider surprising. I have everything from Wu-Tang Clan to the Scientists to Radiohead to Mogwai to Kanye to the Cold War Kids. I listen to everything.
SL: You got bit by the acting bug last year with "The Possession," which is an interesting topic considering your faith. How was the experience?
M: I loved it and hope to do more. I took acting classes and did some community theater, and had the lead role in "Equus" [a challenging role that required full-frontal nudity]. Acting has always been something I loved. I put it on the side to pursue music and my religious aspirations. I'd like to get back to it, but probably for the next year or two my focus is going to be back on the music and recording another record.
Photograph by Mark Squires