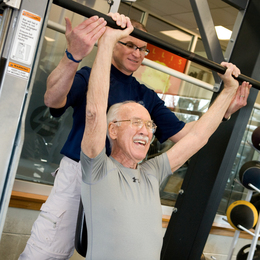 Fitting In
Facts Fitness makes health a priority by getting companies—and their employees—involved in corporate wellness
This time of year is popular for individuals looking to refresh their lives and get back on track to looking and feeling the way they want. However, this is often easier said than done for most.
Fortunately, with the advent of companies such as Facts Fitness and Ellis Athletic Center, located in Newtown Square, which are pioneering corporate-fitness and commercial-fitness wellness initiatives, many working individuals are finding it easier and more affordable to make this a possibility.
"Everyone wants you to work out—your insurance, your doctor, your employer, even the government," says Tom Fenstermacher, president of Facts Fitness. "Yet the average person is on the hook to do all the work and pay for it. With actual metrics, companies can now justify wellness incentives, resulting in low-cost or free fitness memberships for those to engage." For example, companies save up to $5 for every $1 they invest in wellness programs.
Facts Fitness is helping corporations institute companywide health-and-wellness initiatives that employees can join. By deciding to get involved, these employees become part of a greater cause that stresses the importance of exercise and healthy living in the corporate world, while making participation more engaging and effective than ever before.
As a commercial and corporate fitness company, Fenstermacher says, "We feel the commercial industry has been very derelict in its duty to deliver wellness to its members or take advantage of the growing need for employee wellness. We have something for any company or individual serious about wellness. We can tailor a program to fit your needs."
Facts Fitness partners with commercial locations including Ellis Athletic Center, Steel Fitness Premier and Steel Fitness Riverport. They then collaborate with businesses to offer lower-cost or sometimes even free memberships to employees interested in participating, once their company has joined the program. It already manages 10,000 commercial and corporate members.
"It's great for companies that have the means and facilities on site," Fenstermacher says. "We manage in-house fitness programs as well, but the vast majority of companies do not have the means for that level of wellness services. We leverage commercial brick-and-mortar facilities like Ellis Athletic Center to help companies offer comprehensive wellness without some of the financial burden that can make employee wellness prohibitively expensive to many companies.
"Facilities like ours can be a company's one-stop shop for comprehensive wellness at a fraction of the cost of in-house programs," he continues. "Traditionally commercial fitness centers offer four walls, a ceiling and equipment, with the exception of classes and personal training for the most part, that is no different than the vast majority of discount fitness centers. The advent of the discount fitness industry has been a hard pill to swallow, but change is coming."
Training through Technology
What makes Facts Fitness' programs unique is their use of technology to promote wellness and encourage productive results. In partnership with Healthrageous Inc., Facts Fitness offers employees a digital health-management platform—an "app," as it were—that learns what works for each individual and then the fitness center staff coaches and supports them every step of the way.
An individual begins by choosing from a variety of programs including prevention, health-risk reduction and chronic condition management. From there, the app will encourage them according to their goals, typical behaviors, health status and preferences for when, where and how they want to engage in improving their wellness. In each of the participating fitness centers, there are Healthrageous-sponsored health desks where all of the logging for each participant is done privately and efficiently via wireless technology.
"We have created a digital wellness platform that allows a person to build a learning personal health record, coupled with social networking and incentives," Fenstermacher says. "There are tons of apps out there, but this is far from a static app that you can download. It learns and grows with you and requires almost no manual input. Almost everything is done wirelessly right into the cloud, including blood pressure, weight, activity, calories, blood sugar, etc., then we combine it with the human element."
Through this digital tracking, the employers can see just how much engagement the individual or the entire company is putting forth, as well as the subsequent results. They will be able to see their dollars at work as their employees change their lives and will be able to market the program accordingly, in order to maximize engagement and, eventually, achieve a return on their investment in the form of improved employee fitness and productivity.
"The platform is facility agnostic," he says. "This allows for all activity by all participants to be compiled not just within the facility. With our Healthrageous health desk offering coaching and companies offering incentives, we will draw users to the facility."
By participating in a corporate wellness program, employees are improving their quality of life. Furthermore, participation in such a program has shown increased camaraderie, loyalty and overall productivity as employees begin to feel better about themselves, according to Fenstermacher.
With such positive results, participating corporations can offer incentives to employees who meet certain goals throughout their program—everything from T-shirts to time off—as a way to reward them for their progress and motivate them to keep going.
"Because Facts Fitness is adding the human element [along with] the brick-and-mortar facilities, it can act as the staging point for real wellness to be achieved. We believe in it so deeply that we are launching it to our commercial membership base and creating a rewards budget of our own."
With other demographics in need of this type of lifestyle revamp, Facts Fitness is hoping to expand to other demographics beyond working adults, including seniors and youth, so that anyone interested can get involved.
"It will finally allow the commercial fitness industry to deliver real measurable wellness," says Fenstermacher.
By getting local fitness centers such as Ellis Athletic Center involved as wellness hubs Facts Fitness allows them to go beyond just delivering brick-and-mortar facilities to consumers. It also offers a way to forge closer bonds with and among employees and members, ultimately improving the overall health—and assuring the future success—of the companies and individuals that participate.
FACTS Fitness
3819 West Chester Pike
Newtown Square, PA 19073
610-355-3236
www.factsfitness.com
Ellis Athletic Center
3819 West Chester Pike
Newtown Square, PA 19073
610-355-7360
www.ellisathleticcenter.com