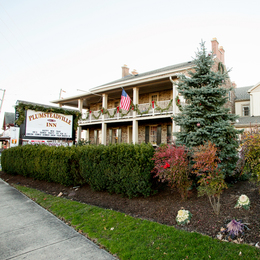 Resolutions
The Plumsteadville Inn celebrates a New Year of exceptional food and a friendly atmosphere
The New Year is often a time to reflect on past successes and set goals for the future. The Plumsteadville Inn, one of Bucks County's favorite establishments, certainly has a lot to celebrate now that the holiday season is past and 2013 has begun.
"This season we were focused on hosting parties," says Matt George, a manager at the restaurant. "It was like reopening all over again. We had customers who used to come here for parties come back to try us now."
The Plumsteadville Inn, a stalwart of fine dining in eastern Bucks County, was originally constructed in 1751. It has been owned by many over the years and known by several names. On January 9 the inn celebrated the one-year anniversary of its most recent renovation, when it was purchased and rejuvenated by the Evangelista family. "We appreciate all the support over the past year," says George. "Throughout the year there has been hard work and dedication on the part of all the staff to improve, and we continue to strive for greatness."
The staff, led by George and manager Tim Summers, decorated the restaurant inside and out for the winter holidays. The entrance features an 8-foot-tall Christmas tree and every room is decorated with a theme, from Santa to a white Christmas. This atmosphere was enjoyed during the inn's New Year's Eve party, featuring dancing and a live band, and a menu that included such delicacies as lamb chops and oysters. It looks so festive, George says, "We are keeping it up for much of January."
He is proud to note that many of the local companies and township celebrated their holiday parties with The Plumsteadville Inn. "We are big advocates of helping the community and supporting local business, and it was great to receive their support in return," he says.
"We were booked all month and are already booking for next year," George continues. "Our banquet room has been a great success." The restaurant offers both on- and off-site catering, serving everything from hors d'oeuvres to three- and five-course meals prepared by its talented chefs.
The recently renovated banquet room, which features parquet floors, chandeliers, a private bar and its own private restrooms, is popular for meetings, cocktail parties, showers and rehearsal dinners. The inn offers many different rooms ideal for parties of all sizes, including private weddings. Soon it will also offer several rooms for overnight accommodations as well; five of the 13 guest rooms are currently undergoing renovations including new paint, furniture and carpeting, with the goal of having all in operation. They will also feature televisions and Wi-Fi. "The bedrooms are almost ready to go," George says of the ambitious project. When completed, the bedrooms—two of which are two-room suites—will be offered as part of the wedding packages.
One does not have to be hosting a party or seeking a fine-dining experience to enjoy all that The Plumsteadville Inn has to offer, though. It is much more than just a special-occasion place.
A Place for All Reasons
The inn serves lunch, Sunday brunch and more casual family-friendly dining in the bar and tavern areas. The tavern boasts six TVs, while the bar features four, allowing it to play multiple games during the upcoming playoffs. Six of the areas' booths also feature their own television. A lounge area off the bar features a fireplace, which makes it among one of the popular seats in the house this time of year. All are great places to enjoy the game, though. The renovated patio, featuring a custom fire pit and fountain, is also a great spot to enjoy a fireside drink with friends. It and the second-story cigar deck are open year round, weather permitting.
The Plumsteadville Inn prides itself on the diversity of the menu and seating options. Its motto—"burgers and beer, lobster and cheer"—emphasizes how guests can enjoy both fine steak and seafood or comfort food there. In addition to the full menu, lunch-time patrons can also try the new lunch express menu, featuring popular items at a smaller portion and lower price.
Specials abound every night of the week at The Plumsteadville Inn. On Mondays it welcomes restaurant workers, offering any person who can show a check stub as proof of working in another restaurant or bar 25 percent off their check. On Tuesdays kids eat free with each adult that purchases a qualifying meal. On Wednesdays, guests will find comfort-food specials, while Thursdays feature barbecue ribs. Fresh fish and seafood are the specials of the day on Fridays, and on Saturdays guests call ahead to reserve their favorite cut of the prime-rib special.
The Sunday brunch buffet, available 10 a.m. to 2 p.m., serves assorted fresh-carved meats, hot side dishes, cold salads, pastries, desserts and stations where omelets and waffles are freshly prepared to each customer's personal liking. The latest additions to the lineup include $3 Bloody Marys, mimosas and a chocolate fountain.
Regulars need not worry about boredom. George says the chefs have been bringing many different types of cuisines from around the world and across America to the restaurant. Examples include crawfish stews, Asian poached fishes, Italian pastas and veal dishes, and classic American cuisine. The Plumsteadville Inn also rewards its frequent guests with a $20 gift card for each $250 they spend.
Regular bar and tavern patrons can also choose to enjoy the "Mug-Club." For an annual fee, a limited number of them can purchase a 20-ounce pewter mug engraved with their name and the inn's logo. Mug-Club members are entitled to $3 drafts all day, any day, drink specials, 15 percent off wine bottles and special members-only events.
Bar specials are not limited to mug holders, though. During happy hour, Monday through Friday from 4 p.m. to 6 p.m., drinks are $1 off and on Thursdays martinis are half-priced all day. The bar offers 10 ice-cold beers on tap; more than 70 wines by the bottle, including a currently featured selection; 15 wines by the glass; five signature cocktails; and five seasonal cocktails.
The New Year has brought changes to the beer-and-wine menu—including the addition of wine and beer flights—that are worth checking out. Wednesday through Saturday evening guests can also enjoy The Plumsteadville Inn's live-entertainment schedule featuring performers of variety of musical styles.
Food and wine pairings provide another form of entertainment. Four to five times a year, The Plumsteadville Inn hosts a special meal, pairing carefully selected wines with its chef's dishes. A representative speaks about the characteristics of each course and its respective wine pairing. The next dinner, being held January 18, features a holiday-themed meal and J. Lohr wines for $75 per person, plus tax and tip.
Whether one is looking for a social club, a special-event venue, dinner with the family or a business lunch, The Plumsteadville Inn offers something for everyone—namely, exceptional food served in a friendly atmosphere.
The Plumsteadville Inn
5902 Easton Road
Plumsteadville, PA 18949
Phone: 215-766-7500
Web: www.plumsteadvilleinn.com