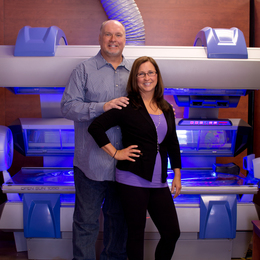 The Art of Relaxation
As the winter blues take their toll, Island Sun Tanning offers guests the ultimate in relaxation and rejuvenation
With the lack of warmth and sunlight in these long winter months, many people look for that fix to brighten their skin and their spirits. While some may choose to go on a quick getaway to a tropical paradise, local tanning spas such as Island Sun Tanning are providing a more immediate antidote to the winter blues.
Island Sun Tanning's multiple area spas provide the complete package for those wanting a momentary escape, starting with their personalized and impeccable customer service.
"[Clients] are not just another number," says Debbie, owner of Island Sun. "When a customer comes in it's just normal procedure for us to not only greet them and ask their name, but find out if you had been in the salon before, what brings you to the salon and if they've tanned indoors before. If we know, for example, if a customer is looking to go away we usually ask them 'When are you leaving?' so we know what kind of time frame and then what package to recommend.
"We assess customers to recommend the right package and level of equipment," she continues. "What's good for one might not be for another, and everyone has different budgets."
While the salons have the traditional ultraviolet tanning beds and sunless tanning, they also have a wide variety of new technologies that go beyond to enhance the way clients look and feel. One of Island Sun Tanning's new beds is the Sun Angel, a personalized bed that scans the skin in two different places, automatically adjusting the strength of the lamps according to the client's skin tone, eliminating overexposure.
"You can tan for 20 minutes your first time—and on all visits—without the risk of sunburn," explains Debbie, "and every time you go in there, as your skin is getting darker, it will adjust to be higher and higher [intensity]."
The spa has also been a pioneer with one of the newest wellness trends of red-light therapy. While red-light therapy is not for tanning purposes, it is popular in specialty spas because of its positive effects on the skin. As clients are being treated by the red light, it is repairing the skin on a cellular level to tighten, rejuvenate and bring back an overall youthfulness to the skin. While many red-light therapy modules are in the form of a tanning bed, Island Sun has its own unique red-light system to benefit clients at two of their locations—the Beauty Angel.
"The Beauty Angel is our new red light standup therapy booth," Debbie says. "It has a vibration plate that you stand on during the session. The plate is the same thing physical therapists use to treat patients that have poor circulation and it helps them recover from injury."
Once the therapy is complete typical results yield more youthful looking skin including reduced fine lines, wrinkles, acne and rosacea and increased collagen growth.
Its newest venture, however, is the infrared body-wrap experiences. Unlike the usually messy and dripping wraps, guests are wrapped in a disposable suit and covered with a temperature-controlled heat blanket for 40 to 60 minutes while their body is exposed to warm infrared heat.
"It traps the heat in your body and simulating what would be a workout," says Debbie. "Your body tries to keep itself cool so your resting metabolic rate rises, burning calories. While it does not replace the benefits of a traditional work out, clients can burn up to 1,400 calories per session. "
Glowing Reviews
For those clients that aren't interested in exposing their skin to any type of light or UV rays, there is a quick fix solution at Island Sun that will still give them that subtle glow they are looking for—the custom airbrush spray tan.
"A custom airbrush tan is applied by an airbrush technician with a solution that develops over a six-hour period," explains Debbie. "How we can customize it is if a person doesn't like their face as dark as their body we can customize the shade, or if their tan fades faster in certain areas, we can pay special attention there. That personalized service is more of an experience. There is also the option of a private spray tan in a mechanized standup booth."
This personalized service is the backbone of what makes Island Sun Tanning successful. From its impeccable cleanliness, to keeping up with the latest technology to its knowledgeable and experienced staff, Island Sun Tanning provides guests with a relaxed and worry-free experience.
"The reason we have such a huge following is we're extremely clean and extremely knowledgeable," says Debbie. "A lot of customers are surprised to learn that we put our staff through rigorous training. They have to train with someone for 60 to 80 hours total and they have to do an online certification. They aren't even allowed to work on the desk by themselves until the online certification is taken and then passed."
While some customers have been put-off by media claims about the risks of indoor tanning, the spas are now seeing an increase in clientele as they are educating them about the benefits of smart tanning.
Regardless of why they are coming in and for what service, the experience clients have at Island Sun Tanning is unmatched in, terms of satisfaction and relaxation.
"I think what surprises most people is the relaxation part of it," Debbie says. "Even though it might be a vanity reason that initially brings them in it's the relaxation and stress they can let go of in the sunlight. The endorphins make you feel wonderful so not only is it going to reduce that stress you're going through, but it's also making you feel good."
Clients can visit locations in Bensalem, Neshaminy, Fairless Hills, Huntingdon Valley and Newtown. For directions, contact information and details, visit www.islandsun.org.