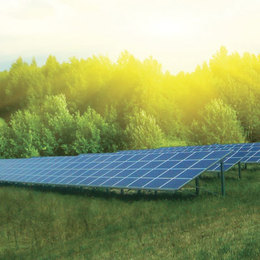 On The Bright Side
Aztec Solar Power builds a solar farm to save a business
When Diane Kirsch opened her electric bill each month, she couldn't believe her eyes.
One month it was $3,000. The next it was $4,000. Sometimes it was $5,000. As proprietor of Cherry Glen Farm, an award-winning dairy goat farm in Boyds, Md., she knew she had to find some way to cut costs—otherwise her business could fold.
So she looked to the sky, not for divine guidance, but for solar assistance.
After seeing an advertisement in a farming trade publication a few months ago, Kirsch contacted Aztec Solar Power in Wayne and inquired about the possibility of constructing a solar farm on her property.

"The electric bills were killing her business," says David Rarrick, Aztec's vice president of sales. "She wasn't able to make her business very profitable. Her expenses were going out of control.

"A solar farm will help her in so many ways," Rarrick continues. "It'll help control her electric expenses. When she finishes paying for the initial outlay of construction of the solar farm—the average time people finish paying the construction costs is four to seven years—she'll really begin to save money. It becomes a profitable entity."

The Cherry Glen Farm solar project, like other solar farms, is connected to the electrical grid of the energy provider that currently delivers electricity to the farm. Each month, whatever unused power the solar panels provide goes back to the grid.

The process is called net metering, which is like a debit account. When a solar farm, or photovoltaic system, produces more power than is needed by a home or business at a particular time, the excess power flows onto the provider's power grid, turning the consumer's meter backward. This excess power is like a power deposit into the consumer's electricity debit account. Later, when the sun is not shining, the consumer makes a withdrawal of that power.

While solar power fits perfectly into the global Go Green initiative, there are many financial reasons to consider switching to solar power. Among them is the financial benefit from a Solar Renewable Energy Certificate, or SREC, which is a tradable certificate that represents all the clean energy benefits of electricity generated from a solar electric system.

Think of SREC as a coupon that a solar power system spits out every time it finishes generating 1 megawatt of electricity. The coupon can then be sold or traded separately from the power.
The solar farm that Aztec constructed on nearly one acre at Cherry Glen Farm is a 142-kilowatt ground-mount system with 617 3-by-5-foot solar panels that can be expected to generate more than 200 SREC coupons per year.
"It's exciting because we're doing something that will help the environment and also get our electric bills down," Kirsch says. "We should see a return in our investment when we're done paying for the system. And what's also great is we'll be getting 30 percent of what we paid for the solar farm back from the government in the form of a federal income tax grant. Calling Aztec was the best thing we could have done for our business."
The solar farm constructed at Cherry Glen Farm is one several such projects completed by Aztec Solar Power, with system sizes ranging from a 15-kilowatt system to a 3-megawatt system.

But given the government's financial incentives, as well as long-term savings on electricity, why aren't more homeowners and business owners going solar in greater numbers?

"Business is going well for Aztec," Rarrick says. "But overall, I think the biggest thing holding people back is their ability to get financing. Twenty years ago when solar power started, people were hesitant about it because they didn't know much about it. But today everybody knows the benefits of solar power. Today it's just about financing."

So what is the most helpful advice Rarrick can offer those perhaps dragging their feet when contemplating whether or not to switch to solar power?

"It comes down to one thing," he says. "It's one of the expenses you can control and also generate income from. One way or another, you have to pay for electricity, whether you generate it yourself or rent if from the utility company, but with solar power, you can pay off your system in a few years and really reap the benefits."

Aztec Solar Power
1-877-SUN-6066
AztecSolarPower.com

Phil Gianficaro is an award-winning writer based in Doylestown.