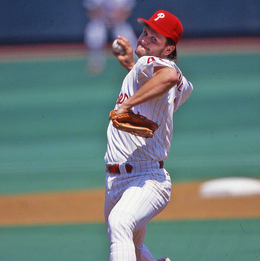 Leaving It on the Field
Former Phillies pitcher Tommy Greene teaches the next generation of ballplayers the finer points of baseball and life
It's a mere few months till the start of baseball season. For most fans it can't start soon enough, considering the winter of discontent with the Eagles' dismal performance, not to mention the matter of wiping away memories of last year's up-and-down Phillies season.
It's time for some good news in Philadelphia sports, and here's hoping good things are cyclical. It was 20 years ago, after all, that former Phillies pitcher Tommy Greene—who earned one of only 11 no-hitters in Phillies history—helped take the team to the World Series.
Today the Warrington resident continues to share his love of the game with the next generation—including his son, Seth, who plays for Virginia Commonwealth University and calls his dad often to share news about his team. Seth is a pitcher, like his father.
Greene treasures their close relationship because baseball took so much time away from the first half of his son's life. When he played for the Phillies, they made their home in Richmond, Va., near family and "close enough to come up for a home stand," he says. Post-Phillies, when Greene coached ball in the Northern League for a season, his son served as a ballboy. He helped coach his son's team when he could, too.
After his wife passed away after a long illness, Greene reconnected with an old girlfriend who now lives in Bucks County. After commuting for more than a year, he moved north to be with her.
"Life is a game of adjustments," he says. "How you handle them makes you the way you are." Baseball, he says, has always been his constant. "I'm an ever-vigilant student of the game." As Hall of Famer Willie Stargell, who coached Greene on the Braves, would tell him: "Shut up and listen. You might learn something."
Greene left the game, after comebacks and more attempts at comebacks, because he "had an old man's shoulder, and the game wasn't fun anymore," he says. "I was bitter that my career ended. It's humbling. I worked so hard. No one was in better shape than me. Then [former Phillie] Dickie Noles came to see me and taught me to talk about your problems—get it out. Keeping things pent up hurts you.
"Now, I just want to give back."
Since moving to Bucks County, Greene has been quick to help the next generation of ballplayers with the finer parts of pitching—and even finer points of life. He volunteered to work with dozens of boys at Plumstead Baseball Association's winter workouts, spending time with each boy individually.
He wants to pass his life lessons on to young people—his son included. "I try to challenge him as a man like my parents did me," he says. "My dad worked hard. My mom taught me right from wrong. And if you do wrong, there is a price to be paid. You have to take pride in yourself first."
Greene grew up in North Carolina (near Fort Bragg) and used to practice pitching with his grandmother until he was 13. He was 6'5", 230 in high school and pitched a record-setting 125 innings his senior year. He was the quarterback, too, until he was blindsided in practice and broke his arm. He played basketball as well but started rolling his ankles. He still practiced with the team, however, to stay in shape and give the center better competition.
"I took pride in whatever I did," he adds. "A lot of kids are good athletes, but it's how they deal with failure that matters. … And always try to treat people right. You get what you give."
He credits the Braves' longtime pitching coach Leo Mazzone with turning a high school hurler into a pro. Mazzone would tell him, "'We're not here to break you down but to build you up,'" Greene recalls.
To this day Greene remains close to the Phillies. He enjoys being part of the alumni staff and trying his hand at broadcasting during "Bull Session" with Dan Baker. Also, every year since he retired he has participated in Phillies Phantasy Camp. It's no surprise considering his place in Phillies lore.
In May 1991, Greene threw a no-hitter for the Phillies against the Montreal Expos. The next year, tendonitis in his arm and shoulder caused him to miss half the season. Greene returned to lead the 1993 staff with a 16-4 record (tied with Curt Schilling for the most wins on the Phillies) and 3.42 ERA, finishing sixth in Cy Young voting.
Greene split the next few seasons between the minors and majors, trying to heal an ailing shoulder that made him leave the game for good in 1997 at age 30.
"I have no regrets," Greene said. "I left everything on the field."
Photograph courtesy of the Philadelphia Phillies/Al Tielemans 1991