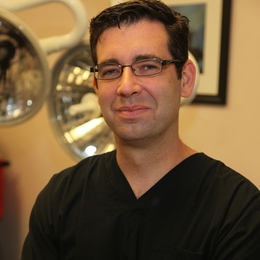 Artistic Touch
At Bucks Dermatology and Facial Plastic Surgery, Dr. Michael Ondik applies true artistry to helping patients look and feel their very best
Regina had been thinking about getting plastic surgery for a long time but hadn't been able to "find the nerve" to take the plunge.
When she finally decided to go through with a procedure to remove extra skin—"a lot of extra baggage," she calls it—beneath her chin, she could think of only one person for the job: Michael P. Ondik, M.D., facial plastic surgeon with Bucks Dermatology and Facial Plastic Surgery, which is based in Langhorne.
"I didn't wear turtlenecks or certain clothes because it didn't look right," says Regina, who asked that her real name not be used. "It was something personal I wanted to do—for me and not for anybody else. All that baggage under my chin is gone, for the most part, and I feel better about myself because of it."
She had also mentioned to him that she thought her eyelids looked heavy—almost half-closed at times—so she also asked Dr. Ondik to remove extra skin from her eyelids (a procedure known as blepharoplasty). Although the outcome of each procedure was her most important consideration, she remembers her experience with Dr. Ondik fondly for more than just how he made her look.
"I'm very pleased with the work Dr. Ondik has done; the way he stitches, you can't even see it," she says. "A lot of doctors have a haughty attitude, but not him. He's a regular guy who's very humble, and he couldn't be nicer. I had a good rapport with him from the first time we met, and I would recommend him to anyone."
She has plenty of company among satisfied clients, as Dr. Ondik has earned a reputation for being the area's premier facial plastic surgeon, focusing solely on managing the aging face through means both surgical and nonsurgical. In 2011 Dr. Ondik joined the well-known Bucks Dermatology (now Bucks Dermatology and Facial Plastic Surgery), a practice co-owned by dermatologists Richard D. Wortzel, M.D., Ph.D.; and Sandra Horlick Wortzel, M.D. He also works closely with other members of the practice's professional team: Debra Grossman, M.D., a Mohs surgeon; and Julie Wahrman Cramer, M.D., another dermatologist; and Kim Alles, the practice's medical aesthetician.
"Dr. Ondik came to us a year and half ago, and it's wonderful to have him as part of the practice," says Dr. Richard Wortzel. "His surgical results are stellar, and his warm and humble personality makes him a pleasure for the entire practice to work with. We have a long history in the community, and we greatly respect Dr. Ondik and are thrilled to offer his services to our patients."
Dr. Ondik performs all aspects of facial reconstructive and cosmetic surgery, including face and neck lifting, rhinoplasty (nose surgery), blepharoplasty, Botox and injectable fillers, and facial reconstruction after skin-cancer removal. His personable and easygoing nature immediately puts patients at ease, and his track record of creating elegant, natural results assures clients that they have made the right decision in choosing him.
"I always wanted to work with my hands, and being able to see my results is very important to me," he says. "When it comes to cosmetic procedures, I specialize in the face and neck. I perform a wide range of cosmetic procedures, including the removal of moles, scar improvements, forehead lifts, facelifts, rhinoplasty and laser skin resurfacing—I know the head and neck inside and out. I also enjoy doing reconstruction for facial defects after skin-cancer removal as well."
Originally from upstate New York, Dr. Ondik attended Colgate University and graduated cum laude with a double major in molecular biology and theater, and chose to dedicate his life to medicine. He graduated with honors from the University of Illinois at Chicago Medical School and continued his training at Penn State Hershey Medical Center in otolaryngology - head and neck surgery.
Although eligible to begin his career after completing his training and obtaining his board certification, he instead chose to pursue additional technical training in aesthetic surgery. He was awarded a highly competitive fellowship in Facial Plastic and Reconstructive Surgery under a world-renowned surgeon that allowed him to further hone his already significant skills.
"Most people have one or two cosmetic concerns they are most focused on," says Dr. Ondik. "I make a point of finding out about each patient, asking them what they are most worried about and what they want to see different about themselves. I can advise them on what will get them the best result for their time and budget. Ultimately I just want them to be comfortable with what they're doing, so I'm not going to push anything."
The most common cosmetic procedures Dr. Ondik discusses with patients are laser resurfacing, facelifts and eyelid surgery, the last of which is designed to make the eyes appear less heavy or not as tired.
"The ideal patient," he says, "is a person who has realistic expectations, who comes in and says, 'I don't want to look 20, but people look at me like I'm old; I want to look like I feel inside, like I'm more rested.' If this person is realistic and they're doing it for themselves rather than someone else, they're going to be happy.
"I don't like to offer procedures that don't make a difference," he continues. "Some people shouldn't get fillers because it's not going to make a difference. It's not that everything has to be a huge difference, but it has to be measureable. What I hope to do with every patient is show them some real results that are going to make them feel better about themselves."
Some patients might be less inclined to go the surgical route, in which case Dr. Ondik can prescribe treatment that might include Botox, laser resurfacing or injectable fillers—but only if he thinks it will lead to a marked and positive change.
"I can tailor treatment toward each individual's needs," he says. "The other part of the equation is downtime, as in how much time they have to spare after the surgery. I like to give people options, which I think they appreciate because it helps them be more educated."
Although cosmetic procedures account for the balance of Dr. Ondik's practice, he also performs a number of reconstructive procedures, notably on patients who have been afflicted with skin cancer. This is how Dr. Ondik first crossed paths with Regina, the patient for whom he had removed excess skin from her neck and eyelids.
"I had a problem with skin cancers for many years, and it required more expertise than [a primary dermatologist] had in terms of sewing it up when it was removed," she recalls. "I thought for sure I was going to see this slit in my nose, but when it healed up I couldn't see one thing. I thought I was going to be so self-conscious about it, but it's not even an afterthought.
"The cosmetic procedures he performed were something personal I wanted to do just for me," she continues. "I'm very pleased with what he's done for me, and I couldn't be more enthusiastic about recommending him to anyone."
Bucks Dermatology and Facial Plastic Surgery
402 Middletown Blvd., Penn's Square, Suite 210
Langhorne, PA 19047
Phone: 215-752-4020
Web: www.buckscosmetic.com
Photography by Kim Billingsley