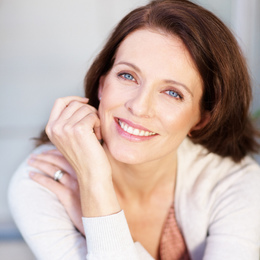 Restoring Life
Through natural programs, Dr. Dennis Bonner and his age-management practice are helping women rediscover their youthfulness
For many women, going through menopause signifies that middle point in one's life, beginning a transition to the later years. This oftentimes can be an anxiety-ridden time in any woman's life as her body and mind are both going under a multitude of changes that are out of her control.
Symptoms ranging from fatigue to hot flashes to intense mood swings are all commonly associated with this transitional period. However, what many women are not aware of are the increasingly safe medical ways to help them cope with this and keep their body regulated.
As part of his age-management practice, Dennis Bonner, M.D., has created a variety of programs for his female clients looking for assistance as they make their way through the aging process. At his practice Dr. Bonner offers dietary, sleep and exercise routines alongside dietary specialists and certified trainers. On the other end of the spectrum, he provides clients with, when necessary, hormonal and nutritional supplements such as human growth hormones, enzyme Q10, estrogen and progesterone.
No matter what program or methods they chose, the desired goal is always for the patients to achieve and maintain their own personal optimal condition of health and well-being for whatever age they are.
"All it is, is basic medicine applied to rehabilitation medicine," explains Dr. Bonner. "This is then applied to the aging process. We are taking those things that cause you to age and minimizing them."
For many women, their hope going into this transformative process includes results such as weight loss and restoration of muscle mass, energy and sexual drive and capabilities but, most importantly, relieving them from the pain and discomfort they have been experiencing.
Donna, a current patient of Dr. Bonner's, is going through this exact process. She remembers what her life, like many other women's, was like before treatment.
"I was having a lot of difficulty and a lot of post-menopausal symptoms," she says. "I had night sweats, hot flashes during the day; I was not sleeping, I was gaining weight. I was extremely fatigued and I had to lie down in the afternoon at work because I couldn't make it through the day."
Like many women, Donna was not only exhausted because of her symptoms but by them as well. They were affecting all facets of her life—home, work, romantic—negatively. With her general practitioner and gynecologist unable to recommend a successful treatment plan, she came to Dr. Bonner, hoping he would finally be able to help.
When a patient such as Donna comes to the age-management center, the process begins with a comprehensive evaluation to determine the problems that a particular woman is facing. Everything from a full-body evaluation, a personal and family medical history evaluation and, of course, extensive lab work is all conducted to determine the hormonal, metabolic, mental and physical baseline of the patient.
"We look at the hormone levels and the hormone levels then dictate the body composition," Dr. Bonner says. "We check iron, thyroids, anemia… and we do a complete physical exam and come up with a problem list."
Among the other things taken into consideration by the doctors before a program type is determined are other diseases and disorders—diabetes, osteoporosis, liver dysfunction, kidney disease, circulation disorders, etc. From there, decisions in terms of diet, exercise and hormonal and nutritional supplements are made.
However, many women are apprehensive to take the next step because of the potential side effects—breast cancer and heart attack, for example, previously associated with these anti-aging techniques and treatments.
With the process of using compound pharmacies—pharmacies that conduct custom medication compounding into unique dosage forms to meet patient specific needs—to create transdermal, bioidentical creams that contain estrogen, progesterone and HGH supplements, Dr. Bonner is creating alternative, safe and successful ways for women to deal with their aging.
"If you use transdermal application of these medications, the risk falls back down to zero," he says. "Hormones are very important. If you look at their effects and apply them judiciously, no other medications can do what they can do.
"Benefits include increased muscle mass and bone hardness," he continues. "It even prevents osteoporosis and gives patients more hydrated skin. It melts belly fat and increases muscle mass in the arms and legs. It's a very powerful medication which can reverse the outward signs of aging."
For Donna, the results of the program and the changes they produced were unimaginable at first, as she was able to get back to enjoying a quality of life she once had. Through the supplemental use of the bioidentical hormone replacements, coupled with a new diet and exercise regimen, Donna, like many other women, has been able toward work her way to a fresh outlook.
"The conventional treatment that is available for women simply didn't work for me," she says. "This system is the only thing that helped me. Within 30 days I was a completely transformed person. I was alert, I was sleeping. That was the biggest thing for me; I could actually sleep through the night.
"I felt alive again," she continues. "I could get through the day. I was sleeping well. My mood was more even-tempered. I started an exercise program and I started losing weight and I had more stamina. For me it was truly life altering."
Dennis J. Bonner, M.D.
Bonner Age Management
1203 Langhorne-Newtown Road, Suite 120
Langhorne, PA 19047
215-375-4200
www.bonneragemanagement.com