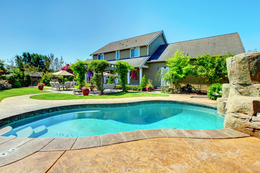 Outdoor Oasis
How to shape any backyard into an outdoor paradise for summer and beyond
With spring just around the corner, homeowners are itching to get outside. For many, that also means working toward turning their backyards and other outdoor living spaces into veritable paradises through pools, patios and outdoor kitchens, as well as other amenities designed to extend the season beyond summer and well into fall.
"Having the landscape design drawn by a qualified professional is the most important thing any homeowner can do before beginning a landscape project," says Keith Frederick of Environmental Landscape Associates Inc., based in Doylestown. "They should begin by researching local companies to find one whose work they admire and who they feel they can have a good relationship with. During the initial consultation a designer will ask questions about your needs, tastes and budget. Developing a concept for the design is crucial to the final outcome of the project but establishing an investment level you are comfortable with before meeting with the designer will allow them to make appropriate suggestions for its construction."
Shari Catanzaro, landscape designer for Horsham-based Colibraro Landscaping and Nursery Inc., suggests homeowners who are considering a landscape improvement to start by asking themselves two key questions: "How do I want to use the space, and who will be using it?"
"Whether it's for relaxation, entertainment, exercise or play, your yard is an extension of your indoor living space, so make it as warm and inviting as you do your home," Catanzaro says. "Consider colors and schemes that suit your lifestyle—vibrant shrubbery, topiaries, sculptures, an outdoor kitchen, fire pit or a water feature."
Fireplaces, kitchens and tables can be utilized in an outdoor area to make any home feel much larger and more useable for entertaining and relaxing, according to Marisa Cristinzio of Green Acres Nursery in Colmar. "Also, adding features like pergolas, trellises, sitting walls or trees and shrubs can help create a sense of enclosure in an outdoor room," she says.
With warmer weather just around the corner, Cristinzio has some tips for homeowners considering an outdoor kitchen. "Buying a well-made grill with stainless-steel burners is crucial," she says. "Consider adding an outdoor refrigerator to keep drinks and food cold, while a sink will be very useful for meal preparation and cleanup. For countertops, granite is a sometimes overlooked choice; it won't absorb grease and oils created from grilling and preparing foods allowing for easier cleanup, and with so many colors and cuts available, it's outstanding for an outdoor setting."
All aspects of home improvement require investments of time, space and money, so think ahead and choose wisely when it comes time to getting any necessary guidance, suggests Chuck Foell, designer for Crystal Clear Signature Pools in Southampton. "Before buying anything—pool, landscape, terrace or outdoor kitchen—spend time working with a competent outdoor designer to incorporate and illustrate every detail, even if you plan on doing some of the work much later," he says.
Pools are among the most popular and functional ways to enhance an outdoor living space but also come with many aspects to mull. "Most of what you will be doing is quite permanent," Foell says. "You will be living with it for many years. What will it look like year-round, how maintenance free will it be, how will the plantings look in five years?
"Sunlight and shade are important considerations relating to your pool, seating areas and a healthy landscape," he continues. "'Bigger' and 'more' aren't necessarily the right way to go, even though the salesman may assure you it is. Quality, durability and the company's reputation should always trump shopping for the lowest price."
Stamped concrete is a highly durable material option for pool decking, patios, walkways and other surfaces, but there are several options to review when selecting the right vendor to pour it, according to Chris McMahon, founder of Architectural Concrete Design in Levittown.
"The key to quality stamped concrete is color hardener; it increases its surface strength and allows it to wear like stone and mimic stone," he says. "It won't wear out from weather and snow shoveling. Color hardener is a brighter, more brilliant, and more color-fast surface than color that's added to the concrete.
"What you're buying is the surface," he continues, "and with color hardener it looks good and it's going to last. We have jobs that are 20 years old and look as good as the day we did them. Insist upon color hardener of at least sixth-tenths of a pound per square foot. It gives it an eighth-of-an-inch-thick porcelain-like finish, and it's going to wear like stone because it's as hard as stone."
A patio or other seating area must not only be durable but also usable. "The most common comment I get when meeting with a prospective customer is, 'We have this great deck or patio and can't use it because it's too hot,'" says Rich Caskey of JMT Awnings in Abington. "That's the beauty of a fabric awning. Not only does it solve the problem, but it also solves it with style, practicality and cost effectiveness. The question then becomes what type of awning does the customer want and, as important, what kind of awning will do the job they want it to do?"
Caskey says there are several factors to consider when choosing an awning—whether retractable or stationary—including the size of the area to be covered, sun protection/rain protection and maintenance issues, such as whether or not the homeowner wishes to put up and take down the awning on a seasonal basis.
"Large cantilever umbrellas in [sizes of] 11 feet and 13 feet are a beautiful way to create a shady outdoor space that's a less costly alternative to a pergola or cabana," suggests Kathleen Moscovitz, patio furniture manager and owner of Feeney's in Feasterville. "When shopping for outdoor furniture, customers are looking to complement their indoor décor," she says. "Choice and customization are the key words when it comes to outdoor furniture. Customers continue to want many different sizes and materials for dining tables. Intimate chat groupings, which could include a fire pit, are popular additions to dining groups. … Our customers are looking to us for accessorizing their outdoor spaces with pillows, rugs, planters, lanterns, statues and fountains to create a designer look."
Once an outdoor entertaining area is functional, the homeowner has the opportunity to personalize it. "There is no right or wrong way to decorate your space, but if you make your choices based on your own personal needs, you will create a beautiful space that you can enjoy for many years to come," says Jennifer Troll of Extension Patio, which is based in Trenton, N.J. "The biggest trend for the past several years has been 'bringing the inside out,' meaning creating rooms or space outdoors that adds to the usable living space of your home. … If you prefer to lounge while outdoors a cozy living space can be created with big cushioned comfortable sofas or sectionals around a coffee table or fire pit table using outdoor rugs, throw pillows and umbrellas to add color and comfort to your space."
Regardless of one's style or how a homeowner intends to use the space, Troll advises homeowners to educate themselves before making a purchase.
Lighting can help extend the use of an outdoor living area into the evenings and offer year-round interest to the landscape. It is a key consideration for any backyard, according to Paul Pezzotti, a third-generation co-owner of Berwyn-based Pezzotti Brothers, which has been designing landscape settings for more than 90 years. "Some people use these lights to illuminate certain parts of the house, with additional directional lights to light up trees, pathways, water features, decks and patios," he says.
His company, which serves the Main Line as well as Chester and Montgomery counties, specializes in outdoor lighting, water features and landscaping. "Low-voltage landscape lighting, including LED lights, have far greater longevity and require less electricity," he says. "The lamps we use produce beautiful white light that can preserve and enhance the aesthetics of your property."
Regardless of how a homeowner chooses to invest in an outdoor living space, having a trusted and experienced partner to steer the investment is critical. There's no better way to maximizing one enjoyment for years to come, not only through spring and summer but also when the snowflakes start to fall.
Making the Outdoors Great
When looking to enhance your home from the outside in, turn to the leading professionals and service companies in the Philadelphia suburbs. Following are some of the best.
Architectural Concrete Design
3001 New Falls Road
Levittown, PA 19056
architecturalconcretedesign.com | 215-946-5039
Colibraro Landscaping and Nursery Inc.
818 Herman Road
Horsham, PA 19044
215-628-3452 | colibraro.com
Crystal Clear Signature Pools
1045 B Industrial Blvd.
Southampton, PA 18966
215-355-7665 | ccspools.com
Environmental Landscape Associates Inc.
5095 U.S. Route 202
Doylestown, PA 18902
215-794-2400 | elaoutdoorliving.com
Extension Patio
1509 Princeton Ave
Trenton, NJ 08638
609-396-9081 | extensionpatio.com
Feeney's
1134 Bustleton Pike
Feasterville, PA 19053
215-322-4300 | feeneys.com
Green Acres Nursery
270 W. County Line Road
Colmar, PA 18915
215-822-3334 | greenacreslive.com
JMT Awnings
2017 Butler Ave.
Abington, PA 19001
215-659-5239 | jmtawnings.com
KS Greenday Inc.
1060 Big Oak Road
Langhorne, PA 19047
215-702-9876 | ksgreenday.com
Pezzotti Brothers Inc.
920 Swedesford Road
Berwyn, PA 19312
610-647-1028 | pezzottibros.com