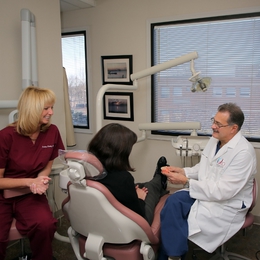 Setting the Standard
Indian Valley Dental Associates has been providing patients with the highest degree of dental service for more than 50 years
There are some services for which it is worth seeking out the best possible provider. For these it is not as much a matter of taste and budget, as it is necessity. Oral health is certainly among them. "Teeth aren't like your hair or fingernails," says Marc Lipkin, D.M.D. "They don't grow back like your hair does after a bad haircut. You usually don't get a second chance, so it needs to be right the first time."
Dr. Lipkin prides his practice, Indian Valley Dental Associates in Souderton, on doing things the "right way." That includes respecting his patients' time, valuing their relationship with him and, of course, performing all work to the highest standards. "We treat patients the way we want to be treated," he says. "If you have a 9 a.m. appointment we will be waiting for you; we have tremendous respect for your time."
Indian Valley Dental Associates has been in business since 1948, and Dr. Lipkin has been there for the last 30 years. His expanded-function dental assistant Peggy Kurnik has been there for 37 years. During that time the family dentistry practice has served four generations of patients. To Kurnik, many of the patients are like family, and Dr. Lipkin treats them that way as well. "He enjoys his relationship with them and treats patients like he would his own mother, father or kids," she says. "That is rare to find in the dental field today."
Even rarer to find in a general dentistry practice is someone with Dr. Lipkin's qualifications. After earning a post-graduate degree in advanced general dentistry he was appointed a clinical associate of oral rehabilitation at The University of Pennsylvania, School of Dental Medicine, where he taught in the general practice residency until 1993. After teaching at the University, Dr. Lipkin returned to the role of student. He earned a fellowship in the Academy of General Dentistry (AGD) and has been a member of the professional organization for more than 25 years. Fellows of the AGD must earn a minimum of 500 approved continuing-dental-education credits and pass a 400-question exam following five years of continuous membership. A general dentist can provide a broad range of care, but being board certified in a field puts Dr. Lipkin in a higher category. "It is hard to become credentialed," he says, but he believes these certifications make him a better dentist.
"You can say you can do anything," says Dr. Lipkin, "but I am a big believer in credentials. There are legitimate American Dental Association sanctioned organizations that offer these credentials. They require specialized training in things beyond what is taught in school. People don't know that; they think if you are a dentist you can do any dental procedure, but there are processes we go through to become qualified to perform them. The more knowledge my staff and I have the more we can educate our patients and do a better job for them."
Dr. Lipkin was also granted a fellowship in the American Academy of Implant Dentistry. This prestigious group includes only 23 other fellows in the state of Pennsylvania. He has also earned his mastership in the International Congress of Oral Implantologists' prosthodontics section, an award that can be attained only by demonstrating proficiency in dental implant placement as well as implant restoration. "These awards take a significant amount of time, effort and education to achieve, but the ability to perform my craft better for my patients makes it worthwhile," says Dr. Lipkin.
Dr. Lipkin most recently was granted diplomate status by the American Board of Oral Implantology/Implant Dentistry. This organization recognizes dentists for expertise in dental implantology, both surgically and restoratively. Dr. Lipkin is one of 13 dentists in Pennsylvania and less than 500 worldwide who have achieved this prestigious designation. This two-year certification process consists of a written examination, case presentation and an oral examination by the board. As a diplomate in this organization, he helps to set the standard of care for others in the dental implant field. His practice, for example, uses the most advanced Kodak 9300 3-D cone beam CT scanner for computer-guided accurate implant placement. Scanning for quality and quantity of bone in this way is becoming the standard of care for all patients.
"Everything has changed," says Dr. Lipkin, noting the new technologies and material available to dentists. "It used to be about saving teeth, whether pretty or not. Now patients are more demanding—and that's good."
While the term "cosmetic dentistry" may have originally come into use for cosmetic services, it has evolved into a form of treating disease in a way that is more aesthetically pleasing than ever before. This is done by using more aesthetically appealing materials, such as zirconium, porcelain and acrylic. These materials allow cosmetic dentists and implantologists to perform fillings, replace lost or damaged teeth, rejuvenate a worn smile or provide an anchor for dentures.
These services are important to many because, as Kurnik notes, "a youthful smile makes you look younger." An improved smile, she believes, allows patients to smile and speak with greater confidence. "We have changed lives," she says.
Nancy Nau, a patient for more than 20 years, considers herself lucky to have found Dr. Lipkin when she did. "My previous dentist retired and it was a blessing in disguise," she says. While she had been planning to visit several dentists until she met one she liked, Dr. Lipkin was able to immediately identify and address some severe problems with her existing dental work. "I met him at the right time, or I might not have teeth now," the 80-year-old patient says.
She had multiple fillings, caps, crowns and bridges that needed attention. Additionally she had received a poorly performed procedure that required a reverse root canal to correct. "I had faith in my family dentist," she says, though she didn't realize the level of care was not sufficient until it was almost too late. Today she is happy to report that she visits Indian Valley Dental Associates every six months for a checkup and has no problems. "[Dr. Lipkin] is at the top of his game," she says, "and deservedly so."
"I've seen everything from 20-year-olds missing some teeth, to older people with dentures and middle-aged patients with failed bridges," he says. Whether a patient's tooth loss is due to an accident, congenital disease or age, Dr. Lipkin is usually able to rejuvenate their smile. "Not too many people can rehabilitate a mouth like that," Kurnik proudly says, "but Dr. Lipkin can."
The practice has patients who currently reside as far away as Arizona, North Carolina and California but return for care. Those who have moved and are unable to return, sometimes call Dr. Lipkin to ask for his opinion on the treatment being recommended by their new dentist. "It's a wonderful compliment," he says. Others agree, as Dr. Lipkin has been recognized by his peers as a 2010 and 2012 Philadelphia magazine Top Dentist.
"I truly enjoy what I do," he says. "It offers instant gratification; I love being able to change someone's life!"
Dr. Lipkin and his associate, Dr. Spencer Grossman, practice cosmetic, family and implant dentistry, while Dr. Alan Schatz limits his practice to endodontics.
Indian Valley Dental Associates
601 East Broad Street, Suite 200
Souderton, PA 18964
215-723-5531
Website: www.indianvalleydental.com
Photography by Rob Hall