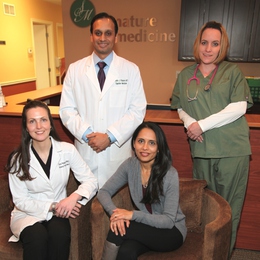 First-Class Care
Dr. Ashish Sitapara and his team at Signature Medicine offer patients a personalized approach to modern medical care
After watching his grandfather battle Alzheimer's disease and the care that it requires, Ashish Sitapara, M.D., saw that there were things about the traditional course of treatment with which he didn't agree. After completing his medical degrees and fellowship training, Dr. Sitapara decided to forgo tradition by opening a concierge practice. His goal: to change how people perceive and receive medical care in his hometown community.
"I wanted to create my own practice where patient care ranked No. 1," he explains. "So that's the reason I chose to go concierge. By limiting membership to a manageable number of patients, I can devote a lot more time to spend with people."
According to the World Health Organization's latest ranking of countries based on medical care in 2000, the United States ranked 37th. Dr. Sitapara has changed this at his Newtown-based concierge medical practice, Signature Medicine. Here, Dr. Sitapara and his team, which includes an experienced certified nurse practitioner and two medical assistants, go above and beyond what is expected of a traditional general practitioner, offering patients an unparalleled level of individualized care.
"When we created Signature Medicine it solved the problem of access," Dr. Sitapara says. As a concierge medicine practitioner, Dr. Sitapara is available to his patients 24 hours a day, seven days a week via his cell phone, text messages and e-mail, something patients at traditional practices do not experience. Because of this, he is able to form long-lasting personal relationships with each of his patients and their families, allowing them to feel comfortable when sharing their ailments and worries with him.
To achieve his practice goal of providing the best-in-class medical care, Dr. Sitapara limits his membership to 300 people who pay a yearly fee of $1,500, which provides full access to a host of services, including unlimited number of visits.* In doing so, instead of having patients waiting around in waiting rooms or examination rooms, Dr. Sitapara is able to schedule appointments for 30 to 60 minutes on average, preventing him or his patients from rushing through the appointment.
"I sit down with them and there's no rush," he says. "I provide reassurance and guide them through whatever health concern they are experiencing or issues they want to discuss. This way they can always feel there is somebody looking out for them, that their doctor is their advocate. There are no barriers; they can see me or talk to me anytime. That provides reassurance and makes sure there's no dropping the ball.
"Whether it's tendinitis or high blood pressure, a physical or a conversation about trouble sleeping and lack of energy, I still block off the same time," he continues. "I'll do whatever's needed to make sure they get the care they need."
Additionally, because he is a board-certified internist, he takes of care his patients in the hospital and manages complex medical issues, closely working with all area specialists as well as rehabilitation centers.
"There is an immeasurable benefit when it's the same doctor who knows you that's taking care of you when you need him most," he says, "such as during a heart attack or stroke. Maintaining continuity of care goes a long way towards preventing medical mistakes."
As an internist, Dr. Sitapara also has advanced experience in dealing with individuals who face multiple, chronic illnesses or acute medical conditions that are affecting their quality of life.
"My average patient may have diabetes, high blood pressure and osteoporosis," he explains. "Instead of having three different specialists, a well-trained internist can treat all of them and work closely coordinating care with specialists if the need arises."
The luxury of being a member of Signature Medicine is that instead of patients having to see a cardiologist for a heart issue and a gastroenterologist for a stomach issue, Dr. Sitapara is able to assess each condition himself and coordinate the appropriate treatment with the specialists he has partnered with, limiting the number and frequency of appointments at various doctors' offices and minimizing the stress of any given condition.
"One patient needed a toe amputation and was on blood thinner," explains Dr. Sitapara. "What the podiatrist wanted was clearance from all his doctors including his cardiologist, but he didn't have to do any of that. I spoke to the podiatrist and cardiologist, and we coordinated everything. He was able to have surgery the next day; it made his life a lot easier."
"[One of my patients] was in Ocean City on the weekend and her son had an infected finger," he continues. "She texted me a picture and I diagnosed and called in a prescription at a 24-hour pharmacy at the shore. [That accessibility] saves people time, prevents delay in care and it's always me on the other end of the phone."
Dr. Sitapara also offers a host of convenient in-office services that patients would typically have access to only by seeing multiple providers. Services include onsite lab draw, ultrasound, joint injections and advanced technology including a secure online patient portal. He also offers preventive care services and lifestyle services.
"Because of the time we can dedicate to members, I also have time to focus on the underlying causes of diseases like stress, poor nutrition, poor sleep, lack of energy and exercise, rather than just prescribing another pill," says Dr. Sitapara. "I'm not someone whose first reflexive is a pill or prescription."
He also offers a successfully supervised weight loss program and smoking cessation program, in addition to the luxury of in-office Botox and filler injections and laser skin treatments.
"I like to believe we are a cutting-edge practice," he says, "not only providing essential medical care exceptionally well, but also on the leading edge of wellness medicine and technology."
With this vast and personalized care, patients of Dr. Sitapara are able to feel as though they are a priority each time they need his assistance and care. This ensures that patients receive the most complete, personalized and well-rounded treatment, and are not treated as just another patient in the waiting room.
"We answer our phones, email our patients, see them the same day and always follow-up afterwards to make sure they are better," he explains. "We always discuss test results in detail in a no-rush, always-pleasant and calm environment. My patients give me the privilege to care for them. I try to understand everything that is going on and, as a result, patients can always come to me and ask, 'What should we do in this situation?'"
With the remainder of his 300 memberships expected to be filled by the end of this year, interested patients are urged to call Dr. Sitapara to become part of his exclusive practice.
Signature Medicine
770 Newtown Yardley Road, Suite 220A
Newtown, PA 18940
215-968-4804
signaturemedicineMD.com
Facebook.com/signaturemedicine
*Signature Medicine works in conjunction with Signature Practice Management LLC where the yearly fees pay for enhancements not covered by insurance.
Photograph by Kim Billingsley