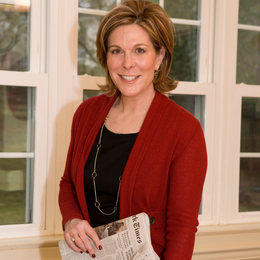 Having It All
Walden Capital Advisors offers investors the personalized service of a small firm with larger-firm experience, knowledge and research
Life has many phases: the years of learning, the years of hard work, the years of experience and, if we are fortunate, the years of enjoying. These are not tied solely to age and, for many, the phases blend together. Jill Steinberg has lived many of these phases already, and through her company, Walden Capital Advisors, she is helping her clients maximize each of them.
"First of all, I love dealing with people," she says. "We start each client at the same place, but the journey is what keeps it interesting. No two clients are the same. I enjoy learning about their lives: seeing their kids graduate from college after watching them save for many years; enjoying that dream vacation home they finally purchased; or, in tougher times, helping them through a divorce or estate process. Everyone has a different story. I like to get to know my clients personally and make connections with them. There is no one size fits all."
Steinberg herself has quite an accomplished story. She hails from a "family of doctors" but was pulled toward economics in college. She graduated cum laude from Princeton University and went on to work as an analyst at Morgan Stanley in New York for several years, gaining experience in capital markets and corporate finance.
Steinberg next attended The Wharton School of the University of Pennsylvania and graduated with distinction with a degree in finance and real estate. She then returned to the field of investment banking in Philadelphia. When Steinberg had her first daughter, she realized it was time for a change.
"I enjoyed the challenge of investment banking, but I wanted more flexibility and control of my life," she says. "I also wanted to work more directly with people and have the ability to develop personal relationships with my clients." After some soul searching she decided that becoming a financial advisor would offer her the balance she desired. Steinberg spent the next 12 years working for two advisory firms in Philadelphia before starting her own firm: Walden Capital Advisors, an independent advisory firm that offers a personal approach to investing.
"We offer our personalized advisory services to high-net-worth women and men, most of whom have initial portfolios of $1 million to $10 million," Steinberg says. The firm specializes in working with couples, as well as divorced, widowed and single women, retirees and small-business owners. As an independent firm, Walden Capital Advisors does not sell any proprietary products, which allows it to offer clients the best available investments for their personal situation. The firm charges a percentage fee based on a client's assets under management rather than collecting commissions on activity. Steinberg says it's never too early to start saving, but "as our financial lives get more complicated, the planning becomes just as important as the investing."
She compares working with an investment advisor to the many other things we hire others to do in our lives. "You could do it yourself, but maybe don't have the time, interest or knowledge. You can't be an expert in all things. We help you tailor a financial plan designed to take you from where you are now to the time when your goals can be realized."
Investing is goal oriented but, Steinberg notes, "These goals change throughout life." When looking to reach shorter-term goals such as buying a new car or house, one might choose to put his or her savings in low-risk investments. College tuition may be a mid-term goal, while retirement is often a long-range goal where one might choose to be more aggressive—until nearing the time when the assets will be needed—and then, she says, it may be time to change allocations. She spends a lot of time working with clients to assess their life goals and develop appropriate saving, investment and spending strategies designed to reach them. "We talk about their concerns, their family issues, and changes in their professional lives. Then the big picture is boiled down to action items," she says. "Success comes from good advisor/client relationships. We want to know what gives you, as a client, peace of mind and the ability to sleep at night. Our goal is to make clients comfortable about what and how they are spending, saving and investing."
For couples, this sometimes means Steinberg helps them reconcile different views of money. "People come at money differently," she says. "It is often a factor of how they were brought up. Some are savers, while others live in the moment. With a couple you often have one of each and, in working with them and learning their story, I try to help them find a happy middle. … What are his goals and what are hers? I want them to get to a place where both are comfortable."
Getting both members of a couple to be involved in the family finances can sometimes be difficult, though, because couples will often compartmentalize their many responsibilities and many women tend to avoid the financial ones. "I want women to feel empowered," she says. "Several couples have come to me because they want to have a relationship with someone they are both comfortable dealing with, and their previous advisor hasn't always connected with the woman."
Women who are not as interested in finances are often forced into dealing with them in the wake of a death or divorce. "They are used to being in relationships where they previously talked through major decisions with their husbands," Steinberg says. "I am able help as a sounding board for issues such as whether to buy or lease a car, whether to refinance a mortgage, or whether to accept an offer on their house." Some women need help with budgeting and adding structure to their finances. "I help clients understand cash flow and expenses so that they feel they are in control," Steinberg says. For many, this means taking regular monthly withdrawals rather than dipping in when needed. This is a small change that can make a world of difference toward taking charge of your finances.
Much of Steinberg's career experience was in capital markets where she raised money for public and private companies and helped with mergers and acquisitions. She recognized that many small companies have a need for better retirement plans. "Many retirement plans are run by insurance companies," she says. "The fees are high and the funds are mediocre. … I've seen so many bad plans."
Walden Capital Advisors offers small businesses and professional practices a retirement plan with five of its managed investment models spanning across the investment risk spectrum.
"Participants only need to make one decision—his or her risk level—and therefore do not have to choose funds or rebalance the account." Those tasks are instead handled by the professionals at Walden Capital Advisors. "Employers can feel comfortable knowing they are providing their employees with professional investing at a reasonable fee." Walden can work with small and mid-sized plans, with any number of employees, making it a good option for smaller businesses and law firms, medical groups, and other professional practices.
Walden Capital Advisors is a three-time award winner of best-in-client satisfaction from FIVE STAR Professional as seen in Philadelphia magazine. Steinberg was also named a leading wealth manager by Goldline Research, which was featured in Forbes.
The firm recently crossed the $100-million mark in assets under management, an important milestone for a private investment firm but it prides itself on growing in a controlled way. "We want to know our clients," Steinberg says. Members of her team, including associate advisor Bryan Moylan, CFP® and client service associate Fran Gibson, become the clients' trusted partners. They get to know the clients and work closely with them. Walden Capital offers clients the best of both worlds, though, by maintaining strategic partnerships with larger firms that provide broader resources for research, analysis, and custody.
Steinberg, an avid sports fan who was born in Abington and now lives in Wynnewood with her husband and two daughters, is committed to her community. She serves on the boards and investment committees for several local nonprofit organizations and finds the work interesting and rewarding. "I like to be involved and give back to the community," she says.
She is a member of the Forum of Executive Women and is very involved in activities relating to her alma mater, Princeton University. She notes that her mother has always done a lot of volunteer work and that she is proud to be setting an example for her own two daughters. Having one in high school and the other in college "helps me understand what clients are going through in all aspects of family life," she says. "The more life experience you have, the more you can help clients work toward achieving their own goals."
Walden Capital Advisors
Two Bala Plaza, Suite 300
Bala Cynwyd, PA 19004
610-660-7718
www.waldenadv.com
4815-8068-0723, v. 1
Photograph by Jody Robinson