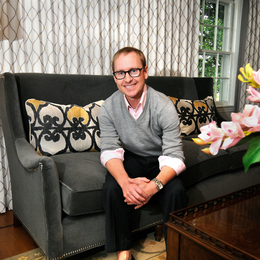 Design Inspiration
Design Home Interiors offers homeowners many ways to get inspired about their home décor, from its Montgomeryville showroom to a room at the spring Bucks County Designer House
Inspiration can be a fickle thing. Whether the medium is music or poetry, many of the greats have suffered from writer's block and painters have turned to muses of every sort. For most homeowners the lack of interior-design ideas results in a room growing tired and outdated or them making a change and adding an items with no consideration to how the aspects of the room—architecture, scale, traffic patterns, color, texture and style—will relate. For just under 10 years Design Home Interiors has been providing homeowners throughout Bucks and Montgomery counties, the Main Line and Philadelphia with inspiration, access and experts to address their home-design needs.
Design Home Interiors provides interior-design services but, unlike most other firms, also operates a unique showroom that allows the designers to offer one-stop shopping for clients. The beautiful 5,500-square-foot showroom, located along Route 309 in Montgomeryville, is like having access to a design center in the heart of the suburbs.
Here, pieces from more than 50 respected manufacturers are represented under one roof—namely, Harden, Century, Precedent, Sherrill, C.R. Laine, etc.
The design area also showcases approximately 8,000 fabrics, a selection of unique accessories, artwork and signed limited-edition prints for the home. It is also staffed by professional designers who are available to discuss customers' needs and objectives in order to determine what services they will benefit from, and to guide them through the decorating process. The designers can also assist with wall coverings, paint selection and window treatments, and also partner with contractors for renovations and additions, if needed.
In addition to the home vignettes found in the showroom, this time of year homeowners have the opportunity to view Design Home Interiors' work at the Bucks County Village Improvement Association's annual Designer House. This year the event is being held from April 28 to May 26 at the Clement Doyle House, 360 Old Dublin Pike in Doylestown and Design Home Interiors has chosen to design the master bedroom retreat.
Show-house participation allows co-owner and lead designer Mark Little the opportunity to display his talents, and that of his staff of design professionals in a place where visitors and prospective clients can tour at their leisure. "It's like an auxiliary showroom, a place where we can let clients see a full space without going in to another client's home," Little says. "We give clients a home they can show off and be proud of, but I can't welcome my [prospective] clients into it. The designer house is open all month and everyone can see my work from scratch and ask questions."
"A lot of people are looking for inspiration," he continues. "[Visitors] come and see my work created for the space. Many times the designs are created for the client, but this time I am the client. It's awesome; I get to show how you can mix patterns and textures."
This year, the room is done in shades of what Little calls "Greige" with tangerine accents. It also makes use of washed wood finishes, a shag rug, crystal chandelier and metallic wallpaper. "My room is taking traditional elements and mixing them with texture, materials inspired by nature and accenting it with a bold color." Little refers to such elements as the "wow factor," because of the effect they have when a visitor walks into the home or sees the design for the first time. "I am looking forward to seeing what people think," he says.
Design Home Interiors often puts this modern twist on traditional elements to create what Little refers to as "new classics." These include furniture with clean lines and traditional fabrics that have been updated for present-day tastes. "[People] want clean sophisticated items with new edgy fabrics, texture and colors," he says. "We help set the trends. I want to inspire someone to think ahead about what might be the next big thing and to give it my own spin."
One-Stop Shopping
"Some of [the other designer house participants] are stores and some work out of their homes," Little notes. "But we have a showroom featuring hundreds of styles, fabrics, finishes and accessories. Anything you need for your home, we do."
If they like what they see they should come to the showroom. We can design for everyone's taste. … They can talk to me or another designer, and we can assess what they might need done." These designers have more than 50 years of combined experience, and will guide customers through the entire process so that it is not overwhelming. He is careful to note that even though all of the individual items on display in the showroom are available for purchase, the staff is not composed of salespeople. The design process will typically start with a conversation about the customer's needs and objectives for his or her space instead of just choosing from what is in stock.
Signature to the firm is its ability to provide customers with a high degree of customization for each piece. Clients have the option to not only choose the style, finish or fabric of their furniture, but also to select the cushion depth, firmness and details such as fringe, contrasting trim or nail heads; many pieces are customizable with a selection of fabrics, pillows and comfort levels. These decisions are not just cosmetic but personalized to suit the customer's lifestyle. "We offer much more than you see in our showroom," says Little.
Design Home Interiors provides several levels of service, including full design, where a designer will go to the customer's home, as well as consulting to assist customers in choosing materials during construction or renovation. The designers can also assist with re-upholstery; select wall coverings, paint colors and flooring; create custom window treatments in their workroom; and recommend qualified contractors—plumbers, electricians, masons—who can assist with all aspects of home renovation. "We provide one-stop shopping," he says. "It is easier for clients because we are the project managers."
Homeowners are welcome to stop by the showroom to peruse the selection, speak with a designer or make an appointment. Visitors interested in speaking with Little at the designer house can contact the showroom in advance to discuss when he may be available there. The Design Home Interiors website, DesignHI.org, also includes a portfolio of its work and links to the firm's newsletter and Facebook page, where customers can receive design tips, get previews of current projects and learn about other upcoming events.
Design Home Interiors
668 Bethlehem Pike
Montgomeryville, PA 18936
215-361-9100
www.DesignHI.org
Photograph by Art Gentile