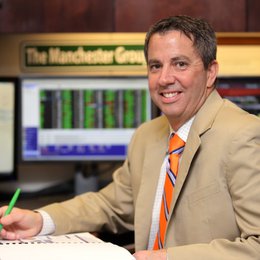 Seeds of Success
From his entrepreneurial beginnings, William T. Manchester helps clients work toward turning their dreams into reality
An entrepreneur in the truest sense of the word, William T. Manchester has overseen the inception, development, and success of many businesses, including many of his own.
Now a financial advisor who specializes in wealth management, retirement planning, investment planning and estate planning strategies, Manchester credits much of his success—he is now vice president/investments at Stifel—to his previous entrepreneurial experiences.
Starting his financial career as a personal assistant for Andrew L. Lewis Jr., the former Secretary of Transportation during the Reagan administration, Manchester says that this experience and interaction with Lewis shaped the course of his career. Manchester had previously been a gardener for Lewis, until one day when he managed to snag the task of driving Lewis to New York City.
"One time, [Lewis] came out and said he needed to go to a board meeting in New York and his limo and driver weren't there," Manchester recalls. "I jumped out of the garden and said to him that I knew New York, and I would be more than happy to drive him there and back, but he said 'No.' Two hours later, I got beeped down to the office. They said wear a suit, pick him up at 4:30 in the morning, and drive him to New York. The ironic thing was that I didn't know New York."
"I got to see the other side of the world while I was just a gardener," he continues, "and that experience taught me how to invest much more than college ever taught me."
Manchester received his degree in finance and business administration from Temple University, which, combined with the lessons learned at Lewis' side, prepared him when starting his own group, the Manchester Group, which is affiliated with Stifel. Today, during his interactions with clients, both current and prospective, Manchester uses much of the knowledge passed down to him from Lewis.
"I learned so much from him about how he operates his business," says Manchester. "I pretty much do exactly what he did; he taught me to be at work by 5:30 a.m. so that by 9 a.m., most of your research and work is done and you can meet with groups and clients. … I try to do everything he taught me, and beyond just business, but everyday things, too."
In these interactions, Manchester developed his client-first approach, the foundation to his group's success. His entrepreneurial mindset has given him a unique perspective on the finance business and has also given him an understanding of clients with portfolios of all sizes and investment experiences. His main concern is forming well-conceived, personalized investment plans for every client with defined long-term goals. Because of this, the needs and desires of clients take precedent over the size and profit of their accounts.
"My whole philosophy has been client-first," explains Manchester. "I've been around the top businesspeople in the world and I've been around the guy that owns the corner butcher shop, and I know how to build a plan for both guys. I have that experience, and it separates me from many other advisors."
Through this approach, Manchester and his group are able to genuinely get to know each client on a personal level to better understand what would work best for them and their future. To do so, Manchester makes himself readily available to all his clients.
"Communication is key," he says. "You have to continually be in touch with clients, always e-mailing or calling, even if you're just saying hello when the stock isn't doing anything. They have access to me 24/7, and the best way to contact me is my cell phone. They can call me Sunday morning; I'll get back to them within the hour, even if I'm in a meeting.
"My communication and experience is in picking stocks and seeing how companies work, whether big or small," he continues. "They are having the same conversation, but with more or less zeros on the end, and I can do both."
However, in getting to do what he loves every day, Manchester is able to see entrepreneurs with big dreams—much like himself—pursue bright futures for themselves.
"Prior to becoming a financial advisor, I wrote a business plan for a company that just sold for $30 million," he says. "Of course, I'm not part of it anymore, but I'm proud that I got to see it from the startup phase. I love those stories about putting payroll on a credit card and 13 years later they're selling the business for $30 million. I've seen how to scratch and claw to get somewhere. I've seen the people who have already done it, and that's where they came from, too."
By helping these men and women get their dreams off the ground, Manchester is able to guide them through the investment process in the smartest and most effective way that aligns with their particular lifestyle and business/personal needs. As he reviews their current situation and what they will need in the future, he helps them properly manage their assets and finances.
"I love watching people make it," he says. "I do 401(k)s for guys and women that are like that — that started from nothing and have an awesome business now. And, when they do succeed, I can help with their wealth management, investment plans, retirement plans, and estate planning strategies."
Regardless of a client's situation, having the support of the Manchester Group can help them reap the rewards of their hard work and potentially turn their dreams into reality.
The Manchester Group of Stifel Nicolaus
William T. Manchester | Vice President/Investments
Stifel, Nicolaus & Company, Incorporated
Member SIPC & NYSE
Millennium One
20 Ash Street, Fourth Floor
Conshohocken, PA 19428
610-567-1934
www.linkedin.com/profile/view?id=217598961&trk=tab_pro
Photograph by Rob Hall