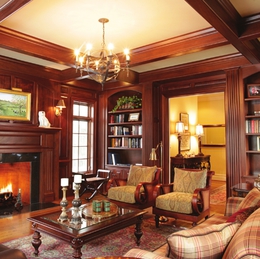 Committed to Quality
David Semerjian Builders crafts unprecedented custom homes that bring clients' dreams to fruition
Berwyn-based David Semerjian Builders has been building fine-quality custom homes along the Main Line and its surrounding communities for more than 20 years. Since 1992, people have trusted David Semerjian Builders with their largest and most important investment, the family home. His attention to detail and dedication to high-quality craftsmanship makes this master builder the choice of many discerning clients throughout the area. From estate homes to complete home renovations, David Semerjian is the builder of choice when quality is of the utmost importance. His mastery of the homebuilding process and attention to the builder-client relationship blend perfectly to produce a home crafted to the highest standards of quality and integrity.
Many of David's new clients are referred to him by owners of the beautiful homes he has completed, and who have appreciated his fine craftsmanship and enjoyed a good working relationship, or local real estate agents and architects who know the company's history and type of work. Service is one reason so many recommend him. "I am involved with my clients through every aspect of the construction process," he says. "At David Semerjian Builders, you don't work with a site manager. My clients work directly with me, which I have found to be an invaluable asset in creating a successful client-builder relationship."
David directly oversees every home constructed, from start to finish. He believes no home is too grand or too small; each is a commitment to quality and service. He works closely with architects, so that the building process runs as smoothly and as stress free as possible for his customers. Then, along with a host of expert artisans and subcontractors, he finely crafts each home with the meticulous detail that his clients have come to expect. By blending his philosophy of old-fashioned, hands-on work with the latest techniques in custom home building, David Semerjian Builders provides each and every client with the home of their dreams.
Large-scale home renovations can be difficult on the homeowners, as oftentimes they are living in the home during the construction process. David Semerjian Builders is sensitive to this and David guides his clients through each stage with as little inconvenience as possible. "My clients are always grateful that I work within their time specifications," he says. "If we say a job will be completed in six months, we don't mean 10 or 12 months. I am proud of my reputation for consistently completing construction on new and existing homes within the time period promised to my clients with no compromise in quality. Many times, I am able to present the home to the client in advance of its expected completion date."
One such dream home is the exquisite 13,000-square-foot residence built three years ago on a 10-and-a-half-acre parcel in Berwyn. The home contains seven bedrooms, six full baths, two powder rooms, a pool and a covered porch.
The family room features 22-foot ceilings supported by solid oak trusses and one of six fireplaces in the home, this one constructed of cut Wissahickon schist. The real center of any home is its kitchen, and this one is separated from the adjoining keeping room by a floor-to-ceiling hutch designed to display the owner's pottery collection. French limestone flooring was used throughout these two rooms and the adjacent breakfast area. One of David's favorite rooms is the library. It has custom-milled mahogany walls, ceilings and bookcases, and includes an oversized marble fireplace. A spiral staircase leads to the office above. Construction required 16 months.
"Homes like this require upwards of 200 artisans and specialized contractors," he says. "The result is a quality home that is unprecedented. Being a home-builder requires the ability to make the concept a reality. There is no better feeling than when I am shaking my clients' hands and giving them the keys to their new home. That feeling never gets lost on me. That is why I am so passionate about being a builder of family homes."
David Semerjian Builders
Office: 610-695-0444
Cell: 484-437-5771
davidsemerjian@msn.com
davidsemerjianbuilders.com
More information on this home, which recently came on the market, can be obtained through Lisa Semerjian of Long and Foster Realtors in Devon at 484-437-6292.
Photograph by Alison Dunlap