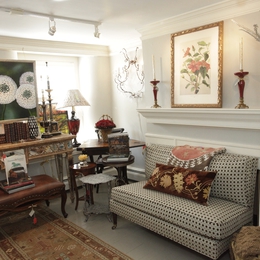 The Gift of Good Taste
Red Clay Studio proprietor Crystal Richardson and fellow designer Jessica Deal Fadgen add character and function to any client's home
What would you change about your home if you could just wiggle your nose and have it be done? This is the question Crystal Richardson, owner and designer of Red Clay Studio, asks her clients.
"When the average owner looks at their home they sometimes feel like everything needs help, but when it comes to dollars and cents they may feel they cannot do it within their budget," she says. "We help them to prioritize and break it down into manageable projects."
Richardson and fellow designer Jessica Deal Fadgen offer clients full-service interior design and operate a retail store in Chadds Ford. The duo worked together for Ethan Allen before Richardson left the business to raise her children, while Deal Fadgen served the company for more than 20 years. Richardson, a collector and textile lover, says friends and acquaintances often turned to her for help with their decorating dilemmas and to borrow items for entertaining. She decided to return to the field and begin a business with Deal Fadgen when "my home was bursting at the seams," she says. "I needed to share it with the rest of the world."
Today Red Clay Studio manages client projects from start to finish, including contractor recommendations for everything from flooring to faux painting. "You cannot just pick these craftsmen out of a book; we can vouch for them, and we love representing them," says Richardson, adding that she maintains an 18-year professional relationship with one local contractor.
"We start with the floor, from the rug or flooring to the rest of the living space, like the walls and furniture," she continues. "We break it into stages. … Many people think their whole house needs to be done all at once, but you can add as you go."
Making Life Easier
Red Clay Studio offers rugs, wall coverings, window treatments, lighting, furniture, antiques, accessories, even linens and china. Richardson recommends that homeowners "purchase smart" by choosing items that are well made and meet not only their current needs but also their future design goals. The studio's affordable floor-plan service is "money well spent," she says, because it provides clients with specific details—length, width, etc.—of items that will suit a particular room. From there they can shop on their own or work with the designers as needed to prioritize their budget, select colors and choose furniture.
"Ask yourself, 'If money were no object, what would I change?'" she says. Richardson realizes that most clients have a set budget and encourages them to get assistance in making the best choices. "We can arrange to shop with clients to incorporate pieces they love. They can also find some items on their own. We encourage that, because you don't want it to look like your decorator just left. You need to personalize your home." Red Clay Studio also offers color consultations, redesign and room accessorization—"things clients cannot find on own," she adds—at an hourly rate.
"Who does not want to come through their doors and love their table and chairs?" Richardson asks. "You can do that at every level of planning and spending. … I believe that with any budget you can make good choices and fill in the cracks as your budget and lifestyle allow." By the time many people call a decorator, though, they have often made purchases and are unhappy with the results.
Richardson suggests prospective clients start making a file of pictures in magazines or books to help pinpoint their style. Then start analyzing and asking questions. "Write down things that you need a room to do, and that it must do. Do you have pets? Kids? Do they need storage? … Do you have a budget, and what could you be comfortable spending? …What you must keep?"
All of these practical questions help Richardson and Deal Fadgen design a space that is perfectly tailored for the family who will be living in it. "We make suggestions to make life easier, to make the room livable," she says. "We know the products and can suggest things they may not have thought of." For example, many people have family heirlooms that "have some soul or remind them of home," which the designers may be able to update or complement with new paint, fabric or some other element.
Though her personal style is transitional, or "classic with a new twist," Richardson believes comfort and function trump all other elements of style when decorating a home. "People think backwards," she suggests. "Bedrooms are often the last to be decorated, but parents need a refuge. One simple solution would be to invest in bedding or take out the old comforter."
Red Clay Studio offers a range of furniture—from affordable and readymade to high end and customizable. Because of its relationships with key manufacturers, Red Clay Studio can also source unique items for clients. Richardson refers to an Afghani chest with ivory inlay she purchased in New York.
"I can give you the same look with a company coming out of India that does inlayed bone and mother of pearl but for a significantly lower price," she says. "A high-quality item may seem expensive when you first look at it. But when you amortize it over time, it is affordable. … I like to talk to people and find out where they can invest long term."
Red Clay Studio is much more than an interior-design headquarters. The store, which is located in a newly renovated stone farmhouse in the heart of town, is a "comfortable place" stocked with unique furniture, lighting, accessories and beautiful gifts. "We carry accessories made by local artists and all over the world," Robinson says, including hand-printed linens, floral arrangements and china in a variety of patterns. Even after a design project has ended, the designers can further enhance the space with, for example, monogrammed linens, towels or napkins from Italy.
Whether providing access to their expertise or one-of-a-kind items in their store, Richardson and Deal Fadgen know exactly how to make a client's house feel more like a home.
Red Clay Studio
1631 Baltimore Pike
Chadds Ford, PA 19317
610-246-1843
www.redclaystudio.com
Photograph by Alison Dunlap