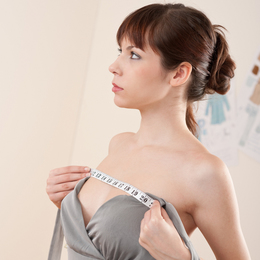 Perfectly Pampered
Lace Silhouettes Lingerie provides women with personalized service that helps them look their very best
For most women, looking good also means feeling good. "It all relates back to whether a woman is comfortable," says Karen Thompson, owner of Lace Silhouettes Lingerie, which has three area locations. With this in mind she has created a comfortable shopping environment that feels like a home.
"Everyone is a guest in our home," she says and providing personalized, knowledgeable service to one guest at a time has been Thompson's vision from the day she founded her company nearly 25 years ago.
According to Thompson, eight out of 10 women are wearing the wrong-sized bra. Most women have never received a proper bra fitting, and even fewer realize that their bra size can change as many as six times in their lives. Weight loss or gain, childbirth, activity levels and age can all affect tissue density and result in a change in fit. Lace Silhouettes Lingerie offers professional bra fittings, coupled with its Bra Therapy consultations, to help women of all ages, sizes and styles find the perfect fit.
A professional fitting is simple and requires only three measurements taken, in private, while the guest is fully clothed. During the consultation, a specialist will ask the guest questions about her family, health and lifestyle. All these details are important information that the consultant uses to write a "prescription for comfort," recommending a bra wardrobe based on the guest's body type and lifestyle. The process can take anywhere from five to 60 minutes, so Thompson suggests calling ahead to make an appointment.
"For my birthday I visited my daughter who planned a day of pampering for me," says Shannon Rhodes, a recent visitor from New York. "She scheduled, among other things, a bra fitting at Lace Silhouettes in Peddler's Village. I thought it would be much more invasive, but it was a very fun, relaxed experience."
Rhodes appreciated the personalized service given to her by her saleswoman, Heather. "She brought in a selection of bras for me to try on and made adjustments to them; she even told me how to properly choose and care for my bras." Rhodes also praises the assortment of styles and sizes offered at Lace Silhouettes. "Unlike other stores where you just have to browse the racks and hope they have what you want in stock, Lace Silhouettes had a great selection."
Thompson says Heather is also one of the buyers for the company. "I like to get as many of the staff members involved in buying as I can because when they help select the brands, they know all details about how each is made and this knowledge is helpful when working with our guests."
Lace Silhouettes Lingerie carries apparel from more than 150 brands in order to provide each guest with the best fit for her needs.
"Certain manufacturers cater to specific body types," Thompson says. Selecting the best style for her individual body type will ensure a woman always has the right bra to complete her outfit. For Thompson—a 36D—it is the Awareness Bra by Wacoal. The bra offers great support and a soft cup that provides a minimizing effect. She also believes every woman should own at least one lacy, sexy, drop-dead gorgeous bra because, she says, "We all need to look and feel incredible sometimes."
Rhodes says she also bought two bras from manufacturer Wacoal that day, "One is an everyday style. It compliments my figure and looks so natural. The other was very pretty and lacy—I never would have thought to buy it off the rack—but it was so comfortable and I couldn't wait to put it on and go out somewhere." She also says she will definitely be returning to Lace Silhouettes. "I was surprised at how much fun it was. I have suggested to my girlfriends that we take a trip there together, just so I can do it all again."
Lace Silhouettes Lingerie
Peddler's Village
Lahaska, PA 18931
215-794-3545
www.lacesilhouetteslingerie.com