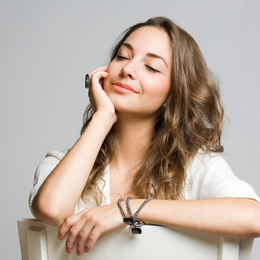 Cure All
Cancer treatment evolves to focus on healing the whole patient—body, mind and soul
Once upon a time, a cancer diagnosis was quickly followed by a singular, sweeping question uttered by an oncology surgeon or specialist: "How do we rid the person's body of the disease?" Killing the cancer often resulted in harsh treatments that deprived the patient of the life he or she once knew and, in some cases, led to other illnesses and even death.
Although eradicating a patient's cancer remains of utmost importance in all cases, a shift in understanding has led to smarter, kinder and more holistic roads to recovery—in other words, treating the patient and not just the disease.
"The biggest change of the past five years is to focus on the whole person," says Stacy Krisher, M.D., breast surgeon at St. Mary Regional Cancer Center in Langhorne. "Not only are we trying to treat the disease, but we are also focusing more on other things in addition to trying to cure [the patient], while also trying to get them into a lifestyle of prevention: regular exercise, healthy diet, getting them into support groups when people need it, and reintegrating them back into a normal life."
One example is the use of partial breast radiation, which hastens treatment—dropping radiation cycles from six weeks to one week. It also spares healthy tissue by focusing radiation directly at the tumor.
"Too many times patients are treated with chemotherapy or other treatments that are not going to cure them, and it ultimately robs them of quality of life," says Charles Dunton, M.D., chief of gynecologic oncology for Main Line Health, who practices primarily at Lankenau Medical Center and Paoli Hospital. "If you enter into discussions with a patient about end-of-life issues and they want to be at home, we make sure they are home [with hospice care]. … Some of my most rewarding experiences with patients come when I'm making house calls for them at home.
"The rule is," he continues, "if you can't improve quantity of life, don't take away from quality of life."
Eliminating Fear
In addition to changes in understanding, cancer treatment has benefited from real advances in screening and other technologies.
The advent of genetic testing has helped reduce the incidence of certain cancers and their recurrence, not only among individuals but also for entire families. Dr. Krisher encourages women to get screened regularly for hereditary breast-ovarian cancer syndrome; women who test positive for this gene have as much as an 85 percent risk of developing breast cancer and as much as a 50 percent risk of developing ovarian cancer. The syndrome runs in families, so once a woman is identified as possessing the gene, prevention can then be expanded to include other members of her family.
Regardless of the type of cancer one might have, treatment has evolved to include services designed to simplify a patient's life throughout the process. This is the primary reason behind the addition of a relatively new member of the treatment team—the nurse navigator—employed by many of the region's top medical centers specializing in cancer treatment and prevention.
"Whenever someone has an abnormal mammogram, they see me immediately and I can help alleviate their fears," says Diana Arronenzi, R.N., breast care coordinator at St. Mary. "My office is next to the radiologist's, so when a patient is hit with, 'OK, there's something abnormal,' there's someone right here with them to coordinate their care.
"When [an abnormality] is discovered, patients have fear and anxiety," she continues. "They often think, I don't have time for this, and I let them know, 'I'm here to help and try to make this as easy as possible for you.' Years ago they didn't have anybody and didn't know who to go to. Now, as soon as you get word that something is abnormal, you immediately come into my office."
At St. Mary, treatment also includes an interactive 10-week program known as Way to Wellness, which teaches patients pathways to three critical aspects of recovery: fitness, nutrition and mind-body skills. Healing begins with taking the first step, even though some patients might not be able to afford it. For those without reliable transportation who live within 15 miles of the hospital, the center has a contract with a local cab service, offering complimentary shuttle service to and from the hospital for treatment.
Furthermore, the St. Mary Breast Health Initiative provides free clinical breast examinations and mammograms to uninsured women ages 40 and older. The program diagnosed five positive cancers last year, along with two more so far this year, according to Arronenzi—cancers that, in all likelihood, otherwise would have gone undiagnosed and untreated.
Feeling Better Faster
"You form a bond with the patient," says Paul Curcillo, M.D., director of minimally invasive surgical initiatives and development at Fox Chase Cancer Center/Temple Health in Philadelphia. "Sometimes the outcome isn't what you would have hoped, but we're doing things now for patients who you might not have cured 15 years ago. … We can't cure everybody yet, but we can certainly do more for a lot more people."
Dr. Curcillo has presided over a new era of treatment with minimally invasive procedures assisted by robotic technology. This technology grew out of applications predominantly in the gynecology field, for procedures such as hysterectomies and surgery to correct uterine prolapse, though physicians have since used robotics-assisted surgery to remedy cervical, uterine and other kinds of cancers. The technology has proven especially effective in cases involving obese patients. For his part, Dr. Curcillo performs approximately 250 minimally invasive procedures per year, to excise tumors both malignant and benign.
"If you have colon cancer and take out the colon with a large incision, that's a big surgery and you're basically asking the body to heal the wounds," he says. "But what if we can take out the colon through a 2-inch incision in the belly button, and there are absolutely no restrictions [to the patient afterward]. That means you're going on to chemotherapy faster and on to recovery—to feeling better—faster.
"A minimally invasive surgeon isn't someone who promotes minimally invasive surgery for every case; it's someone who knows what should and shouldn't be done [minimally invasively]," he continues. "My goal with every surgery is not to complete it minimally invasively; it's to complete it safely."
At the newly opened Einstein Medical Center Montgomery's new Women's Health and Wellness Center in East Norriton, patients benefit from a revolutionary screening technology. In addition to traditional two-dimensional mammography, a CT-scan-like technology known as Digital Breast Tomosynthesis (DBT) is used to detect abnormalities. It has proven particularly effective with dense-breasted women. Before the advent of DBT, the preferred way to determine the outcome of a potentially troublesome mammogram for this population was through an expensive, time-consuming MRI.
In addition to cutting-edge technology, patients with cancer also have access to medical resources and teams like never before. At Fox Chase, for example, Dr. Curcillo provides his cellphone number to his patients so he can answer questions and allay their fears, whether day or night.
"This is not a part-time job; it's 24 hours a day," he says. "It's just what you do, and a phone call from a patient is never a problem. The key is that cancer treatment is getting better. It's about healing the whole person, which includes members of their family."