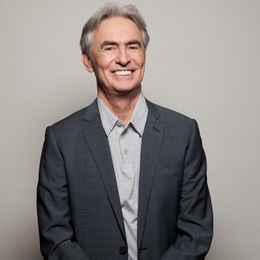 Comic Timing
Legendary comedian David Steinberg brings his one-man standup routine to the Bucks County Playhouse
Fresh off an 18-city comedy tour with Robin Williams and a string of sold-out shows at La Jolla Playhouse in San Diego, comedian David Steinberg is gearing up for a visit to the Bucks County Playhouse for his one-man event, "Might Be Something Big … Might Not," on May 10 and 11.
Having been called a "comic institution all by himself" by the New York Times, Steinberg is one of the entertainment industry's best-known personalities, both on and off the stage. Most famously, Steinberg was a guest on Johnny Carson's "The Tonight Show" an astounding 140 times (the second-highest number behind Bob Hope). He also produced and directed hit series such as "Seinfeld," "Friends" and, most recently, "Curb Your Enthusiasm." Currently, Steinberg and Hollywood darling Steve Carell are co-executive producing the popular Showtime comedy/documentary series "Inside Comedy," which premiered its second season in mid-February.
As he prepares for his visit to Bucks County this spring, Steinberg talked with us about getting his start and fame in comedy, working on both sides of the camera and, really, what it's like to be him.
SUBURBAN LIFE: Comedy seems to come very natural to you. Is this something you always knew you would do?
DAVID STEINBERG: Well, I started out in Second City in Chicago, and I couldn't really do anything else so I had no other option but comedy. I was actually teaching at the time I saw Second City come through. I was maybe 20 at the time, and it was one of those times I said, "What they're doing, I could do that. I'd have to learn a little, but I could do that." … I wrote something that was like Second City and [my friend and I] got invited to a cabaret nightclub, and the review said that Second City should see us immediately. So they came to see us and invited us into the company. … I started my whole career there.
SL: Having been in front of the camera or an audience so much, how did you make the switch to directing and producing?
DS: While still doing standup and performing everywhere and doing "The Tonight Show," I started to just follow the directors around on every show I did: How do you do this, how do you do that? Then I got to direct a movie with Burt Reynolds, but I was still on "The Tonight Show" almost every eight or nine weeks; I was sort of well known doing that, so people couldn't understand. They would say, "Your career is going so well. Why this?"
I saw it as something unique and incredible; I loved the craft. After having directed a movie, I started to direct TV sitcoms. Agents, managers, everyone around me said, "Why are you doing this? You've got movies." … I was one of the youngest directors and a career opened up and then I just got to know everyone. Actors like Jerry Seinfeld were protégés of mine and now they had shows and they wanted me to do it.
SL: Recently, you have split your time doing both—directing and producing "Inside Comedy" but still taking time to tour. What has that been like?
DS: I like doing both. I would like to do a third thing; I'm not sure what, but I would. I will always stay in the comedy field. A lot of comedians want to do something serious, and I never want to do anything serious. But the tour with Robin whet my appetite for being on stage by myself again.
SL: "Inside Comedy" has become a huge hit and has had some big-name stars in the hot seat. Where did you and Steve Carell come up with the idea and make it happen?
DS: It was amazing that we started this as a movie documentary, and then Steve said the problem with the movie was you interview these people for 40 minutes to an hour, but if we do this as a film everybody would be on screen for only two or four minutes. So I just set out for eight months to edit it into a series. Then Showtime said, "Come to us, nobody else. We want to air it."
This season we have guests such as Louis C.K., Tina Fey, Judd Apatow, Drew Carey, Steve Martin, Lily Tomlin, Jim Carrey, Will Ferrell, Betty White, Ben Stiller and Mike Myers, for example. The first season we had guests like Jerry Seinfeld, Larry David and Chris Rock.
SL: What made you decide to come to Bucks County and what can guests expect from the show?
DS: I went to see something in the '70s in Bucks County and it was so beautiful and the theater was so lively and thriving. When a friend of mine said, "If you are at La Jolla, a legendary theater place that shows come from, Bucks County is doing that as well," and I said, "OK, I'm interested."
The show is not like anything you've seen before. It's pretty much me going through my life mostly in show business and you just sort of learn about me and I talk about everything. … Basically [it's about] how I am a pretty lucky human being.