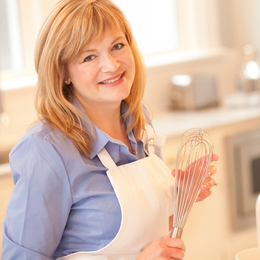 Rising Star
Pillsbury Bake-Off winner Christina Verrelli shares her recipe for success
Devon resident Christina Verrelli has been in the kitchen since she was a child. As part of a very large family, Verrelli picked up tactics for the kitchen at a young age. By her mother's side, she was able to learn and grow into the successful chef that she is today. Considering her devotion and imaginative approach to cooking, it should come as no surprise that Verrelli took home the top prize in the 2013 Pillsbury Bake-Off. Now, with her two daughters and husband by her side, Verrelli is basking in the joys of her newfound prominence, not to mention the Bake-Off's $1 million grand prize. When we caught up with Verrelli, just days after a cooking demonstration at the Tague Design Showroom in Malvern, she shared the ingredients of her success story—namely, the experiences that shaped her, her sources of inspiration and her fearlessness in the kitchen.

SUBURBAN LIFE: How and when did you begin cooking?
CHRISTINA VERRELLI: I started cooking at a very young age. I was the youngest of six kids, so I spent a lot of time with my mom in the kitchen. I learned all of the fundamentals of cooking and grocery shopping and using coupons from her. I have a photo from a campground when I was a kid making pancakes, right off of Route 9 down by the Jersey shore; I was probably seven or eight years old.
I've also always been very interested in DIY stuff. I was always watching old-time cooking shows and "Victory Garden" and "This Old House." With a big family, cooking is a necessity. I would create an original dish based on what I had in the fridge, rather than having to run to the grocery store every time I wanted to cook. It was my own culinary "Chopped" training. Luckily I found a hobby that meshed perfectly. Being a mom trained me for that.

SL: Explain your winning recipe and what inspired you to use it in the Pillsbury Bake-Off.
CV: Well, my recipe is called Pumpkin Ravioli with Salted Caramel Cream. I was determined to make it as a finalist in the bake-off, so I wanted to present a recipe that was really "me." I had a dinner party where there was a crescent dough recipe called crescent sopapilla cheesecake squares, and everyone really loved it. I thought that maybe I could use crescent sheet dough and make it into ravioli; it's kind of a twist on traditional ravioli. My first filling was a sweet cream cheese. It wasn't coming together and it wasn't special. Somehow, pumpkin came to mind. From that, I started experimenting with cinnamon. I tried using fruity and chocolate-based dipping sauces, but they were way too bold. Then, I somehow came up with the idea of using whipped cream, and then added caramel syrup with salt, which is very popular right now. Just a little bit of salt sets off the flavor of the caramel. It was just perfect.

SL: How has the Pillsbury contest strengthened your skill set or changed your perception of the baking world?
CV: It has just really energized me and validated that I have the capabilities to come up with great original recipes. It kind of flipped a switch where I think about food and recipes all the time. I try to take inspiration whenever I can. It turned on my "food brain," I talk about food all the time to the point where it's probably annoying to my family and friends; [they are] troopers. I experiment a lot, but I make sure I throw in basic dishes every once in a while. I made meatloaf this week to make them happy.

SL: In light of your rise to prominence, what advice would you give to other cooks and bakers that are trying to launch their careers?
CV: You can't be afraid to try new things in the kitchen. Sometimes it's a success, but lots of times it's a fail. But you can learn from your failures and use that for your next cooking adventures. Basically, just have inspiration and be a little fearless.

SL: What's your life like outside of the kitchen?
CV: Outside of the kitchen, I'm a mom of two girls and I spend a lot of time volunteering to help with school functions and helping out with our church. It keeps me busy. I also started food blogging recently [at epicuricloud.com], which I launched at the end of January. … It's very exciting to share my passion for food through my blog rather than [by] annoying friends and family incessantly with the details of every dish I make.

SL: What's next for you?
CV: I want to try to grow my blog and make it more successful. I absolutely love to share my recipes with people; it gives me great satisfaction when I hear back from people who used my recipes and really liked it. I don't know where that's going to lead, but I hope that it hits with the right person. I could maybe even write a cookbook. I'd like to have a future in the food world, but I'm not sure what that is just yet. Hopefully my blog will get my recipes out there and show what I can do, and who I am, through my cooking.