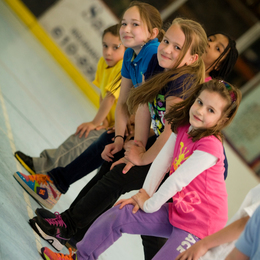 Summer to Remember
Marple Sports Arena offers everything a parent and a child might look for in a summer camp
While no parent looks for a run-of-the-mill camp to send their kids to for summer, Marple Sports Arena (MSA) just might be exactly what every child—and, for that matter, every parent—hopes for in a camp. With a fun, unique facility offering access to activities such as go-karts, moon bounces and a zip line, summer camp at MSA is anything but ordinary.
"The kids have a blast here," says Mike Jacobs, owner of MSA. "There's just so much to do. The kids definitely go home tired."
A typical day for a camper at MSA consists of time on the facility's rock wall, jungle gym and inflatables, as well as arts and crafts and time outside, according to Jacobs. "When the kids come in [in the morning] we break them off into either gender or age, depending on how many we would have in each group, and we send them to different stations," he says.
One of the most popular activities available to campers is the zip line. "We have a mobile zip line that we set up in the parking lot that the kids really like," Jacobs says. "It's about 200 feet long, and you can get up to speeds of 20 miles per hour. They love it."
Campers also have the option to contribute to the camp newspaper and talent show, as well as swimming—and giant waterslides—available at a pool facility next door. While there are a number of other activities available, the best part about camp at MSA is that it's conducted both inside the fully air-conditioned facility, as well as out, so the campers aren't "stuck outside sweating all day," Jacobs says.
Amidst all of the fun activities MSA has to offer, the camp also participates in themed events such as Phillies Day, Pajama Day, Fireman Day and Carnival Day. Each specific day is celebrated in a unique way, and breaks up the monotony of day-to-day activities. "On Fireman Day, we have the Broomall firemen come out and talk to the kids," Jacobs explains. "On Carnival Day, we'll have things like dunk tanks and carnival games outside; it's really a fun day."
Jacobs says the objective of offering so many activities and theme days is to allow the campers to experience as much as possible during their time at MSA. "We aim for kids to gain new friendships, meet new people, and have fun," he says.
Boys and girls ages 4 to 13 are eligible to participate in the camp, which sees anywhere from 150 to 250 campers a day, and has a camper-to-counselor ratio of approximately 12:1. Campers can participate in the entire nine-week program, or choose any number of weeks to attend, though there is not an option for day-to-day attendance. This is the ninth year the camp has been in operation, and its sterling reputation has led to growth every year. The first week of camp this year is June 17.
With all that MSA has to offer its campers, it also operates with parents in mind. Peanut-free lunches, as well as morning and afternoon snacks—all prepared on site—are included in the camp's price, and parents are provided a menu each week to let them know what will be served, according to Jacobs. He also says the price of the camp is very reasonable compared to other camps, and that parents should be sure to talk to their accountant about writing off the camp fees during the next tax season.
Once summer ends, MSA offers an after-school program. Jacobs says 21 students are currently enrolled in the program, which is new to MSA this year, and is basically an extension of summer camp. "A bus picks the kids up at their school, and then they come here and do homework, and after homework they get to play," he says, noting that homework is a priority at MSA. Currently the bus picks students up at five different schools, but MSA is hoping to expand its availability in the future, and a daycare option has been discussed as well.
Aside from summer camp and the after-school program, MSA also plays host to a number of other events during the week, including youth and adult roller hockey, field hockey and lacrosse games. On weekends MSA turns into a birthday and family-fun destination, with skating, moon bounces and the jungle gym available for use. MSA offers 45,000 square feet of space and a full-service café to its customers, so there is never a concern about having enough room, or food, to accommodate everyone. "We try to keep as much going on for everyone as possible," says Jacobs. The camp was named "Best of the Main Line" in 2012.
With so many options, it's not always easy deciding where to send your kids to summer camp. You want to make sure you send them to a safe, caring environment where they can make new friends and learn new things. MSA may not be your typical summer camp, but rest assured that it offers all the criteria a parent—and, of course, a child—looks for in a camp, and then some.

Marple Sports Arena
611 Parkway Drive
Broomall, PA 19008
610-338-0111 | www.marplesportsarena.com