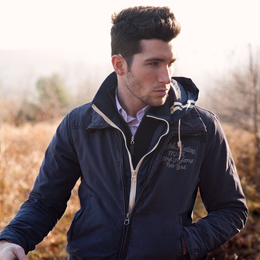 Model Citizen
Philip Tamney, a professional fashion model from Berwyn, is ready for his close-up
Although Philip Tamney is a Berwyn native and product of Tredyffrin/Easttown School District, his striking features and chiseled physique might look familiar—or, more likely, will soon look familiar—to more than just his neighbors and classmates.

The 27-year-old Tamney, a former bartender who cut his teeth in Philadelphia's bar scene, is a professional male model whose late-blooming career began last June with Colby Models in New York City. He was "discovered" while standing with his girlfriend outside a bar on South Street, and his life hasn't been the same since. In one year's time he has worked with well-known photographers, including Rick Day and Chiun-Kai Shih, and has walked in runway shows for Bolongaro Trevor, Long Tran and Janet Zheng, among others. He currently shoots for men's fashion leaders such as JackThreads and Slate & Stone, and he also works with Major Models in Milan, Italy, with future hopes of one day modeling overseas.

Modeling is just the beginning, he believes, as he expects the exposure to open doors in the worlds of acting and music. His rock/pop-punk band, Decorated Civilians, has been busy writing and recording songs, and is now preparing for its first live shows later this summer. In the meantime, his "24-hour job" of modeling is keeping him more than busy. We caught up with Tamney between shoots in his adopted hometown of Manhattan.

SUBURBAN LIFE: What has been the most surprising aspect of modeling?
PHILIP TAMNEY: Probably how hard it is. From making sure my body is in tip-top shape to posing right for the camera. The first few times I went to shoot, I did a terrible job, and could tell from the disgust of the photographer. You have to know what you're doing, and I've worked really hard at that. That was a shocker. In the world of modeling, you think agencies do everything for you. … At the end of it, I still have bills like everyone else.

SL: Tell me the story of how you were discovered.
PT: One day I was on South Street outside of a bar with my girlfriend, where I was scouted about modeling. It flipped my whole life upside down. My girlfriend was very supportive, saying, "If this is what you want to do …." I started traveling between Philadelphia and New York, and it became hard; I was spending all my money going back and forth. I had to make this life decision to move here [to New York]; if I lived anywhere else but Philly I would have had to make some tough decisions. I always saw myself doing this. My parents always said "You should be doing something big—being an actor, getting into modeling." They really felt that it was kind of where I was destined to go. Nine to five is not for me.

SL: How has your life changed as a result?
PT: I feel like life had been stale at the moment. I needed something big, and this was something big for me to move here. The pace is much faster, and I love that. Now I feel like it's opened my eyes to more of what I really love in life—the creative world—and New York is one of the hubs for that. I feel like I'm going in the direction of where I should have been going years ago. Moving here, I'm able to meet so many amazing people—artists, photographers, designers—and this is what I love most in life.

SL: Where do you see modeling taking you?
PT: The world of modeling is always looking for younger and better, and I'm fortunate to have an agent take a huge risk on me. I'm 26, and I'm up against 20- and 21-year-olds; they've got a lot of energy that I have to try to match. For me, I'm really trying to hone my craft, with hopes of breaking into acting. … Recently I'm meeting a lot of great actors and producers and directors, and being here gives me that chance. My agent knows a lot of people, and being able to have meetings here is so important. I'd definitely like to go down the acting road, as well as develop my skills as a musician. Jared Leto is someone I aspire to be. He's a triple threat, and I'd like to put myself out there like that, too. I feel like I can because I have the energy and the ability.