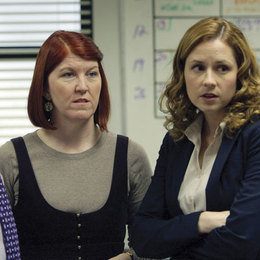 Funny Girl
The Office's Kate Flannery went from the Main Line to the main stage
When Kate Flannery was 13 years old, she dreamed of performing on stage with fiery red hair and a quick wit. And while she can't deny that she got her dream, she isn't exactly where she thought she'd end up. In her dream, she was the young star of Broadway's Annie. In reality, she plays a boozy, sleazy paper company employee on TV in The Office, and part of a boozy, sleazy lounge act on stage in her comedy act, "The Lampshades."

The Ardmore native is best known as Meredith Palmer, Dunder Mifflin's supplier relations representative and all-around lush. Meredith is a multiple divorcee who has slept with clients and at least one coworker, and is always gunning for the much younger hunk-of-the-office, Jim. She has flashed her top half and bottom half, been run over by a car, joined—and dropped out of—Alcoholics Anonymous, and been dragged, literally, by her boss to a rehab clinic.

In Flannery's other comedy project, "The Lampshades," she plays Kassie Chew, a swilling lounge entertainer in a red polyester jumpsuit who, along with her greased up, chain-smoking partner, performs clever mash-ups of songs like Barry Manilow's "Mandy" and Looking Glass's "Brandy."

But Flannery, it seems, is nothing like her doppelgangers. She is friendly and chatty, calling from her Los Angeles home, having just come off a short comedy club tour with "The Lampshades." The tour brought her home to Philadelphia's Helium Comedy Club last month.

When she's home, she visits with her many family members who still live in the area, including her twin sister, Susie, who works at Pennsylvania Hospital.

"I always joke that I'm the evil twin, because I'm taking off my top on TV and she's a social worker," Flannery says. "She's amazing."

There is also her father, Tom, and brother, Butch, who own and operate T.A. Flannery's, the family's Irish pub near 21st and Chestnut in Philly. The Flannery gang ended the night at the bar after "The Lampshades" show.

She also makes an effort to visit some of her favorite spots in Ardmore whenever she's in town.

"I'm excited Hunan [Restaurant] is opening again, because I feel like we always have to go there," she says of the Chinese restaurant on Lancaster Avenue where she had her first job a teenager.

Earlier this year, she trolled the aisles at Penny-Wise Thrift and found a vinyl record of the Flyer's 1974 Stanley Cup win, which thrilled the longtime Philly sports fan.
"I'm very excited to have it in my arsenal," she says. "I thought it would bring the Flyers some luck this year. I was a kid when they first won, and, oh my god, it was huge."

She also recalls strolling through Haverford College's campus and riding the Paoli local into the city.

Finding the Funny
Growing up as one of seven children in an Irish Catholic family, Flannery learned how to steal the show at a young age. When Annie debuted on Broadway, she immediately started begging her mother for singing lessons.

"I wanted to move to New York, I wanted to move to Boston to be on ZOOM, I had all types of ideas," Flannery says. "And luckily my mother had better ideas for me."
At the insistence of her mother, Flannery graduated from Archbishop Carroll and went on to earn a bachelor of fine arts degree in acting from University of the Arts in Philadelphia.

After college, she moved to Chicago to study improv at The Second City, which boasts such famous alumni as Flannery's The Office costar Steve Carell, Tina Fey, Mike Myers and Stephen Colbert. She worked with theater company The Annoyance, where she met her Lampshades partner, Scot Robinson.

"We were in this club, and there were some people singing, and taking themselves way too seriously," she says. "And we thought it was a riot. So we thought that would start to do it ourselves and see what came of it."

They performed their act on stage in Chicago for over a year, and reconnected again later to put on their show every Saturday for five straight years. So it turned out Flannery did get her wish to sing on stage, and the success of the show affirmed her knack for comedy.

"The thing about comedy is that it's an instant road map, because if you're not doing well, the audience will tell you," she says. "For me, I need to be hit over the head with the laugh to figure out where I actually am."

Working Hard at Hardly Working
In what could be called her big break, Flannery landed a role during pilot season on the American version of a successful British show about a paper company and its odd-ball employees, shot documentary style.

At first, she wasn't sure how many episodes her character would appear in or if the show would even be a hit with an American audience. So she kept her shift working the Sunday brunch at a restaurant.

"Restaurant jobs are very hard to come by in Los Angeles!" she jokes. "Especially when you're not 20 anymore."
The show's subtle, dead-on comedy made it an instant success. Set in Scranton, Pa., and given a unique look and feel from natural hair and makeup and unflattering florescent lighting, The Office remains unlike any other show on American television.

"I think it brings an element that is so smart and so funny and so true," Flannery says. "And it's kind of a huge relief, because I am a real person, so if someone sees me in real life, I'm not disappointing them. It just takes off the pressure to be beautiful and very skinny here in LA. Like, if I have lipstick on, people go, 'Wow, you look great!'"

Taking it up a notch is the sharp writing, and inevitable adlibs from notorious improvisers Carell, as the show's hapless boss, and Rainn Wilson, as the hilarious know-it-all salesman.
"It's written really well," Flannery says. "We don't have to really do a lot of gymnastics with improv, but when we do get to improvise, it's just like the layer of frosting on the delicious cake."

Flannery along with the cast of relative unknowns, began to make a mark on pop culture.
"It is a very strange phenomenon, and we've all been learning together," she says. "The first couple of years we were all sort of fumbling through, getting stopped for pictures and realizing what that feels like. It's an interesting learning curve, because there's really no road map for that stuff. They don't really talk about that in acting school."

Getting "Disney-fied"
While some of her costars have found success in movies, Flannery will establish a new audience in television when she appears on the Disney Channel's Emmy-award winning preteen show Wizards of Waverly Place.

Surprisingly, Flannery and Robinson's characters from "The Lampshades" prepared them for their roles as the entertainer parents to one of the young stars.

"They took our costumes from 'The Lampshades' and Disney-fied them, if you will," Flannery says. "They took away my cleavage and took away my partner's cigarette and drink. They cleaned up our act a bit."

The younger audience will be new territory for Flannery, but she couldn't be more excited about the opportunity.

"They shoot in front of a live audience, and at the end they have all the kids come down," she says. "They can all take pictures and get autographs—it's really a trip."

Maybe one of those little girls will be so inspired by Flannery's hilariously outlandish characters that she will start to dream of one day being on stage with fiery red hair and a quick wit. (Or maybe not.) But at least Flannery gives us proof that dreams really can come true.