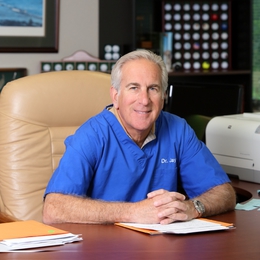 Young at Heart
Dr. Jay Goldsleger and his team offer an environment that all of their pediatric patients enjoy
Mention the word "dentist" around most people, and you're bound to get a look of worry or angst. Fond memories are not typically made in the dentist's chair and, as a result, most people avoid their regular cleanings like the plague. That is not the case, however, for the patients of Jay Goldsleger, D.D.S., and his pediatric dental associates. With a mission to make going to the dentist fun and carefree, Dr. Goldsleger and his staff are successfully putting an end to the dreaded dentist stereotype.

"I would say 98 percent of our patients love going to the dentist and actually look forward to it," says Dr. Goldsleger, a pediatric specialist. "They wake up in the morning and want to know when their appointment is. We are developing a generation of patients that don't have the same fears and misconceptions that my generation has."

The positive response Dr. Goldsleger speaks of did not happen by accident. By focusing on pediatric dentistry, Dr. Goldsleger has been able to make his practice as child friendly as possible. In the field since 1976, he has taken the time to get to know how to be successful in an area that does not always evoke positive feelings.

"We focus on pediatric dentistry and treat each child individually," he explains. "You can't have one approach with every child. You have to make a determination as to what particular modality of treatment will work with each child and go from there."

Dr. Goldsleger has more than 125 employees spread among the six offices, and each of them shares a similar philosophy. While the offices may offer other services such as orthodontics, endontics and periodontics for older patients, their primary focus is pediatrics. In fact, there are 12 dentists on staff who are certified as pediatric dentists, which means they have gone through special training to work with children.

"Pediatric dentists go to school an additional two years after they finish dental school," Dr. Goldsleger says. "They go into a residency program where they are trained in pediatric dentistry." As a result, there is cohesiveness and understanding in the workplace that sets the patients at ease and makes it a more positive experience. The televisions in the ceilings at most of the dental hygiene chairs, along with the video games that are available in the waiting rooms, probably don't hurt either. "While all the offices are different," Dr. Goldsleger assures, "they are all kid friendly."

Because Dr. Goldsleger and his staff consider each patient individually, they also believe there is no such thing as a one-size-fits-all approach to treatment. The practice thus offers a number of different options when it comes to treating a dental issue, including light sedation with nitrous oxide, deeper sedation with oral medication and even general anesthesia. "We don't have to put every child to sleep," he says. "We can see the child, evaluate them, and determine the nature of the problem and the extent of the problem and decide what our best options are."

During an examination, for example, Dr. Goldsleger says he will also consider other dental problems the child may have in the future, and determine whether the child will be an orthodontic patient, for example. "We can't eliminate those problems, but we can minimize them and make sure they are treated at the appropriate time," he says. "It's second nature to look for problems like that now."

Dr. Goldsleger and his staff also realize there are many different reasons children may have the dental problems they do, including genetics. So while they have no control over some factors, his practice focuses on the ones they can control. "Some children are predisposed to cavities because their parents are," he says. "That's a factor we can't change, but things like diet, and keeping your teeth clean are important and we can effect change in these areas. We feel that even children up to 6, 7 or 8 years old still need assistance from a parent while brushing and flossing their teeth."

The American Academy of Pediatric Dentistry recommends children have their first dental visit by the age of 1, an age group with which Dr. Goldsleger and his associates have no problem working. Despite the recommendation, 42 percent of children ages 2 to 11 have had dental caries (decay) in their primary teeth, according to the National Institute of Dental and Craniofacial Research. Dr. Goldsleger admits even young children can get cavities, and it is important to establish healthy dental habits with them as soon as possible.

Born and raised in the Philadelphia area, Dr. Goldsleger is a graduate of Temple University, where he received a Bachelor of Arts in Psychology. He is married and has two children, as well as six grandchildren. His wife, Charlene, is the office manager at the King of Prussia office. He earned his dental degree in 1973 from Temple and, upon graduation, enlisted in the U.S. Air Force, where he practiced general dentistry for two years in San Antonio, Texas, and Thailand. He completed a two-year pediatric dental residency at the Temple University Kornberg School of Dentistry upon his return.

When Dr. Goldsleger started his practice in King of Prussia 1976, it had one dentist, one other employee and three dental chairs. The practice has grown dramatically since then and now includes his son, Scott Goldsleger, D.D.S. Despite its growth, the elder Dr. Goldsleger and his staff still provide one-on-one attention, which helps to make going to the dentist a trip all their patients enjoy.

For more information on offices in Allentown/Bethlehem, Ardmore, Broomall, Chalfont and King of Prussia, visit
www.childrens-dentistry.com.