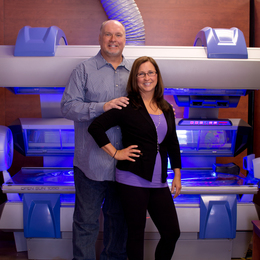 Beyond the Sun
Island Sun Tanning offers multiple options for sunless tanning in a safe, effective environment
Nothing beats a summer day spent soaking up the warm rays of sunshine, but for many this is not an option, because of either skin type or schedule. UV tanning beds and spray tanning are effective alternatives that offer many more benefits than one might expect.

Sunburn is caused by overexposure to the sun. It most often occurs when one is outside for an extended period of time without the aid of sunblock or the protection of a base tan. According to Debbie Burns, owner of Island Sun Tanning, which has locations throughout Bucks and Montgomery counties, indoor tanning allows those seeking a golden glow the ability to control their exposure while receiving their requirements of vitamin D.

Exposure to ultraviolet (UV) light allows the body to convert a hormone in the body to vitamin D, which is an essential nutrient that encourages the absorption and metabolism of calcium and phosphorous. Modern lifestyles and the unpredictable weather of the Northeast make it difficult for many to get outdoors to receive adequate sunlight to fulfill their vitamin D requirements or to develop a natural tan.

Although UV tanning remains a prevalent way to complement one's skin color, its success often depends on one's skin type. People who have a skin type one or two may often opt to utilize spray tanning. "Skin type one has no melanin in their body," Debbie says. "The amount a melanin a person has determines the amount of tan they will develop. Someone with little melanin will burn without producing a tan. Their unique skin type does not allow them to achieve a tan."

Spray tanning may be the only option for those with skin type one, though individuals with skin type two often use spray tanning in concert with UV tanning. Skin type two is very fair; this type has the option to use UV tanning beds but takes more time and effort. "If someone wants the appearance of a tan but doesn't want to or can't tan, spray tanning would be a good option," Debbie says. "We have a skin chart, and if they're a type one, we will let them know that UV tanning isn't for them."

For spray tanning, Island Sun offers two options. First is the VersaSpa Age-Defying Spray Tan System, which features an open-air design, an age-defying moisturizing treatment and mist-free tanning, with warm air dryer. Customized treatments include air-brush tanning for full body, face and neck or just the legs. Second, Island Sun offers Mystic Tan, which features full-body spray tanning, customized additives, a bronze boost, aroma and an airbrush application.

Of course, spray tanning also allows individuals of any skin type who are preparing for a special occasion, such as a wedding, vacation or any event where one would wear clothing that shows off more skin than usual to achieve an even tan in little time.

Debbie does, however, caution clients opting for a sunless tan to moderate their sun exposure. "A sunless tan will not protect them from sunburn without sunblock," she says.

Over the course of Island Sun Tanning's 18-year history, clients typically range from 16 to 80 years old and have been thoroughly pleased with the services provided. "We know what we're doing," boasts Debbie. "We consult with our customers about the current status of their skin and what [other products] they're using at home."

Island Sun's professionalism, paired with the expertise of its staff, truly makes the organization stand out from others. Debbie and her staff use their years of experience to help customers get the best tan—and service—possible. Employees of Island Sun Tanning are members of the Smart Tan Network, which requires annual certifications and professional tanning experience. "I consider myself an advocate, and my goal, through our salon, is to teach customers how to enjoy the benefits of the sun without negative side effects," she says.

For a new customer, the process begins with a skin consultation to determine what types of products the customer uses and how they can affect the skin. Certain products and medications, for example, contain chemicals that can cause photosensitive reactions to UV light.

If the client chooses a sunless tan, Debbie says, they are asked to watch a video explaining the process. After the skin consultation, they are taken to the booth where their session takes place in complete privacy. Once in the booth, a fine mist of solution is released, which takes less than a minute. When the misting is complete, clients are then air dried inside the booth.

The cosmetic bronzer in the spray-tan solution provides an immediate effect, even as the active ingredient—dihydroxyacetone (also known as DHA)—typically takes four to six hours to develop a change in pigment.

According to Debbie, the spray tan lasts five to seven days, depending on how well the client keeps their skin moisturized and how often they exfoliate over the course of the week. During that time, she says, "It will fade like a natural tan."

In addition to the vitamins, anti-aging ingredients and skin moisturizer in the sunless tanning solution or the vitamin D and light therapy benefits one receives from UV tanning, the results often include a sense of confidence. "A lot of it is mental," Debbie says. "When you're tan, you just feel good about yourself. It's definitely a mood and confidence booster."

Health and mental benefits are among the best reasons to choose a tanning salon. And, because those with a full-time job or other commitments do not always have time to spend outside, it is good to know they can still enjoy all the positive effects the sun has to offer.

In addition to UV and spray tanning, Island Sun Tanning offers many other services, including the BleachBright teeth-whitening system, infrared slimming body wraps and red-light therapy. Most typically found in spas and doctors' offices, these services at Island Sun go beyond the typical tanning salon. Also, each location has an in-store boutique, offering workout clothing, dresses, sandals and fashionable accessories.

Island Sun Tanning
Visit www.islandsun.org for more details and salon locations.
Photography by Mike Burns Photography